Robert Korzeniowski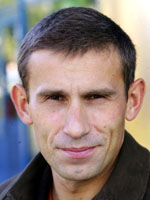 Robert Korzeniowski
Date of birth

1968-07-30
Birthplace

Lubaczow
Height

170 cm
Weight

62.0 kg
Discipline

20 km and 50 km walking
World Records

1 (50 km walk) - 3hr 36min 03sec (Paris 27/08/2003)
Olympic Games (4 medals - 4 gold)
20 km: 1st (2000), 8th (1996)
50 km: 1st (1996, 2000, 2004)
World Championships (4 medals - 3 gold, 1 bronze)
50 km: 1st (1997, 2001, 2003), 3rd (1995)
European Championships (2 medals - 2 gold)
World Indoor Championships (1 medal - 1 silver)
World Race Walking Cup (1 medal - 1 silver)
European Race Walking Cup (3 medals - 2 gold, 1 silver)
20 km: 1st (1996, 2000), 2nd (1998)
The dominator
Poland's Robert Korzeniowski confirmed his domination in the often derided athletic discipline of walking when he pulled off a magnificent double at the Sydney 2000 Olympics striding to both 20km and 50km gold.
He thereby became the first athlete to win gold at the longer distance in two consecutive Olympics as he had enjoyed the same delight at Atlanta four years earlier.
He won a third world title over 50km in 2003 as he outdistanced the field on the streets of Paris and broke the tape first at the finish line in the Stade de France.
If that wasn't enough, no one could stop him at Athens in 2004 where he won his third Olympic title joining an elite club of four-time winners, including Emil Zatopek, Lasse Viren, Al Oerter and Carl Lewis.
All this was something of a turnaround as Korzeniowski had suffered bitter disappointment at Barcelona 1992, where he had to pull out of the 20km before suffering the agony of disqualification in the 50km.
But how the wheels of fortune turn. Korzeniowski crossed the Sydney 20km line second behind Bernardo Segura in 2000.
The Mexican though, soon received the shattering news that officials had disqualified him for illegal style in the home straight and were awarding gold to Korzeniowski.
Walking's Lance Armstrong
His career has seen as many bitter lows as sweet highs.
Barcelona was a write off after the most carefully laid plans, then came further agony at the European Championships at Helsinki in 1994.
He again missed out on the medals, coming fifth in the 50km and once more suffered walking's occupational hazard, disqualification in the 20km.
But he dug in, relocated to Tourcoing in the north of France and subjected himself to a harsh new training regime.
At the Gothenburg world championships in 1995 the hard work started to pay dividends with a bronze medal in the 50km.
The big break came a year later at Atlanta with the afore mentioned gold. A further year on and he confirmed his class with a gold at the 1997 world championships at Athens.
In 1998 he followed up with a 50km European gold at Budapest and suddenly he was very much the man to beat.
He can now also lay claim to the great honour of possessing a world record first set in 2002 of 3hrs 36min 39sec for the 50km course. He then lowered the mark at the 2003 world championships shaving 36 seconds off his record the previous year.
Copyright 2008 Agence France-Presse.