Naïm Suleymanoglou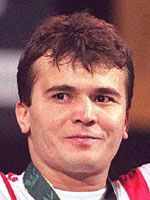 Naïm Suleymanoglou
Date of birth

1967-01-23
Birthplace

Kircali (Bulgaria)
Height

149 cm
Weight

60.0 kg
Categories

-56 kg, -60 kg, -62 kg, - 64kg
Olympic Games (3 medals - 3 gold)
-60 kg: 1st (1988, 1992)
-64 kg: 1st (1996)
World Championships (8 medals - 7 gold, 1 silver)
-56 kg: 2nd (1983)
-60 kg: 1st (1985, 1986, 1989, 1991)
-62 kg: 1st (1993, 1994, 1995)
European Championships (10 medals - 7 gold, 2 silver, 1 bronze)
-56 kg: 1st (1984), 2nd (1983)
-60 kg: 1st (1985, 1986, 1988, 1989), 2nd (1992)
-62 kg: 3rd (2000)
-64 kg: 1st (1994, 1995)
Best things come in small packages
Small in stature, but huge in talent, the Turkish weightlifter of Bulgarian origin Naim Suleymanoglu now forms an indelible part of the record books having won an unprecedented three straight Olympic titles.
At Sydney 2000, he set out in search of a fourth title but his great streak ended tamely as he failed to lift 145kg in three attempts and left Australia empty-handed.
Born in Bulgaria, the son of a Turkish zinc miner, Suleymanoglu opted for Turkish nationality in 1986, following an episode of internationally significant proportions.
As a member of the uprooted Turkish community in Bulgaria, Naim was affected by the government's decision to oppress his people's culture and traditions. Incensed, from that moment he had only one objective: to join the country of his ancestors.
On his return home, his passport was taken and re-issued, complete with a Bulgarian name "Naum Shalamanov". He was also falsely quoted in a newspaper saying that "he was proud of his Bulgarian nationality".
This proved enough and, on December 13, 1986 during the Weightlifting World Cup in Melbourne, he defected with the help of the Australian Turkish community.
Hero's welcome
After taking refuge in the Turkish embassy, Suleymanoglu left for London aboard the Turkish prime minister's (Torgut Ozal) jet, taking him onward to Turkey where he was given a national hero's welcome.
While Bulgarian authorities fumed in anger, his sports career was temporarily stopped by the International Weightlifting Federation: he was suspended for a year, reappearing at the Olympic Games in Seoul in 1988 after the Eastern boycott of the 1984 Games in Los Angelas.
In Seoul, and despite late preparations, Suleymanoglu imposed his authority and stacked weight upon weight to win his first Olympic title with a world record combined lift of 342.5kg (his 30th world record).
After a brief retirement, Suleymanoglu returned to the fray in 1991 to reclaim his world crown.
In 1992, he featured in his second Olympiad in Barcelona where he jerked 177.5kg for his second consecutive title. His reputation was enhanced further in 1994 as he equalled Russian Vassili Alexeiev's record of 22 world championship titles.
Suleymanoglu won his third consecutive Olympic title in Atlanta (1996) and subsequently, retired to take up politics, and, the case of the numerous Bulgarian refugees who remain in Bursa in Bulgaria.
A comeback at Sydney 2000 ended in a rare failure.
Copyright 2008 Agence France-Presse.