Alexander Kareline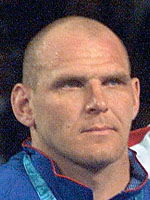 Alexander Kareline
Date of birth

1967-09-19
Birthplace

Novossibirsk (USSR)
Height

192 cm
Weight

130.0 kg
Sport

Wrestling - Greco-roman
Category

130 kg
Olympic Games (4 medals - 3 gold, 1 silver)
130 kg: 1st (1988, 1992, 1996), 2nd (2000)
World Championships (9 medals - 9 gold)
130 kg: 1st (1989, 1990, 1991, 1993, 1994, 1995, 1997, 1998, 1999)
European Championships (12 medals - 12 gold)
130 kg: 1st (1988, 1989, 1990, 1991, 1992, 1993, 1994, 1995, 1996, 1998, 1999, 2000)
The Siberian Hercules
A modern-day Hercules was born in Siberia on September 19, 1967. The giant Alexander Kareline (1.92m/130kg) forged himself one of the best honours lists in the history of wrestling, remaining unbeaten in the Greco-roman from his first European title in 1988 until the final of the Sydney Games of 2000.
It's easy to see why the Russian strongman was one of the most feared and respected competitors on the planet - 12 European titles, nine world crowns and three Olympic gold medals provide sufficient testament to his ability, allowing Kareline to surpass illustrious compatriot Alexander Medved - the triple Olympic freestyle champion during the 1960's who also wrested eight world titles from the hands of his opponents.
With cropped blond hair and an impressive and trim physique, Kareline's arrival was good for a sport which was so often characterised by flabby, puffed-out giants. In contrast, Kareline dominated his adversaries with class, athleticism, and flexibility.
Saying no to the wrestling clan
Kareline also retained some of the class which came with being a member of an aristocrat family who were deported to Siberia by the Communist regime.
A keen jazz and classical music fan who also loves English literature, he is as gentle about town as he was unrelenting on the mat, where he regularly left his rivals with little chance of success, notably using his favourite move, the reverse lifting hold.
A virtual demi-God in his native north, Kareline's financial situation is as sound as his physique, and he has even become a financially powerful figure in Novossibirsk, allowing him to easily reject the offers that came his way from America's professional wrestling ranks.
His success in sport has furnished progress in other areas of his life. Although currently a colonel on the staff of the tax police, and a sports adviser to then Russian prime minister Vladimir Putin, in December 1999, just after winning his 9th world title, Kareline was elected to the Russian Duma as number two on the Kremlin's official party list.
A fourth Olympic title eluded him by the slimmest of margins at Sydney 2000 when the unknown American Rulon Gardner won a tense final by 1-0 after extra-time was needed.
For the first time in 12 years, Kareline had been beaten, but nothing will take away from his legend.
In 2002, at the Sports Academy of Lesgaft in St Petersburg, he presented his Doctorate thesis on the training of high level wrestlers.
He believes wrestling to be of crucial importance to Russian culture and that his nation's slip from the top spot in the game to be unforgivable.
Copyright 2008 Agence France-Presse.