Canoe/Kayak - Flatwater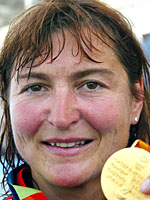 Birgit Fischer
Date of birth

1962-02-25
Birthplace

Brandenburg (GDR)
Height

173 cm
Weight

68.0 kg
Disciplines

K1, K2, K4, straight racing
Olympic Games (12 medals - 8 gold, 4 silver)
Kayak Singles 500m: 1st (1980, 1992), 2nd (1988), 4th (1996)
Kayak Pairs 500m: 1st (1988, 2000), 2nd (1996, 2004)
Kayak Fours 500m: 1st (1988, 1996, 2000, 2004), 2nd (1992)
World Championships (39 medals - 29 gold, 6 silver, 4 bronze)
Kayak Singles 500m: 1st (1981, 1982, 1983, 1985, 1987, 1993, 1994)
Kayak Singles 5000m: 3rd (1993)
Kayak Pairs 200m: 1st (1997), 2nd (1994), 3rd (2005)
Kayak Pairs 500m: 1st (1978, 1981, 1982, 1983, 1985, 1987, 1997), 2nd (1998), 3rd (1994)
Kayak Pairs 1000m: 1st (1997), 2nd (1998)
Kayak Fours 200m: 1st (1997), 2nd (1994, 1995)
Kayak Fours 500 m: 1st (1978, 1979, 1981, 1982, 1983, 1985, 1987, 1993, 1994, 1995, 1997, 1998), 2nd (1999)
Kayak Fours 1000m: 3rd (2005)
European Championships (9 medals - 2 gold, 4 silver, 3 bronze)
Kayak Pairs 200m: 2nd (2000), 3rd (2004, 2005)
Kayak Pairs 500m: 3rd (2000), 2nd (2004)
Kayak Pairs 1000m: 1st (2000)
Kayak Fours 200m: 2nd (2000)
Kayak Fours 500m: 1st (2000), 2nd (1999)
Fabulous Fischer just fails in record bid
With her eight gold medals kayak colossus Birgit Fischer is Germany's most successful ever Olympian, not to mention a breath-taking 27 world titles.
At 42 years old, Fischer proved she was still at the top by winning the K4 500m Olympic race at Athens in 2004. But the bid for the magical nine titles just escaped her when she finished second in the K2 500m.
Only four athletes have won nine Olympic gold, Paavo Nurmi (athletics), Soviet Larissa Latynina (gymnastics) and Americans Mark Spitz (swimming) and Carl Lewis (athletics). Fischer though just fell short in her bid.
Since her first K1 (kayak pairs) title at Moscow back in 1980 she has won at least one title at each Olympiad and would almost certainly have amassed an even greater gold haul had her former East Germany not boycotted the 1984 Los Angeles Games, so great was her dominance over the sport at that time.
Born in Brandebourg, German Democratic Republic she launched her kayak adventures at the tender age of six with the help of her father Karl Heinz, an enthusiast of the sport.
At 13, she moved to Potsdam where she was enrolled at the ASK Vorwaerts club and school which specialised in the sport.
Her precocious talent saw her take her first world title in 1979 at the age of 17 in the K4 500m, the first in an amazing series of 30 world titles over the next 25 years.
Raining gold
She married German canoeist Joerg Schmidt in 1984 and divorced him nine years later, ending her career once more under her maiden name.
If she didn't win a medal in 1986, it was because that year bore richer fruit with the birth of her son Ole. But she was back in action at the Seoul Games in 1988 before taking three years out from 1989 this time go tend to the care of her new daughter Ulla.
In 1992 she took charge of her own training regime only accepting advice from the national team coach Josef Capousek, who was at that time her companion.
In 2000 she took part in the European Championships in Poland where she racked up two gold, two silver and a bronze in the way of preparation for the Olympics.
At Sydney, victories in the K2 and the K4 took her tally to a magnificent seven Olympic titles but soon after she announced her retirement.
In early 2001, she began her coaching career by taking over the German 18 to 25 age group, who could hardly be in better hands but then announced she was returning to competition in October, 2003.
Copyright 2008 Agence France-Presse.