Gary Jr Hall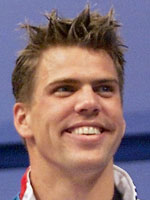 Gary Jr Hall
Date of birth

1974-09-26
Birthplace

Cincinnati (Ohio)
Height

198 cm
Weight

98.0 kg
Discipline

50m and 100m freestyle
World Records

3 (4x100m freestyle relay, 4x100m medley relay)
Olympic Games (10 medals - 5 gold, 3 silver, 2 bronze)
50m freestyle: 1st (2000, 2004), 2nd (1996)
100m freestyle: 2nd (1996), 3rd (2000)
4x100m freestyle relay: 1st (1996), 2nd (2000), 3rd (2004 -did not take part in the final)
4x100m medley relay: 1st (1996, 2000)
World Championships (6 medals - 3 gold, 3 silver)
50m freestyle: 2nd (1994)
100m freestyle: 2nd (1994)
4x100m freestyle relay: 1st (1994, 1998)
4x100m medley relay: 1st (1994), 2nd (1998)
Pan Pacific Championships (5 medals - 4 gold, 1 silver)
50m freestyle: 1st (1995), 2nd (1999)
100m freestyle: 1st (1995)
4x100m freestyle relay: 1st (1995)
4x100m medley relay: 1st (1995)
Pan American Games (1 medal - 1 bronze)
50m freestyle: 3rd (2003)
Hall Jr. completes medal collection with 50m title
American sprint ace Gary Hall Jr. took his Olympic medal tally to eight by the end of Sydney 2000 and finally nailed an individual gold in the 50m freestyle in a dead-heat finish with compatriot Anthony Ervin.
A key member of the American team, he was also part of the 4x100 medley quartet that successfully defended their 1996 title with a world record time in Australia.
His impressive record also includes gold in the 1996 4x100 freestyle, three silver medals and a bronze.
Born in Ohio, Hall Jr. is the son of Gary Hall, who successfully represented the United States at the Olympic Games of 1968, 1972 and 1976.
But while his father, whose medals exploits include a 200m butterfly silver at the Munich Games in 1972 (beaten by Mark Spitz), was perceived as a swimming role model and even carried the US delegation's flag at Montreal (1976), Hall Jr.'s career has been somewhat less ideal.
His career was threatened after he was suspended for three months by the sport's governing body, FINA, for marijuana use in 1998 and, less seriously, the guitar-loving swimmer showed his establishment-defying side when he became the first endorser of the rock group the Grateful Dead's sunglasses.
However, these remain slight details on a list of honours which more than amply outweigh some of Gary Hall Jr.'s more negative idiosyncracies.
A return to form for Sydney
Having splashed onto the international scene when he won two individual sprint silvers and two relay golds at the 1994 world championships, then with four golds at the 1995 Pan Pacs, he came within a whisker of double Olympic sprint gold in 1996 before he was pipped twice at the finish by classy Russian sprinter, Alexander Popov.
Diagnosed with diabetes in March of 1999, Hall Jr.'s Sydney prospects were looking slim until he stormed back into contention when he won the 50m at the 1999 US Summer Championships in 22.13 seconds.
In characteristically defiant fashion, he has used his illness as a motivating factor.
"I wanted to prove to some of the other people that I could continue and it's been relatively easy to get myself to where I am now."
His performances at Sydney and overall career record have silenced the harshest of critics and he can be considered as one of the great sprint specialists of recent times.
Copyright 2008 Agence France-Presse.