Linford Christie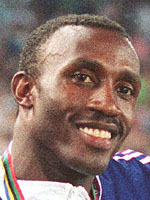 Linford Christie
Date of birth

1960-04-02
Birthplace

Saint-Andrew (Jamaica)
Height

189 cm
Weight

94.0 kg
Discipline

100m, 200m, 4x100m relay
Olympic Games (3 medals - 1 gold, 2 silver)
100m: 1st (1992), 2nd (1988)
200m: 4th (1988)
4x100m relay: 2nd (1988), 4th (1992)
World Championships (4 medals - 1 gold, 1 silver, 2 bronze)
100m: 1st (1993), 3rd (1987)
4x100m relay: 2nd (1993), 3rd (1991)
World Indoor Championships (2 medals - 2 silver)
60m: 2nd (1991)
200m: 2nd (1991)
European Championships (6 medals - 3 gold, 1 silver, 2 bronze)
100m: 1st (1986, 1990, 1994)
200m: 3rd (1990)
4x100m relay: 2nd (1990), 3rd (1986)
European Indoor Championships (4 medals - 3 gold, 1 bronze)
60m: 1st (1988, 1990)
200m: 1st (1986), 3rd (1988)
Best of British?
Although Linford Christie confounded the critics to take the 100m Olympic title at Barcelona at the age of 32, a doping scandal spoiled the latter part of his career.
His early attempts to wrest the sprint initiative away from the powerful US sprinting dynasty were constantly thwarted.
Born in Jamaica, Christie joined the prestigious Thames Valley Harriers athletics club in London and hard training and competition experience eventually paid off.
By his late twenties he had become the fastest man in Europe.
The might of the Americans, however, cast a long shadow over Christie's British and European exploits.
A positive test for the banned stimulant ephedrine which Christie put down to Ginseng tea at the Seoul Games in 1988 was the first hint of controversy, and although he was cleared of any wrongdoing the damage had been done.
His big moment came in Barcelona, where he could race in the knowledge that the mighty Carl Lewis, who had failed to make it to the US trials, could not spoil the party.
When the Englishman surged across the line to win gold he became the oldest man, by four years, to win an Olympic 100m title.
When his son Merric Osborne became a father, it made Christie a sprint champion grandfather at the age of just 35.
Long shadow
After being eliminated for two false starts at the Atlanta Games in 1996, Christie turned his attention to the management of his athletes promotions company, Nuff Respect, and to coaching some of Britain's most promising sprinters, including Darren Campbell (100m).
He was also employed as a commentator at the BBC and was awarded the prestigious Order of the British Empire (OBE) by Queen Elizabeth II in 1998.
The revelation in August 1999 that he had tested positive for the banned metabolite nandrolone during an indoor meeting in Dortmund the previous February sent shockwaves through the British athletics world.
Christie denied all knowledge of any offence, saying: "what benefit would I get from doping at this stage in my career?"
In August 2000 he was handed a two-year ban by the IAAF, although the British Olympic Association did give him permission to continue to train his athletes.
Copyright 2008 Agence France-Presse.