Krisztina Egerszegi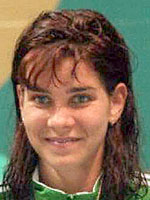 Krisztina Egerszegi
Date of birth

1974-08-16
Birthplace

Budapest
Height

174 cm
Weight

57.0 kg
Disciplines

backstroke, butterfly, medley
World Records

2 (100m and 200m backstroke)
Olympic Games (7 medals - 5 gold, 1 silver, 1 bronze)
100m backstroke: 1st (1992), 2nd (1988)
200m backstroke: 1st (1988, 1992, 1996)
400m individual medley: 1st (1992), 3rd (1996)
World Championships (3 medals - 2 gold, 1 silver)
100m backstroke: 1st (1991)
200m backstroke: 1st (1991), 2nd (1994)
European Championships (12 medals - 9 gold, 3 silver)
100m backstroke: 1st (1991, 1993), 2nd (1989)
200m backstroke: 1st (1991, 1993, 1995), 2nd (1989)
200m butterfly: 1st (1993)
400m individual medley: 1st (1991, 1993, 1995), 2nd (1989)
A unique feat in swimming
Step aside Mark Spitz and co because in the space of three Olympics between Seoul and Atlanta Hungary's Krisztina Egerszegi won five individual swim golds and ahead of Beijing is the only man or woman to have done so.
Of course, the nine gold medals won by Spitz can not be ignored - however, five of his were won in relay events.
But deservedly, Egerszegi merits a special mention due to her domination in the pool, and a longevity of nine years.
The slight brown-haired, blue-eyed Budapest native first came to the public's attention at the Seoul Games in 1988- aged only 14.
In the South Korean capital she went head-to-head with East German Kristin Otto in the 100m backstroke, coming second in a time of 1:01.56.
But three days later she collected her first Olympic gold by beating Kathrin Zimmermann and the double world champion, Cornelia Sirch, in the 200m backstroke.
In the wake of Dawn Fraser
A sickly child, Krisztina was at first encouraged to take up swimmimg by her parents Janos and Klara, both engineers. Hooked on the sport, she would get up regularly at 4 and 5am each morning to swim before going to school.
Seoul marked the beginning of the big adventure and it was at Barcelona in 1992 which proved to be the summit of her achievement, winning the 100 and 200m backstroke and the 400m medley.
Then four years later at Atlanta 96 she won her third consecutive 200m backstroke gold to become the first swimmer to win five individual Olympic swimming titles.
Only one swimmer before her had come near to this sacred milestone - the illustrious Australian, Dawn Fraser, who won three consecutive golds in the same event (100m freestyle) in 1956, 1960 and 1964.
Three weeks from her 22nd birthday, Egerszegi, perhaps fittingly, announced her retirement from the sport.
She had achieved her goal, in spite of the presence of the Chinese and East German delegations - a fact which provokes reflection on where she might have taken her records tally if not for such an early retirement.
Copyright 2008 Agence France-Presse.