Hannes Kolehmainen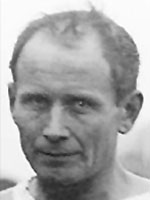 Hannes Kolehmainen
Date of birth

1889-12-09
Birthplace

Kuopio
Height

170 cm
Weight

57.0 kg
Disciplines

5000m, 10,000m, marathon, cross-country
World Records

6 (3000m, 5000m, 10,000m, 25km, 30km)
Olympic Games (5 medals - 4 gold, 1 silver)
5000m: 1st (1912)
10,000m: 1st (1912)
Marathon: 1st and world best (1920)
Cross-country (12,000m): 1st (1912)
Cross-country team (12,000m): 2nd (1912)
Laying the foundations for Finnish success
A 22-year-old vegetarian bricklayer from Finland ran off with three endurance races staged for the first time - the 5000m, 10,000m and 12,000m cross country in the 1912 Games in Stockholm.
But that Johan "Hannes" Kolehmainen - Finland's first outstanding Olympian - could do so was hardly surprising given that, along with brothers Wiljami, Kalle and Tatu, it was not out of the ordinary to ski to the nearest town Lisalmi...only 100km away.
He soon took up running and began to train seriously with a prepared programme. But Hannes was also gifted with a legacy of hard work and determination distilled in him by his mother who, his father having died while a child, had brought up the five-strong family on her own.
Family influences were to prove crucial to Hannes, who by the time he was 22 had won 22 races, including a championship race in London in 1904.
His brother Wiljami constantly wrote to him from the United States offering his expert advice, while Tatu helped to co-ordinate a seven-month intensive training period prior to the Stockholm Games in 1912.
Transatlantic training
Following the Stockholm Games, Hannes left for the United States where he competed in the Boston marathon.
He would never win this world-famous race, but in 1917 he gained a respectable fourth place. He later won the New York marathon two months before the Antwerp Games in 1920.
At the end of a successful career and after helping compatriot Albin Stenroos to prepare for his marathon title, Kolehmainen opened a sports shop in Helsinki.
He returned to the Olympic stage in Helsinki one more time in 1952 to light the Olympic flame - passed to him by compatriot Paavo Nurmi.
He died from a brain haemorrhage in 1966 at the age of 76.
Copyright 2008 Agence France-Presse.