Spiridon Louys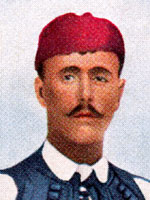 Spiridon Louys
Date of birth

1873-01-12
Birthplace

Maroussi
Discipline

marathon
Olympic Games (1 medal - 1 gold)
A symbolic victory for a simple shepherd
A shepherd from Amarousion, Spiridon Louys, was the only Greek to win gold in 1896.
Born on January 12, 1873 Louys' participation in the first marathon of the modern Olympic era came about extraordinarily. Indeed, he owed his selection to his army boss.
His commander was about to give an important lecture, but had left his glasses at home. Louys offered to run back and fetch them, returning less than two hours later.
For the colonel that accomplishment was proof that Louys should be put forward for the marathon. Although Louys did not qualify for the event, his commander used his influence to make sure the young shepherd was on the starting line.
As the race progressed, some runners gradually fell away while Louys, having stopped for several glasses of wine as refreshment, staged a spectacular recovery after 30km. At the 37km mark he had established a lead from the Australian Edwin Flack.
In the closing stages, details were relayed to the crowd in the stadium by messengers on horseback. When spectators heard that a local man had taken the lead, cries of "Hellenic! Hellenic!" (A Greek! A Greek!) rang out.
When Louys entered the stadium Prince George and Crown Prince Constantine rushed down to greet him, running alongside as he crossed the line after 2hr 58.50min to become the first modern marathon Olympic champion.
Popular parlance
Louys returned to the life he had led as a shepherd in his village, despite numerous ludicrous offers from wealthy merchants and tradesman throughout Athens.
Rather modestly, he accepted a horse and a cart, which he used to transport water to his village.
Contacted by the German Olympic organising committee before the Berlin Games, he acted as Greece's flag-bearer at the opening ceremony in 1936.
He died on March 27, 1940, his name living on in the Greek expression "egine Louys", meaning to run quickly.
Copyright 2008 Agence France-Presse.