Category archive:

Swimming
August, 23, 2010
08/23/10
5:08
PM ET
IRVINE, Calif. -- As the final results of the 2010 Pan Pacific Championships are filed away, the fifth-place finishes of Amanda Beard in the 100- and 200-meter breaststroke will be nothing more than a footnote.
But considering this was Beard's first international meet since the 2008 Summer Olympics in Beijing, considering she has shed 50 pounds since having a baby 11 months ago and considering she had no idea whether she'd be here or even wanted to be here, the results were encouraging.
The four-time Olympian and former world-record holder in the 200 breast rediscovered her love for the water this past week and, in doing so, set her sights on making the 2012 Olympic team.
[+] Enlarge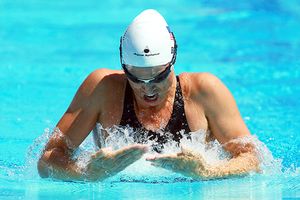 Jeff Gross/Getty ImagesThis month's U.S. nationals and Pan Pacific Championships were Amanda Beard's first official competitions since the 2008 Olympics.
Beard came to the U.S. nationals earlier this month with the goal of finishing within the top eight in both events and went from fifth to second in the last 50 meters of the 200 breast, earning an unexpected spot at the Pan Pacs. In Irvine, she wanted to go faster than 1 minute, 10 seconds in the 100 and 2:30 in the 200. Instead, she finished in the top five at Pan Pacs with times of 1:07 and 2:24, respectively.
"I would have laughed," Beard said when asked what her reaction would have been if someone had predicted what August would hold. "Obviously, the competitor in you, you want to be in the top three every time in the pool. But it makes me want to get in the pool and train even harder. And when I look at 2:24, that's just awesome."
Without any child care planned for 11-month-old son Blaise and having never been apart from him for more than a few hours, she contemplated not accepting the Pan Pacs invitation. But her husband, Sacha Brown, wouldn't have any of it.
So, Beard did her training in the morning, hung out with Blaise in the afternoon and cheered on her American teammates at night.
"My husband thanked me because he's spent so much time with Blaise, and they're bonding so much now," Beard said. "He's like, 'I finally have that relationship with him. It's always been you and him all the time. Now I'm getting the chance to bond with my son.'
"So as much as it's been hard on me, it's actually been a really good thing, a growing process for all of us. I'm more than happy with my decision."
When asked what she learned about herself this week, Beard, 28, said, "That I'm not old yet." Moving forward, the seven-time Olympic medalist said she's taking the approach that no matter what happens, she's already had a great career and anything else she accomplishes is a bonus. Her motivation is simply to be the best she can be and, perhaps, come up with a few more surprises in 2012.
"It would be cool to make another Olympic team," she said. "But I'm very competitive with myself, and I always like to push myself and see what I can do. So every day of training is just to see what I can do. It's fun to surprise yourself."
August, 21, 2010
08/21/10
11:55
PM ET
IRVINE, Calif. -- If you're going to walk the walk in lime green rhinestone-covered high-tops, shoes that have your name on the sole and "JEAH" on both heels, you better be able to back it up.
And that's just what American Ryan Lochte did this week, winning six gold medals in the Pan Pacific Championships, allowing him plenty of time to stand atop the medal stand and show his self-designed neon kicks to the world.
Lochte took one more bow Saturday night, swimming the 200-meter individual medley in a blistering 1:54.43, a mere .33 off his suit-aided world record at last year's World Championships. It was the perfect end to a near-perfect week for Lochte, who won all six events he entered and was named the meet's top swimmer, and did so in Pan Pac-record fashion.
[+] Enlarge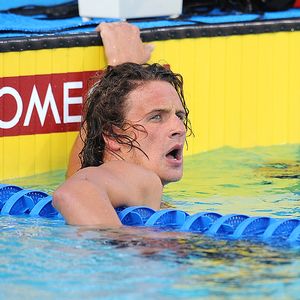 ROBYN BECK/AFP/Getty ImagesRyan Lochte won six gold medals this past week at the Pan Pacs.
"It's just a stepping stone for the next two years," he said. "I'm just getting ready."
And what a two years it will be.
Lochte's performance here and at the nationals this month leaves almost no doubt that, for the time being, it his he -- not Michael Phelps -- who sits atop the throne as swimming's top dog. That means far less now than it will in London in 2012, especially with Phelps admitting all week he is far from peak form. But what a showdown it should be between the two giants of American swimming at next year's World Championships in Shanghai and the 2012 Olympics.
The free-spirited Lochte has the potential to be the Agassi to the methodical Phelps' Sampras.
"We're going to have a good time going head to head for the next couple years," Lochte said.
Halfway through Saturday night's 200 IM, an event Phelps elected not to swim in, Lochte was right at world-record pace. At 150 meters, he was .41 seconds behind. After touching the final wall and realizing how close he was to becoming the first person to break a world record since the ban of the speed suits, he slapped the water in disgust.
"I knew I was going to go fast, but I didn't know how fast I was," he said. "But once I figured it out, I thought, 'Man, if I just would have done one or two more dolphin kicks, I would have had it.'"
After Saturday night's race, Lochte walked to the grandstand and threw his swim caps and goggles to the sellout crowd. He then walked into the media interview area, where he pumped his fist and yelled, "IT'S OVER!"
So, what's next?
Vegas, of course.
"Man, if we didn't have code, I'd be out on my way there right now," he said. "But we have to stay on code, so I won't leave until tomorrow."
August, 21, 2010
08/21/10
11:50
PM ET
[+] Enlarge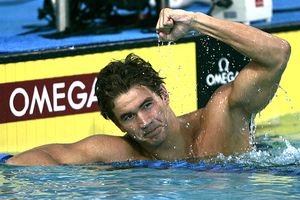 AP Photo/Adam LauNathan Adrian won both the 50 free and 100 free this past week at the Pan Pacs.
IRVINE, Calif. -- After adding a thrilling split-second victory in Saturday's 50-meter freestyle to his win in the 100 free earlier this week, Nathan Adrian had but one thought about what it meant for him going forward: he's a marked man.
All he had to do Saturday night was look in the lane next to him, where Brazil's Cesar Cielo showed up this week as the world-record holder in the 50 and 100 free only to be edged by Adrian in both races.
In the 50 free, Adrian was in the water one-tenth of a second faster than Cielo. The two were side-by-side the entire race, with Adrian reaching the wall two tenths of a second faster than Cielo to take the win in 21.55. Later, Adrian anchored the men's 4x100 medley relay team that also took gold.
"It's just a great confidence-booster," Adrian said. "We're still two years out of the Olympics. It's not like anything is going to come easy. If anything, there's a little bit of a target on my back and I'll have to work harder to maintain my position."
Cielo, meanwhile, will head back to training in Auburn, Ala., to figure out what went wrong.
"My freestyle is not going as well as I expected," he said. "It's something I haven't done well in practice or something that I'm doing wrong. I don't know. We have to look at all the workouts and all these things to figure out where the problem is."
August, 21, 2010
08/21/10
5:08
PM ET
IRVINE, Calif. -- The head-to-head rematch between the greatest swimmer of all time and the man many believe is the top swimmer in the world right now will have to wait another year.
Michael Phelps elected not to swim in the 200-meter individual medley Saturday and thus will not face fellow American Ryan Lochte in a rematch of the race Lochte won earlier this month at nationals.
Phelps won gold in the 100 butterfly Friday night and swam the opening leg of the 400 freestyle relay in a meet-record 48.13 seconds. His coach, Bob Bowman, said that simply took too much out of him and he wanted to save his energy for the 400 medley relay tonight.
"After last night, his energy levels were pretty low," Bowman said. "He had three races today if he swam the 200 IM twice and he wanted to make sure the relay was good, so it just made sense to skip the IM."
Phelps must now hope his 200 IM time of 1:55.94 at nationals holds up so he is one of the two Americans to qualify for the event at next summer's world championships.
Lochte, who holds the top U.S. time in the event (1:54.84), was less than pleased when he heard Phelps had pulled out of the event.
"I was kind of upset," he admitted. "I was kind of looking forward to racing against him in the 200 IM. It's kind of surprising, but he has his reasons, so I just have to focus on my race."
Lochte, who himself elected not to race in the medley relay Saturday night, said he doesn't believe Phelps is ducking him. Lochte will instead face off with American Tyler Clary in the 200 IM final after both turned in qualifying times under 1:59.
"I know [Phelps]," Lochte said. "He's not the kind of person who would leave or hide away from anyone. He's a racer. We all are. He just has his reasons why he's not swimming and that's between him and his coach."
Hardy continues to build confidence
The psychological rebuilding of Jessica Hardy continued here Saturday morning. One night after winning gold in the 50 breaststroke, the American speedster shattered Amy Van Dyken's 15-year-old Pan Pac record during qualifying heats of the 50 freestyle.
Hardy swam her qualifying heat in 24.75, breaking Van Dyken's previous mark of 25.03. U.S. teammate Kara Lynn Joyce, who won the 50 free at nationals, also qualified for the final (25.00).
"I'm just getting more and more confident every time I get in the water," Hardy said. "Instead of telling myself to relax or thinking about trying to relax, I'm almost on autopilot, where I am automatically relaxing before every race. And that's the key to everything, swimming relaxed and with confidence."
Hardy's coach, Dave Salo, had another take on his swimmer's success in the 50-meter distances.
"It's pure speed," he said. "And she's a thoroughbred."
What to watch for tonight ...
Two entertaining races to keep an eye on in tonight's Pan Pacific Championships are the men's 50 freestyle and 200 breaststroke.
The 50 free race for the world's fastest man will pit Brazilian Cesar Cielo versus American Nathan Adrian. Cielo, the world-record holder in the event, turned in the fastest qualifying time at 21.64, a Pan Pac record. Cielo's coach criticized his swimmer for coasting earlier in the meet. Saturday, he gets his final chance at redemption; but he'll have to be faster than Adrian, who beat Cielo in the 100 free and was less than two-one hundredths of a second behind him in qualifying.
"The thing is, we all know he has a lot more in the tank," Adrian said of Cielo. "So it's going to be interesting."
The other entertaining swimmer to watch will be Japan's Kosuke Kitajima in the 200 breast. Kitajima was on world-record pace 150 meters through his morning preliminary session, but faded ever so slightly in the end, finishing in 2:09.23. On Saturday night, Kitajima could become one of the first swimmers in the world to set a new world record in a textile suit.
August, 21, 2010
08/21/10
12:17
AM ET
IRVINE, Calif. -- Imagine Tyson Gay running a marathon. Or Meb Keflezighi, winner of the 2009 New York Marathon, running the 100-meter dash.
That's essentially what 18-year-old Chloe Sutton is trying to pull off in the pool. After qualifying for the Beijing Games in the 10K open-water swim, Sutton began attempting shorter distances and has established herself as one of the top up-and-coming American swimmers this week at the Pan Pacific Championships.
[+] Enlarge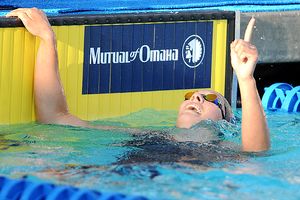 ROBYN BECK/AFP/Getty ImagesChloe Sutton's win in Friday's 400 freestyle final earned her a trip to next year's world championships.
After taking gold in the 800-meter freestyle Wednesday night, she won the 400 free Friday, outclassing Katie Goldman and Blair Evans of Australia and teammate Allison Schmitt in 4:05.19, a mere half second off of Janet Evans' 21-year-old Pan Pac-record pace. It was also the fastest time for an American this year.
After the race, an exuberant Sutton jumped up and down on the pool deck, genuinely thrilled at her shocking result. Prior to Pan Pacs, she said, her goal was to merely make the "A" final. After qualifying Friday morning, she adjusted that to just wanting to finish second behind Schmitt, the favorite. And then, she won. On the medal stand, she couldn't stop smiling. She held the teddy bear given to medalists as tight as if she were a 3-year-old seeking comfort during a thunderstorm.
"I'm learning how to handle my nerves, how to act before these big international races," she said. "There is so much at stake, there are so many people in the stands watching me. It's embarrassing to perform poorly when all eyes are essentially on you. So it's amazing to prove that I can perform internationally and that I'm a force to be reckoned with in 2012."
Sutton's time qualifies her for next year's world championships in Shanghai. Also making the trip is Katie Hoff, whose time of 4:05.50 from nationals held up despite an impressive performance by Katie Ziegler in the "B" final. Ziegler's time (4:05.52) was just two-tenths of a second earning a spot in Shanghai.
But the story of the day was Sutton, who finished a disappointing 22nd in the 10K swim in Beijing but now has a new set of goals heading toward London. Although no other American specializes in both open water and pool swimming at this level, Sutton said she has no plans to give up either discipline. She will swim in the 10K open-water event here Sunday.
"It's going to be challenging," she said of training for both disciplines. "I'm going to have my ups and downs and it's going to take a toll on me sometimes, but I think it's possible. I think, in the end, it's going to be up to me to grasp it mentally. The training will be there. I just need to be there mentally."
Hardy back on podium
As the national anthem played and the American flag was raised on the opposite end of the pool, Jessica Hardy had one goal: not to cry.
It was hardly the first time she had stood at the top of a medal podium and listened to "The Star-Spangled Banner." But it was the first time in a long time; the first time in a major international meet since her 2008 positive test for a drug that increases aerobic capacity.
Despite an arbitrator cutting her two-year ban in half, Hardy has admittedly battled mental demons since her return -- especially in the breaststroke. That made Friday night's performance -- a 30.03 mark in the event, the third-fastest time ever -- that much more satisfying. So, too, did the fact that the win came at the pool in which she trained as kid with friends and family in attendance.
"It was so awesome," Hardy said of the medal ceremony. "I kept telling myself, 'Don't cry, don't cry.' It was so fun hearing that song. I'm just really proud to be an American and represent my country again on top of a medal podium."
Hardy even surprised herself with the time -- the fastest ever in a textile suit -- and was optimistic the performance could carry over to the 100 breast. Hardy sat out of the event at Pan Pacs after finishing seventh earlier this month at nationals.
"I haven't been training on breaststroke at all, so I'm really surprised," she said. "I never thought I would go that fast right now. For sure, it gives me a ton of confidence to get back to the 100. Finding my stroke again is fantastic. I'm real happy about it."
August, 20, 2010
08/20/10
11:36
PM ET
IRVINE, Calif. -- Aaron Peirsol just sat there sipping on a bottle of water. He looked at the ground, at the television monitor to his left and at the pool in front of him. He didn't say a word. His face had no expression.
He already knew his time in the "B" final of the 200-meter backstroke wouldn't be good enough to qualify him for next year's world championships. And yet, Peirsol, the world-record holder in the event, couldn't leave the pool after his swim. Instead, he watched teammates Ryan Lochte and Tyler Clary go head to head in the "A final.
When Lochte finally beat Clary in a time of 1:54.12, breaking Peirsol's Pan Pac record from 2006, Peirsol stood up, briefly clapped and then left the pool.
"It's the way it is tonight," Peirsol said of watching the "A" final. "I would have liked to have been in that race, but tonight, with what I was doing, I wouldn't have been able to compete with those guys."
Peirsol won the "B" final, but his time of 1:56.67 was slower than his morning preliminary mark of 1:56.22. He admitted it just wasn't his day.
"The body was just unwilling," he said. "I did the best I could with what I had and all I can say is I gave it my all. It's not like I can say I could have, should have, would have."
This week's result combined with his times at nationals mean the 27-year-old Peirsol, a two-time World Champion and one-time Olympic gold medalist in the event, will not be able to defend his 2009 worlds title.
"C'est la vie," Peirsol said. "Sometimes in this sport, you have to step up on a particular day, and if you don't, you have to sit out for a bit. I've been fortunate enough to be on the other side of that for a while, so if it happens to me now, it's unfortunate. But I'm happy for the guys who made it. They swam well."
August, 20, 2010
08/20/10
4:18
PM ET
IRVINE, Calif. -- If you're a superstar American swimmer, the last name you want to see swimming against you in a qualifying heat right now has to be 21-year-old speedster Tyler Clary.
For the second straight morning, Clary's performance kept a world-record holder from qualifying for the night's "A" final. On Thursday, it was Michael Phelps in the 400 individual medley. On Friday, it was backstroke specialist Aaron Peirsol in the 200 back.
[+] Enlarge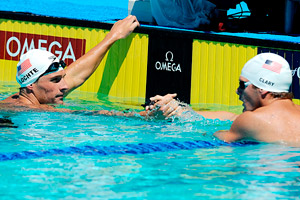 Robyn Beck/AFP/Getty ImagesRyan Lochte, left, and Tyler Clary again pushed each other in Friday's 200 back prelims.
"Michael and Aaron -- pretty cool, right?" Clary said after Peirsol posted a 1:56.22 in the final heat Thursday morning, placing him two-thirds of a second behind Clary. Ryan Lochte won the heat at 1:55.26.
On Thursday, Clary nervously watched Phelps on a monitor in the media interview area. Friday, he plopped into an official's chair on the deck of the main pool and watched Peirsol's performance in person.
"It's absolutely nerve-racking," Clary said. "It's not like it gets easier the next day. You just sit there and watch. And with the kind of competition we have, it doesn't matter what kind of time you put up. There's always that possibility that someone is going to post something faster."
Clary was again boosted by swimming next to Lochte in his heat, the two Americans pushing one another from beginning to end. An exasperated Lochte joked afterward that he "hates" swimming next to Clary in preliminaries. But both swimmers know having the competition within eye sight is a good thing.
"We bring out the best in each other," Clary said. "He jokes that he hates it, but we always push each other. It's a good thing. Yesterday and today, it worked to get us both in the final."
Peirsol, meanwhile, the Pan Pac and world-record holder in the event, won his heat but still found himself in the "B" final. A top-two time overall will still qualify Peirsol for next year's world championships.
"It is what it is," he said after the heat. "I get another swim tonight. The swim I get does count. I'll go as fast as I can."
As he walked past Clary in the media interview area, Peirsol tapped the newcomer on the back and said simply, "Nice job." On Wednesday night, an exhausted Lochte gave Peirsol his spot in the "A" final of the 100 back, an event Peirsol went on to win. That was not going to happen Friday.
"Tyler should swim," Peirsol said. "He earned it."
August, 20, 2010
08/20/10
3:57
PM ET
IRVINE, Calif. -- Chloe Sutton is admittedly not a morning person. The whole idea of hopping in a pool and pulling off a blistering time in an a.m. heat doesn't jell with someone who likes a slower pace in the early hours of the day.
But on Friday morning, the 18-year-old had no choice. So before her preliminary heat in the 400-meter freestyle, Sutton slapped herself in the head, rubbed ice cubes on her face and even drank a caffeinated soda to help wake up.
[+] Enlarge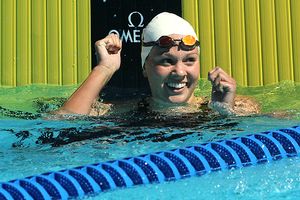 Stephen Dunn/Getty ImagesChloe Sutton's qualifying time (4:07.64) was the fastest of Friday's morning heats in the 400 free.
It worked.
Sutton's qualifying time of 4:07.64 was the fastest of the morning heats, making her one of the favorites in tonight's final. Now, the California girl who grew up idolizing Janet Evans has her eyes set on Evans' 21-year-old Pan Pac record (4:04.53), the longest standing mark in the meet's history.
"That would be amazing," Sutton said of setting the record. "I would be so, so happy to go that time. [Evans] gave me my award in the 800 last night and I thought that was awesome. She's one of my biggest heroes, one of the people I look up to."
The news wasn't as good for American record holder Katie Hoff. Hoff, who led for much of her 400 free heat before being caught at the end by Kate Ziegler, posted a time of 4:08.93, which kept her out of the "A" final. Hoff won the event at U.S. nationals earlier this month in 4:05.50. Now she must watch to see if that time will hold up to be one of the top two the Americans will send to next year's World Championships in Shanghai.
Hoff has already qualified for next year's world team in the 800 freestyle relay, but was disappointed with the result in her marquee event Friday. She was visibly upset after the heat and took nearly 45 minutes before talking to reporters.
"Honestly, I did feel like I went out too fast," Hoff said of her collapse in the 400. "I felt strong. It was close to where I was in the morning at nationals. It's not like I was way off. Kate had a great last 10, that's for sure. And obviously we're very competitive here in the U.S., so there's not much more we can do."
August, 19, 2010
08/19/10
4:20
PM ET
IRVINE, Calif. -- All week long, swimmers have said the Pan Pacific Championships are simply a gauge of who sits where smack in the middle of the four-year Olympic cycle. If Thursday night is any indication, the Americans are sitting quite well.
The U.S. won seven of the 10 events here on the second day of the meet, highlighted by a sweep in the men's and women's 800-meter freestyle relay. Rebecca Soni swam the 100 breaststroke in a blistering 1:04.93, beating the Pan Pac record she set in the morning and turning in the fastest time in the world this year. Nathan Adrian continued his climb toward the world elite, upsetting world-record holder Cesar Cielo from Brazil in the 100 freestyle. Natalie Coughlin (100 back), Elizabeth Beisel (400 IM) and Ryan Lochte (400 IM) were also victorious.
"It's fun to hear all the screams and to have a night like this in front of your home fans," said Dana Vollmer, part of the women's 800 free team. "We can hear them the entire way, so it's great to do this for them."
At no point were the cheers louder than during the relays, which the American women pulled out in the last 50 meters and the men dominated.
"We've put up that time and now hopefully we can take the next two years to continue to build on that," Michael Phelps said of the men's performance.
Lochte's "mistake" doesn't catch up with him
One-hundred and fifty meters into his 400 individual medley Thursday night, Lochte was on pace to set a new world record. It wasn't by design.
"That was my fault," he said. "My coach told me, 'Whatever you do, go smooth on the first 50.' And I kind of just did not listen to him at all. I went out fast. I dove in and it felt good, so I just kept going. Definitely a mistake."
A mistake that caught up with him fairly quickly.
"Yeah, after the first 100, I felt it on the breaststroke and I was like, 'Man, I shouldn't have done that.' But you learn from your mistakes, so hopefully I will fix it later."
With Michael Phelps looking on from the front row of the pool deck, Lochte won the race in 4:07.59, breaking Phelps' Pan Pac record from four years ago. An hour later, he and Phelps teamed up on the men's 800 freestyle relay team that also won gold.
"Before that race, I told all the guys you better give me a 10-second lead because I'm going to need it," he said. "But it wasn't that bad. That 4-IM took a lot out of me, but I was able to recover and still put up a decent time. We did what we had to do."
Surprise in men's 100 freestyle
After a disappointing morning swim, Cielo snuck into the final of the 100 free thanks to a Pan Pac rule that allows only two representatives from each country to swim in the final. Though the world-record holder and Olympic bronze medalist was the favorite, Adrian, the 21-year-old American sprinter, came from behind to beat the Brazilian in the final 25 meters. His time of 48.15 set a Pan Pac record.
"It's huge," Adrian said after the race. "The goal all season was to step up internationally and I think that's a little bit of what happened here. I'm pretty fortunate, let's be honest. It's just the Pan Pacs. But hopefully next year at worlds we can do something special that leads up to the Olympics."
Cielo, who won the 200 freestyle Wednesday, finished third.
"I honestly didn't feel like I deserved to be there," he said. "I'm glad I got the chance, but the finish line wasn't what I was expecting. I was expecting three golds, but now that isn't possible, so I just have to focus on the 50 now."
A matter of time ...
The question of how long it will take for one of the suit-aided world records from last summer to fall may have been answered Thursday night by Rebecca Soni.
Soni's time of 1:04.93 in Thursday night's 100 breaststroke was less than a half second off the world record set by teammate Jessica Hardy in 2009, providing a bit of motivation for the rest of the swimmers in attendance here this week.
"It's one of those things where you are racing and you touch the wall and look up and see 1:04 and you're like, 'What the ... ?'" said teammate Amanda Beard, who finished fifth in the race. "You have to be impressed. She's a sweet girl. But at the same time, you can take that to the pool in training. Now you know -- it's not impossible to go 1:04, it's not impossible for anyone else to do that. We just have to figure out what to do to get there."
Soni said she believes she's been helped by the fact that she ever spent much time focusing on the special speed-enhancing suits and how they could help her. Now that they've been banned, it hasn't been much of an adjustment.
"We're all chasing those records now, so to see 1:04 is awesome," she said. "I was always pushing for 1:04, but I didn't know if I was ready to see it on the clock. So I was very happy."
August, 19, 2010
08/19/10
3:54
PM ET
• More Thursday a.m. results: Hardy, Cielo struggle in prelims
IRVINE, Calif. -- After finishing the first preliminary of the 400-meter individual medley in less than 4:10 on Thursday morning at the Pan Pacific Championships, Americans Ryan Lochte and Tyler Clary walked past Michael Phelps, who was on his way to the pool for the third and final heat.
"I told them both, 'Thanks guys, you enjoy the final tonight. I'm not going that fast,'" Phelps said. "And they were both like, 'Yeah right, yeah right.'"
Clary, whose time of 4:09.20 was the second-fastest behind Lochte (4:07.77) and nearly five seconds faster than his mark at nationals 10 days earlier, was particularly suspicious of Phelps' claim. And since only two Americans could reach the final, he had the most to lose.
"I've learned to never trust anything like that when he says it," Clary said. "To be honest, he hasn't swum the event in quite a while. But I wouldn't be surprised if he dropped something big here in a minute or so."
So, a few minutes later, there was Clary, watching on a flat-screen television to see if it would be him or Phelps in tonight's final. The screen was nothing more than an image of the pool, with no timing to help Clary know where he stood.
"How is there no clock on this?" he asked.
When Phelps turned for the fourth and final discipline of the race (freestyle) and the stadium announcer told the crowd the Olympic champion was at 3:15.80, Clary walked away from the television and headed back to the athlete training area. He felt confident he was safe.
For the 21-year-old, it was a bit of redemption after Phelps and his coach Bob Bowman said earlier this week that they elected to race the 400 IM because they were relatively unimpressed by Lochte's and Clary's times at nationals. Lochte's and Clary's times this morning both broke the Pan Pac record set by Phelps (4:10.47) four years earlier.
"I had heard he was underwhelmed by the 400 IM at nationals," Clary said. "I don't take that personally, but I do take it as good motivation."
Phelps' time of 4:15.38 was the fourth-fastest in qualifying, behind Lochte, Clary and Brazil's Thiago Pereira. After the heat, Phelps, the defending Pan Pac champion and world-record holder in the event, described how he felt as "painful" and added he wasn't kidding when he wished Lochte and Clary well.
"They could have thought I was trying to be coy, but I was being dead honest," Phelps said. "I knew 4:07 was nowhere near being in the tank."
But Phelps wasn't entirely disappointed in his performance. Outside of the Olympics and Olympic trials, he said he couldn't remember many times when he had swum the event that fast in the morning. As for what the future holds for him in the 400 IM, the event his mother, Debbie, calls her favorite, that remains to be seen.
"I think it's going to have to be a better-judged decision when we get back into good solid training," Phelps said. "I think that was OK, but obviously nowhere near or close to where I want to be and where I think I can be."
Only two can tango in Pan Pacs finals
One unique aspect of the Pan Pacs is that only two swimmers from one country can appear in the "A" final. For an ultra-competitive swimming country like the United States, that often means the morning preliminaries are just as important as the final.
The rule often seems to penalize larger swimming powers like the U.S. and Australia, while creating opportunity for less competitive countries like Brazil. Both sides of the rule were evident Thursday, when American Jessica Hardy won her heat and turned in the fourth-fastest time in the 100-meter freestyle preliminary (54.35) and yet was relegated to the "B" final thanks to the times of teammates Dana Vollmer (54.01) and Natalie Coughlin (54.09).
Vollmer and Coughlin had the benefit of pushing each other in side-by-side lanes in the seventh and final heat.
"I thought I was going fast enough," a frustrated Hardy said. "But yeah, I guess that was a big disadvantage."
Hardy's coach, Dave Salo, said his swimmer was "pissed" by not qualifying for the "A" final.
"I told her that we should use that and see what she can do," he said.
The flip side of the story involved Brazil's Cesar Cielo, the world-record holder in the 100 freestyle. Cielo, who won the 50 free Wednesday night, swam an unimpressive 49.13 in his qualifying heat Thursday morning, nearly three seconds off his world-record pace. Though his time was the 10th-fastest of the morning, he will still be one of the eight to swim in the final after bumping Australian James Magnussen and American Garrett Gale-Weber to the B final.
After the disappointing performance, Cielo's coach, Australian Brett Hawke, refused to let his swimmer speak to reporters and instead answered the questions of what went wrong himself.
"He was just too relaxed," Hawke said. "He wasn't prepared, not mentally, not physically. He took it too easy. He doesn't have the pressure of the U.S. or Australians to be in the top two, so mentally he just switched off.
"He's in the final -- luckily -- but he has to get his head ready tonight if he wants to win."