Category archive:

Swimming
February, 3, 2011
02/03/11
5:19
PM ET
Ian Thorpe's return to the pool is potentially the best news for swimming since my health club banned Speedos for men over the age of 40.
[+] Enlarge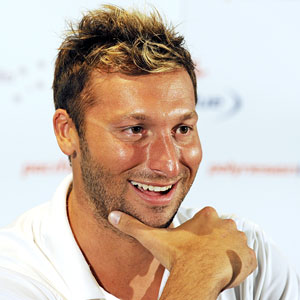 Greg Wood/AFP/Getty ImagesIan Thorpe said he will concentrate on the 100- and 200-meter freestyles and keep an eye on the relay events for the 2012 London Olympics.
Granted, Michael Phelps' eight gold medals in the 2008 Olympics was perhaps the most astounding, thrilling and inspiring athletic feat that did not include your fantasy team. But what is the man going to do for an encore? Win another eight? Even if he does, so what? Been there, done that. No matter what Phelps does, it won't compare to his performance in Beijing.
But Thorpe could stir things up. The only thing America loves more than a champion breaking a cherished record is a past champion on a comeback quest. It's the guiding principle for Rocky III, IV, V and VI.
As jazzed as America was about Phelps in 2008, Thorpe was bigger in Australia in the 2000 Sydney Games. As captivating as Phelps' performance was for Americans, it was still only swimming, a sport we follow for a week during Olympic summers before returning our attention to baseball's pennant races and our fantasy football drafts. Swimming, however, is a national pastime in Australia.
I was at the pool in Sydney and had the pleasure of listening to the SRO crowd sing along to Australia's unofficial national anthem, "Man Down Under." It sounds nuts, but the moment raised goose bumps on my arms so large, I was pulled aside for random drug testing.
Thorpe won three gold medals at those Olympics to become as big an Australian idol as Russell Crowe and Mel Gibson combined. He won two more gold medals in Athens. And now, he's back -- or at least he hopes to be back in 2012. He'll be 30 years old by then -- that's almost old enough to be Jamie Moyer's brother or Dara Torres' son -- and may concentrate his efforts on the relay events.
I hope he makes it. Nothing against Phelps, but the more drama we can cram in the pool the better.
December, 1, 2010
12/01/10
1:32
PM ET
Top U.S. swimmers will gather on the campus of Ohio State University Thursday through Saturday for the Short-Course National Championships, contested in a 25-yard pool as opposed to the Olympic standard of 50 meters. Then it's on to Dubai in mid-December for the Short-Course World Championships, where it's 25 meters from wall to wall. Thirty-seven swimmers have been named to the roster for worlds, including Olympic champions Natalie Coughlin, Ryan Lochte, Aaron Peirsol and Rebecca Soni.
Why mix it up with formats substantially different from the 2011 Long-Course World Championships in China, or London 2012? Quite simply, the swimmers want to race, there are medals in all the familiar colors at stake, and Dubai offers their only chance to test themselves against a full international field between now and next summer. A few, like Lochte, have underwater technique that gives them an advantage with more frequent turns.
"I really need a fast meet in December to show where I am, what I need to work on for the next summer," butterfly and freestyle specialist Dana Vollmer said at last week's Golden Goggle Awards dinner in New York City. "It definitely fits in well and I love racing against the fastest athletes in the world. Therese [Alshammar] from Sweden and I, we're so close to each other ... she's definitely going to be my main competition. Being able to challenge myself that way really helps me to prepare for World Championships next summer."
Eleven-time Olympic medalist Coughlin will be making her first trip to short-course worlds for the same reason.
"For me personally, it's hard to stay motivated to train if I don't have little short-term goals along the way," she said. "Dubai is a great meet for me because it keeps me on point and working toward my goal of, ultimately, Shanghai next year and the Olympics. It keeps me on track and gives me a stepping stone along the way. Honestly, I love traveling, I've never been to Dubai and I probably wouldn't go otherwise, so I'm really looking forward to the meet as a growing experience and a competition experience."
But the swimmers acknowledged this isn't just any trip. Fran Crippen's death Oct. 23 in a 10-kilometer open-water race in Fujairah, another part of the United Arab Emirates, is still fresh, as is the criticism and controversy over the lack of safety precautions there.
The Crippen family, through Fran's sister and former Olympian Maddy Crippen, have made it clear they support the team's participation in the short-course worlds, and no serious consideration was given to a boycott.
"It wasn't a tough decision, but it was a decision we gave a lot of thought to," USA Swimming executive director Chuck Wielgus said. "The dynamics are so dramatically different from an open-water event. This is a different venue and different people are involved in organizing and running it. But we're sensitive to the emotional journey."
Wielgus said the national team will be accompanied by U.S. Olympic Committee chief security officer Larry Buendorf and team psychologist Dr. Jim Bauman. Swimmers will wear Crippen's initials on their dress sweats and T-shirts.
"I definitely don't have any hesitation about going, because I think that it's important to commemorate Fran and his fight at the finish," said Jessica Hardy, the current world-record holder in the 50-meter short-course breaststroke event. "It's terrible. I don't even have words to talk about it. I'm hoping that can change open water at every single competition forever from now on. I'm happy to get to go and compete in Fran's honor. ... Not going isn't going to solve any problems. I think it's the sport of open water that needs to be reconsidered and re-evaluated. It's important to make a statement that we're strong and we obviously care. We're there with a voice. We're not just going to go passively."
Said breaststroke specialist Soni, who holds short-course world records in the 100- and 200-meter events: "Obviously, we're all angry. We all want to fix the issue, but how do you fix that issue? You can't bring him back. He was such a great guy. But I don't necessarily think we should run away and hide from the place that happened. Maybe if we go there, show up and demand a change while we're there, maybe that'll make more of a statement."
Coughlin said she is certain Crippen would want them to race. "It was his dream to be an Olympian, so I think the best way to pay homage to him is to do the sport we love and compete."
November, 22, 2010
11/22/10
5:17
PM ET
Three-time Olympic gold medalist Ryan Lochte sat down with us in New York City hours before the annual Golden Goggle Awards on Monday night. His dominating performance at this past summer's Pan Pacific Championships, where he won four individual and two relay gold medals, made him a slam-dunk nominee for several honors. He wound up winning Male Athlete of the Year for the second straight year and also took home the award for best race (200 IM from Pan Pacs). The following are excerpts from the conversation.
Question from Bonnie D. Ford: You've been to two previous Olympics. Is there anything about the "year before" season -- I know it's a world championships year -- that you're going to try to repeat or avoid in 2011?
Answer from Ryan Lochte: Getting injured. That was definitely a setback. At the same time, I think it helped me. But I really don't need to be out of the water for that long again. I'm trying to stay safe. I always end up getting hurt every year. Dancing was last year. [Editor's note: Lochte tore the meniscus in his left knee break-dancing in October 2009.] The year before that, I fractured my shoulder. Year before that, I fractured my foot skateboarding.
Q: How did you fracture your shoulder?
A: I fell out of a tree. I was playing hide-and-go-seek with my little baby brother.
Q: [Laughs] I know, it's not funny.
A: Actually, it's hilarious, because I'm not supposed to be doing those things. But I've got to be able to do those kinds of things no matter what the consequences are.
Q: Your playful nature requires it?
[+] Enlarge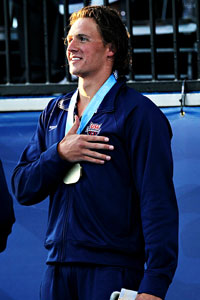 Stephen Dunn/Getty ImagesRyan Lochte says he plans on swimming in six events at next year's world championships in July.
A: Yeah. If I just swam all day, I'd lose it. That's why I do so many other activities. It keeps me sane.
Q: So what's your compromise then, if you want to stay safe?
A: I don't know; I've got to find another kind of hobby. ... I had my [knee] surgery last October, was out of the water for seven months, got back in the water around April, trained until July, went to Pan Pacs in August and now I'm back.
Q: So when you say being injured helped you ...
A: It helped me because I was getting really frustrated with myself because I couldn't work out, I couldn't do any kind of exercise. Once I got back in the pool, I was a more motivated swimmer. I was more dedicated to the sport, changing old habits, getting into things that were a lot better for me. It definitely made me a better swimmer all around.
Q: You must have lost a lot of muscle mass.
A: I lost all my muscle, and one of the things I did change was my diet. I couldn't eat the same stuff or else I'd just get fat and it would be that much harder to work off. I started eating healthy, so that was a plus.
Q: You ate a lot of McDonald's in Beijing.
A: Breakfast, lunch and dinner. I was comfortable with that. I knew what I was getting.
Q: But you're avoiding it now.
A: I'll go maybe like once every two weeks.
Q: You're slated to go to Dubai next month for the Short Course World Championships. Do you have any qualms about going there so soon after Fran Crippen's death? [Editor's note: Crippen died in an open-water race last month in another part of the United Arab Emirates.] I know there's a lot of anger among his friends.
A: It's a tragedy. He was a good friend, and I know their whole family pretty well. What happened to Fran is going to be in all of our hearts. But as far as I'm concerned, it's just another swim meet in a different place.
Q: You've said your intention is to race as many events as possible in London [at the 2012 Olympics]. Are you going to use worlds [in China in July] as a sort of test run for that?
A: In Shanghai, I'm going to swim six events -- two relays and four individual events. The 200 and 400 IM, 200 backstroke, 200 freestyle, the 4x200 freestyle relay, the 4x100 freestyle relay. I feel like I can swim more, but since I did those events at Pan Pacs, I already have a feel for it, for how hard it's going to be. I'm ready for it. I love challenges.
Q: You obviously had experience swimming two medal events very close together in Beijing. I know it's hard physically because you have no time to recover, but is there any advantage to not having any time to think, or get anxious or stressed?
A: For me, no, because I don't get nervous before a race. But I have to train for it in practice. It'll be hard.
August, 20, 2008
08/20/08
12:52
PM ET
From ESPN.com Olympics editor Joy Russo: Like Eli Manning, the Celtics' big three and David Cook before him, Michael Phelps has been swooped up and swept off on a whirlwind tour of interviews and sponsorship appearances that would make any mortal's head spin.