Chloe Sutton becoming U.S. double threat
August, 21, 2010
08/21/10
12:17
AM ET
IRVINE, Calif. -- Imagine Tyson Gay running a marathon. Or Meb Keflezighi, winner of the 2009 New York Marathon, running the 100-meter dash.
That's essentially what 18-year-old Chloe Sutton is trying to pull off in the pool. After qualifying for the Beijing Games in the 10K open-water swim, Sutton began attempting shorter distances and has established herself as one of the top up-and-coming American swimmers this week at the Pan Pacific Championships.
[+] Enlarge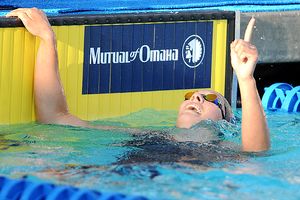 ROBYN BECK/AFP/Getty ImagesChloe Sutton's win in Friday's 400 freestyle final earned her a trip to next year's world championships.
After taking gold in the 800-meter freestyle Wednesday night, she won the 400 free Friday, outclassing Katie Goldman and Blair Evans of Australia and teammate Allison Schmitt in 4:05.19, a mere half second off of Janet Evans' 21-year-old Pan Pac-record pace. It was also the fastest time for an American this year.
After the race, an exuberant Sutton jumped up and down on the pool deck, genuinely thrilled at her shocking result. Prior to Pan Pacs, she said, her goal was to merely make the "A" final. After qualifying Friday morning, she adjusted that to just wanting to finish second behind Schmitt, the favorite. And then, she won. On the medal stand, she couldn't stop smiling. She held the teddy bear given to medalists as tight as if she were a 3-year-old seeking comfort during a thunderstorm.
"I'm learning how to handle my nerves, how to act before these big international races," she said. "There is so much at stake, there are so many people in the stands watching me. It's embarrassing to perform poorly when all eyes are essentially on you. So it's amazing to prove that I can perform internationally and that I'm a force to be reckoned with in 2012."
Sutton's time qualifies her for next year's world championships in Shanghai. Also making the trip is Katie Hoff, whose time of 4:05.50 from nationals held up despite an impressive performance by Katie Ziegler in the "B" final. Ziegler's time (4:05.52) was just two-tenths of a second earning a spot in Shanghai.
But the story of the day was Sutton, who finished a disappointing 22nd in the 10K swim in Beijing but now has a new set of goals heading toward London. Although no other American specializes in both open water and pool swimming at this level, Sutton said she has no plans to give up either discipline. She will swim in the 10K open-water event here Sunday.
"It's going to be challenging," she said of training for both disciplines. "I'm going to have my ups and downs and it's going to take a toll on me sometimes, but I think it's possible. I think, in the end, it's going to be up to me to grasp it mentally. The training will be there. I just need to be there mentally."
Hardy back on podium
As the national anthem played and the American flag was raised on the opposite end of the pool, Jessica Hardy had one goal: not to cry.
It was hardly the first time she had stood at the top of a medal podium and listened to "The Star-Spangled Banner." But it was the first time in a long time; the first time in a major international meet since her 2008 positive test for a drug that increases aerobic capacity.
Despite an arbitrator cutting her two-year ban in half, Hardy has admittedly battled mental demons since her return -- especially in the breaststroke. That made Friday night's performance -- a 30.03 mark in the event, the third-fastest time ever -- that much more satisfying. So, too, did the fact that the win came at the pool in which she trained as kid with friends and family in attendance.
"It was so awesome," Hardy said of the medal ceremony. "I kept telling myself, 'Don't cry, don't cry.' It was so fun hearing that song. I'm just really proud to be an American and represent my country again on top of a medal podium."
Hardy even surprised herself with the time -- the fastest ever in a textile suit -- and was optimistic the performance could carry over to the 100 breast. Hardy sat out of the event at Pan Pacs after finishing seventh earlier this month at nationals.
"I haven't been training on breaststroke at all, so I'm really surprised," she said. "I never thought I would go that fast right now. For sure, it gives me a ton of confidence to get back to the 100. Finding my stroke again is fantastic. I'm real happy about it."