Amanda Beard: 'It's fun to surprise yourself'
August, 23, 2010
08/23/10
5:08
PM ET
IRVINE, Calif. -- As the final results of the 2010 Pan Pacific Championships are filed away, the fifth-place finishes of Amanda Beard in the 100- and 200-meter breaststroke will be nothing more than a footnote.
But considering this was Beard's first international meet since the 2008 Summer Olympics in Beijing, considering she has shed 50 pounds since having a baby 11 months ago and considering she had no idea whether she'd be here or even wanted to be here, the results were encouraging.
The four-time Olympian and former world-record holder in the 200 breast rediscovered her love for the water this past week and, in doing so, set her sights on making the 2012 Olympic team.
[+] Enlarge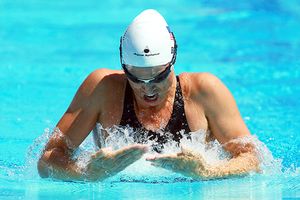 Jeff Gross/Getty ImagesThis month's U.S. nationals and Pan Pacific Championships were Amanda Beard's first official competitions since the 2008 Olympics.
Beard came to the U.S. nationals earlier this month with the goal of finishing within the top eight in both events and went from fifth to second in the last 50 meters of the 200 breast, earning an unexpected spot at the Pan Pacs. In Irvine, she wanted to go faster than 1 minute, 10 seconds in the 100 and 2:30 in the 200. Instead, she finished in the top five at Pan Pacs with times of 1:07 and 2:24, respectively.
"I would have laughed," Beard said when asked what her reaction would have been if someone had predicted what August would hold. "Obviously, the competitor in you, you want to be in the top three every time in the pool. But it makes me want to get in the pool and train even harder. And when I look at 2:24, that's just awesome."
Without any child care planned for 11-month-old son Blaise and having never been apart from him for more than a few hours, she contemplated not accepting the Pan Pacs invitation. But her husband, Sacha Brown, wouldn't have any of it.
So, Beard did her training in the morning, hung out with Blaise in the afternoon and cheered on her American teammates at night.
"My husband thanked me because he's spent so much time with Blaise, and they're bonding so much now," Beard said. "He's like, 'I finally have that relationship with him. It's always been you and him all the time. Now I'm getting the chance to bond with my son.'
"So as much as it's been hard on me, it's actually been a really good thing, a growing process for all of us. I'm more than happy with my decision."
When asked what she learned about herself this week, Beard, 28, said, "That I'm not old yet." Moving forward, the seven-time Olympic medalist said she's taking the approach that no matter what happens, she's already had a great career and anything else she accomplishes is a bonus. Her motivation is simply to be the best she can be and, perhaps, come up with a few more surprises in 2012.
"It would be cool to make another Olympic team," she said. "But I'm very competitive with myself, and I always like to push myself and see what I can do. So every day of training is just to see what I can do. It's fun to surprise yourself."