Up in arms over Usain Bolt's new deal
August, 24, 2010
08/24/10
3:45
PM ET
The fastest man in the world has a new deal.
German apparel company Puma extended its endorsement deal with Usain Bolt through 2013, as the track and field star will don the gear on the biggest stage, the 2012 London Olympics.
"We've been partners in the truest sense of the word since day one, and so it's an easy decision to re-sign with them," Bolt said in a release. "Puma gets me; we fit together. They take the business of running seriously, but we also know how to have fun, to be spontaneous. We both bring a lot of personality to the sport."
So, Tuesday's news put us in a celebratory move (literally). Here's a look at the pose seen 'round the world (and we're not looking for a cut, Puma; maybe just a pair of those fan foams!):
---
TORONTO! Fellow Olympic gold medalist Michael Johnson, right, couldn't pass up the pose at the Laureus World Awards in 2009.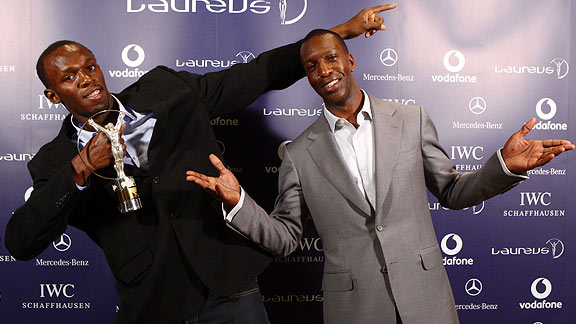 John Gichigi/Getty Images
BERLIN! Even mascots can't resist. (Disclaimer: We question the overall existence of mascots, in general. Carrie Bradshaw once said, "Nothing's scarier than a clown." We believe the same applies to mascots. What are they hiding?)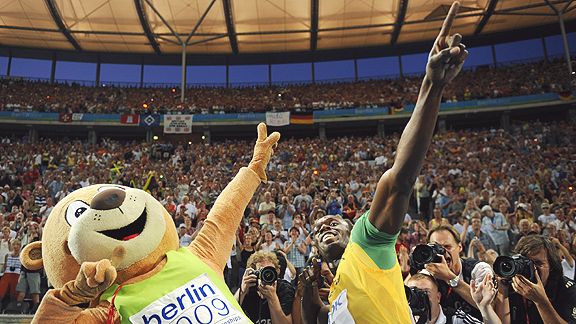 Fabrice Coffrini/AFP/Getty Images
MADRID! Mr. Fastest Man in the World says "Hey!" to La Liga fans.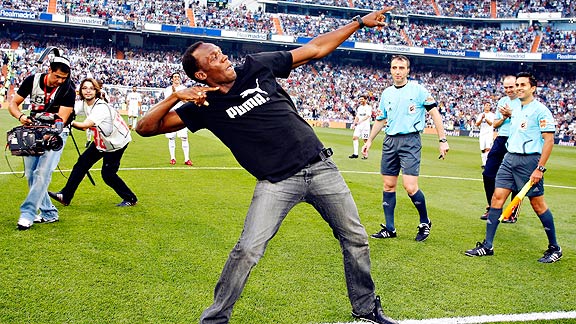 Alejandro Gonzalez/Getty Images
BOSTON! Take him out to the ballgame ... Bolt was just under two months old when the ball went through Bill Buckner's legs.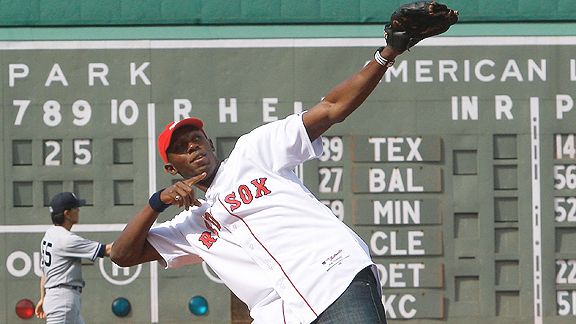 Jim Rogash/Getty Images
PARIS! Bolt spins a few tunes and plays up to the crowd at the "Jamaica Party" this past July.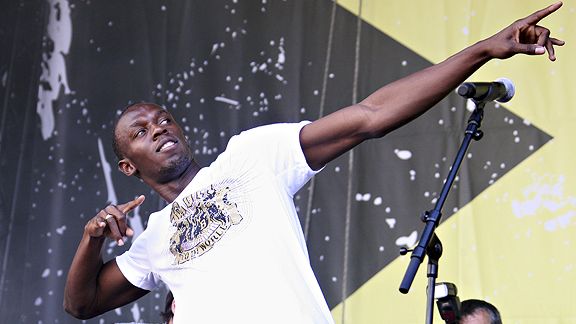 Julien M. Hekimian/Getty Images
SHANGHAI! Calling all Puma fans. "Did yuh see dat Bolt?"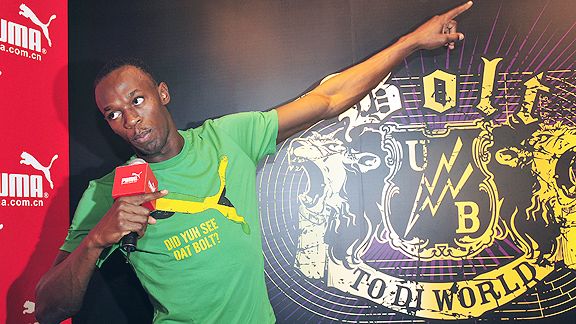 ChinaFotoPress/Getty Images
BACK TO BERLIN! ESPN's offices are located in Bristol, CT. Thanks!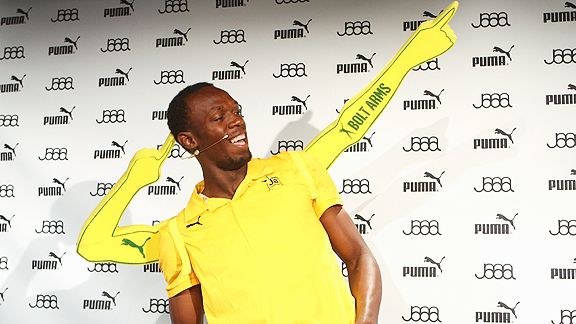 Alexander Hassenstein/Getty Images for Puma