Runners timing pregnancies around races
October, 6, 2010
10/06/10
11:23
PM ET
Timing is everything for marathon specialists, and elite women who want to start or expand their families have their own particular pace clock: Give birth in non-Olympic, non-world championship years.
Call it the Mommy Track. Sandwiched between the odd-year worlds and well before the 2012 Summer Games in London, 2010 was due to be a baby boom year, and it has delivered. That means good news for the distance divas and a somewhat depleted field for the New York City Marathon a month from now on Nov. 7.
[+] Enlarge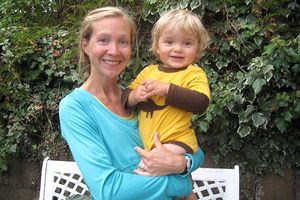 Blake RussellBlake Russell returns to the marathon circuit after giving birth to son Quin in 2009.
Two top runners -- marathon world-record holder Paula Radcliffe of the United Kingdom and Kara Goucher of the United States -- welcomed new sons within days of each other last week. It was the second child for Radcliffe, a three-time winner in New York. Goucher, a 2007 world bronze medalist in the 10,000-meter event, finished third in New York in her marathon debut in 2008. Meanwhile, 37-year-old Deena Kastor, the American record-holder and 2004 Olympic bronze medalist, had to withdraw from New York after learning she was expecting a baby in March.
North Carolina native Blake Russell, who finished 27th in the marathon at the 2008 Olympics, will be racing in New York for the first time. She took her biological stopwatch so seriously, she and husband Jonathan conceived their son Quin in Beijing -- after her event was over, of course. "He's my made-in-China baby," she said, laughing, in a telephone interview from her home in Pacific Grove, Calif. "He's my little China baby."
Looking back, Russell, 35, said candidly she's very glad she left herself the maximum amount of time to recover. "It was much rougher than I thought," she said. Forget baby weight -- that came off quickly after Quin was born in April 2009, she said, especially since she nursed for 11 months. Fatigue was Russell's main problem, as her active little boy didn't let her sleep for more than three hours at a stretch for most of that time.
Russell said she didn't run much after the fifth month of her pregnancy -- "I was so wiped out," she said -- and also came back slowly when she began training again in January, erring on the side of caution. "A lot of women get hurt when they try to come back too soon," she said.
Her season was low-key until she won the San Jose (Calif.) Half-Marathon last Sunday. She's pumped to run in New York and said she's as fit as she's ever been going into a marathon. The only other year Russell had planned to run there, she accidentally dropped a suitcase on her foot, broke a bone and had to pull out.
Like many athletes who become mothers, Russell said the mental adjustment is considerable as well.
"You feel guilty, like any mom does, for leaving," she said. "But I do need time for myself, and running is relaxing and cathartic for me that way. It's harder to get organized and out the door, harder to focus before a workout. You have to turn it on and turn it off a lot faster.
"If I was never able to run again, I'd be fine, but I still have goals," added Russell, who set her personal best time of 2:29:10 in Chicago in 2005. "I haven't ever finished as high as I wanted in a marathon. I know I can be up there in that front pack."
The course in New York suits where she is in her comeback right now -- tactics win it rather than record times.
Her husband and son will be there. "Quin definitely knows what running is, and he knows when I lace up my shoes that I'm getting ready to run," Russell said. "If I run from the house, he stands in the doorway and says "Go."