Lab director on Contador, testing, more
October, 14, 2010
10/14/10
5:00
PM ET
LAVAL, Quebec -- Professor Christiane Ayotte may work in a sterile environment, but she has anything but an antiseptic personality.
The longtime director of the World Anti-Doping Agency-accredited laboratory outside Montreal speaks passionately about her work. On Wednesday, she stood before the doors of a double walk-in freezer filled with samples and conducted a spellbinding mini-seminar for several visiting reporters that was enough to make you forget you were standing among tables loaded with freshly shipped bottles of urine.
Ayotte's lab processes about 18,000 samples a year, including all those for professional tennis, Major League Baseball and the National Football League. The most talked-about sample in the world right now -- the one belonging to Tour de France winner Alberto Contador -- was tested thousands of miles away in Cologne, Germany, but Ayotte has a strong opinion about the findings that have been reported in that case.
[+] Enlarge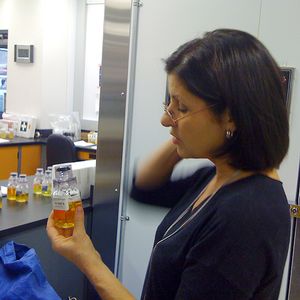 Bonnie D. FordProfessor Christiane Ayotte's lab in Montreal processes about 18,000 samples a year, including all those for professional tennis, MLB and NFL.
Contador has claimed that consumption of contaminated meat is responsible for his positive test for clenbuterol, whose anabolic effects have long made it part of the arsenal of performance-enhancing drugs. Anonymous sources also have confirmed that a sample taken at or around the same time contained high levels of plasticizers, the metabolites of DEHP molecules that leach into blood from plastic storage bags and are considered a telltale sign an athlete has undergone an illicit transfusion.
While top scientists and administrators have said a test for plasticizers could be used to provide corroborating evidence, the test has not yet been validated by WADA and there is no timeline set for that. Results from initial research must also be shown to be repeatable in WADA labs. WADA officials would not say how many other plasticizer tests may have been done at the Tour, but a report on the race's testing procedures from WADA's independent observer team is due out later this month.
As for Contador, there's been widespread speculation that clenbuterol could have entered his system via transfusion. Ayotte calls that "an interesting hypothesis," but essentially shrugged it off.
"This is a case involving clenbuterol," Ayotte said firmly, and she isn't hesitant to extrapolate from that fact. Contamination is possible, but not plausible given stricter regulations in the agricultural industry, she said. Based on years of context, she believes clenbuterol is almost always prima facie evidence of cheating.
Ayotte said the miniscule volume found in Contador's sample is typical of any clenbuterol case -- and there are 50 to 70 reported annually by WADA-accredited labs. She said the drug's potency and potentially sickening side effects, which include headaches, high blood pressure and heart palpitations, mean athletes know a little goes a long way. Conversely, detection has become easy at extremely low levels.
"You'll never find a ton of it, because the doses are really small," she said. "Most of the samples are below one nanogram [a billionth of a gram]." That's many times the 50 picograms [trillionths of a gram] reported to be present in Contador's sample, but Ayotte said her lab has frequently found levels that low.
"It's used in sports where they need to cut weight," she said. "Just because it's small doesn't mean it's not doping. ... This is just the dopers adjusting, or misadjusting, to the testing."
WADA regulations set no minimum threshold for the drug. Ayotte doesn't favor setting one as she considers any trace finding to be suspect.
"We can't link content in urine to performance, because we don't know the time, the mode of administration or the dose," she said. "If this case is lost because they're concluding the amount is too small, that would be a major problem. It's not the end of the world, but if competent arbitrators decide that, my heart would break. More dopers would go through the net."
Contador has been provisionally suspended while cycling's governing body, the UCI, somewhat inexplicably has delayed announcing the positive test an official violation that would carry a two-year suspension and cost Contador his Tour title. If Contador chooses to contest that finding, he would make his case to Spanish cycling authorities.
The 2011 Tour route is slated to be announced with the usual fanfare Tuesday in Paris. Contador won't attend the gala.
More from Montreal
WADA director general David Howman and science director Olivier Rabin held an informal, on-the-record briefing for journalists at the agency's Montreal headquarters Wednesday. Among the highlights:
• WADA is targeting improvements in anti-doping infrastructure in six countries: Brazil, Russia, India, Nigeria, Turkey and Jamaica. Brazil, which is due to host soccer's 2014 World Cup and the 2016 Summer Olympic Games, still has not established a national anti-doping agency, an omission that apparently did not affect its bids for those events. (Cases are handled by that country's Olympic committee.) The WADA-accredited lab in Moscow was described by Howman as "ramshackle," and he said updating will be key in advance of the 2014 Winter Games in the Black Sea resort of Sochi. Russia's sheer size makes the logistics of testing difficult and WADA has pushed officials there to work with Norwegian anti-doping authorities.
• Howman said WADA will lobby governments and other bodies that license agents, lawyers and medical professionals to be aggressive in pursuit of the members of athletes' entourages who supply them with performance-enhancing drugs. "Those who are pushing the substances are the same people laundering money through gambling and bribery," he said. Howman recently made similar remarks at the Commonwealth Games in India, saying WADA has received information linking sports wagering and doping from Major League Baseball and Interpol.
• WADA's rapport with North American professional sports leagues in football, baseball and hockey has undergone a "mood change," Howman said. There are regular discussions with league officials now, a trend he characterized as "progress." "Three years ago, we weren't invited in. Now we can sit around the table," he said. However, that thaw has not yet spread to players' unions, he said.
• Some 30,000 athletes in Olympic sports are now participating in and tracked by the online "whereabouts" system designed to ensure that testers can find them when they are not competing.