Category archive:

Olympic Events
February, 28, 2010
02/28/10
2:53
PM ET
VANCOUVER, British Columbia -- Vladislav Tretiak has devoted most of his life to Russian hockey, both as one of the greatest goalies of all time and now as the country's hockey leader. No one is more upset than he that the gold-medal contenders lost in the Olympic quarterfinals.
In his first interview with a North American media outlet since his team's early exit, the general manager of Russia's Olympic team and president of the Russian Ice Hockey Federation told ESPN.com on Saturday that he's just as disappointed as all the passionate Russian hockey fans, but everything was done to give Russia its best chance to win here.
"Before the [quarterfinal] game with Canada, I said that it was very unfortunate that two great teams met in a position where one would have to be eliminated and without a medal," Tretiak said through a translator. "We had the best team that we could put together. But Team Canada was stronger, and there's nothing else you can say. They were faster than us. We couldn't do anything with their speed."
Last month, Tretiak was re-elected to a five-year term to stay on as federation president, a stay that would run through the 2014 Winter Olympics in Sochi, Russia. Under his helm as president, Russia has won bronze and two gold medals at the men's world championships, and he believes that success will continue despite the stunning loss here.
"It's sport, you can't always win," Tretiak said. "Even when I played, you were never guaranteed results."
In a separate interview with ESPN.com and The Hockey News earlier on Saturday, KHL president Alexander Medvedev underlined his feelings about Russia's early exit Wednesday.
"It was a big disappointment," Medvedev said. "Everybody dreamed about the final between Canada and Russia. I appreciate the performance of the Canada team. They deserved the win, but I don't agree it was a great game. A great game is when it's a tough competition all the way around like it was yesterday between Slovakia and Canada. ...
"Surprisingly with the Russian stars, everybody anticipated strong performances of [Alex] Ovechkin and [Evgeni] Malkin and [Ilya] Kovalchuk, but it was not at the top of their level, including the physical play. Why it happened? It's a question for coaches and specialists to answer. Canada didn't allow Russia to demonstrate their skills."
One of the main criticisms of the Russian Olympic team is the belief the nine KHL players didn't mesh with the NHL stars. But both Tretiak and Medvedev disagreed with that notion.
"I don't think so," Medvedev said. "Because for two years in a row, there was no difference between NHL and KHL players in Quebec [2008 world championships] and Bern, Switzerland [2009 worlds]. We had nine KHL players. I don't agree with those who say KHL players were weaker than NHL players. Actually, it was the [whole] team that failed."
Said Tretiak, "For two years, we were world champions because we did come together as a team."
Tretiak also denied another widely held belief that there was outside pressure to select that many KHL players.
"No there was no pressure to pick players from the KHL," Tretiak said. "The coach [Vyacheslav Bykov], in fact, picks the players. The general manager does not actively participate in picking the players."
Four years ago, when Russia beat Canada in the quarterfinals at Torino, Italy, it was GM Wayne Gretzky and the Canadians who needed to explain themselves. Now it's Tretiak and the Russians. That's just sport, Tretiak said.
"It is a difficult tournament; there's a factor of luck," Tretiak said. "Just like in 1981 when we won the Canada Cup 8-1 in the final, was the Canadian team worse than us? No. They also had the best players. But in that game, we were better, our luck was better. If we played eight games instead of one game [here in Vancouver], nobody knows how it would turn out. But in this game, they were better."
Tretiak cares deeply about his country and the national team. He believes he has a strong vision for the team moving forward and hopes to be able to deliver on it.
"The most important thing for us is to keep the team bonded," he said. "Only these players can help us in the future with world championships, and obviously we need to get ready for 2014. We have to learn our lessons, but we also need to move forward and keep our heads on straight. What happened happened. We have to keep on going."
February, 28, 2010
02/28/10
5:14
AM ET
VANCOUVER, British Columbia -- We don't believe much in ghosts, but if you hang around hockey players enough, you'll understand that the game is filled with karma and superstition and omens, both good and bad.
On the eve of the gold-medal game between Canada and the United States, if there was ever a U.S. team able to channel the late Herb Brooks, it's this one.
U.S. forward Ryan Malone was mentored by Brooks for many years.
"He just always expected more," Malone said of the coach of the last U.S. gold-medal team, the "Miracle on Ice" squad from 1980. "If you were in there working out for half an hour after a game, he was always asking, 'Why weren't you in there for an hour?'"
Malone recalled one night Brooks saw him score a hat trick in a college game. Brooks, a longtime Pittsburgh Penguins scout who was also involved with player development for the team, told him the hat trick was bad news for Malone because now he was going to have to work that hard every night.
"He always told me the legs feed the wolf," Malone said. "To make sure the legs were always going and training for hockey players is probably the most important part to get where you want to go."
Malone attended the University of Minnesota, where Brooks first coached NCAA hockey.
"The hockey camp I've been going to since I was 15, he started, so it's weird how it all kind of shakes out like this and you just want to make him proud on Sunday," Malone said.
That's not all.
U.S. defenseman Brooks Orpik, born in San Francisco a few months after the "Miracle on Ice" win in Lake Placid in 1980, was named after Brooks.
"Obviously, my dad's idea," Orpik said. "My mom didn't even know what hockey was up until then."
Orpik was likewise drafted by the Penguins and got to know Brooks before his death in a car accident in the summer of 2003. Orpik recalled how he and former teammate Colby Armstrong would meet with Brooks periodically when Brooks would visit the Penguins' AHL affiliate in Wilkes-Barre.
"And we got to pick his brain about anything really," Orpik said.
There is a strong Brooks connection in every gold-medal effort the U.S. hockey team has been involved in. In 1960, Brooks was among the last players cut before the U.S. went on to win gold in Squaw Valley. He coached the 1980 team and was the coach in 2002 when the Americans were defeated by Canada in their last gold-medal game appearance.
Heading into Sunday's game, does it seem strange having all of these connections to Brooks?
"I don't know how much more special it can get than this moment, but it's definitely a little weird how everything played out and worked out here in the end," Orpik said.
February, 27, 2010
02/27/10
4:03
AM ET
VANCOUVER, British Columbia -- There's losing, and then there's humiliation. There are some very proud hockey players in Finland's dressing room, and Friday's 6-1 loss to the hands of Team USA in the semifinals of the men's Olympic hockey tournament left them nearly speechless.
"I really have no words. It's just unbelievable," veteran winger Teemu Selanne of the Anaheim Ducks said after the demoralizing effort.
"You don't get to play these games too often," said defenseman Kimmo Timonen of the Philadelphia Flyers. "Obviously, 6-0 in the first period, the game was over there. If I had an explanation of why that happened, I would give it to you, but I don't have it."
What's strange is it's not like this group of Finnish players to drop a stinker like this. Oh sure, they've lost plenty of games over the years, but they were almost always close affairs. It's their trademark. Down 6-0 12:46 into the first period? Not so much.
"I don't really know what happened," said Selanne. "Obviously, it's really disappointing. I've never been part of that kind of game before. It was something that you don't want to experience many times. When the game is over after 10 minutes, it's going to be a real tough day. I'm very disappointed we didn't even give ourselves a chance for the gold medal final. Losing is fine as long as you play your best game; but losing like this, it's tough."
Once it got to 6-0 so early in the game, "at that point, you wish it was curling so you could just give up," said Selanne (curling matches can be conceded early by the losing team in a rout).
But it's not time to give up yet. The Finns have a bronze-medal game to play Saturday night, and while some countries (ahem, Canada) can't seem to get up for the third-place game, the Finns always do. This is a tough tournament that's eight teams deep in talent, and a medal of any color is an achievement for any country.
"There's a bronze on the line tomorrow and it's all about bouncing back and trying to take what's left," said Selanne. "A bronze medal for this kind of tournament is huge. We have to remind ourselves it's not over yet."
For Selanne (it's definite) and buddy and captain Saku Koivu (likely), Saturday's game will be their last hurrah wearing Suomi colors in the Olympics. Wrapping it up with a bronze would mean a lot. Expect a better effort from the Finns.
"I hope I can smile tomorrow," said Selanne.
February, 25, 2010
02/25/10
10:31
PM ET
VANCOUVER, British Columbia -- The Americans play at noon local time Friday, which will mark the fourth time they will play the lunchtime special at these Olympics.
Obviously, it requires that players prepare differently than for normal NHL games in the evening or even midafternoon tilts.
"You wake up, you eat breakfast and play. It doesn't give you a lot of time to think about the game, which can be good. You don't sit around all day. You just get up and play. I don't mind it at all. I thought I wouldn't like it at all, but I do," American forward Zach Parise said.
One of the other differences has been dressing in rooms that have no clock ticking down to the start of the game. In NHL dressing rooms, there are clocks that allow players -- especially those who hold to a firm pattern or ritual of pregame readiness -- to know exactly how much time they have before having to take the ice.
Those clocks do not exist here, or at least the clocks in the room have been difficult to follow.
Chris Drury joked that there some players who follow the ritual so closely that he doesn't think they could survive this tournament.
"You don't really have that here, so everyone's trying to figure out when exactly it is, when they need to be doing something. As the tournament goes on, you eventually figure it out," Parise said.
"I usually do a little hot and a cold tub in the morning on the day of a game. It's different playing at 7. Playing at noon, I don't want to be taking a cold tub at 10 in the morning. That's one thing that I've just kind of had to throw out, and shockingly I can still play."
Line juggling
Team Canada coach Mike Babcock has kept reporters busy with his line juggling in this tournament.
"I was just giving you guys something to write about," he joked Thursday. "You need something to complain about. We said right from the get-go we're a work in progress. We're trying to get better each and every game. It took us awhile to get to where we got last night. I told the coaches, I looked at my book and on Nov. 17, those were my lines. We finally got back to that. It's just one of those things we didn't think was the right combination to start Game 1."
So, Mike, what else is in that Olympic notebook of yours?
"Lots of stuff," he said. "All my notes for the whole year are in there. I'm going to sell it to you when I'm all done."
The defensive pairings are quite different from what he had in mind a few months ago.
"To tell you the truth, the only group that's stayed together is [Scott] Niedermayer and [Shea] Weber," Babcock said. "The rest has all changed. That's why you come to the tournament. You have this thing on paper, like I do every year with the Red Wings in the summer, and you get to camp and you throw it out about three days in because none of it worked. Some players are better than you expected, some aren't moving as quick as you expected. So they decide who plays in what situations."
Darling Ducks
Babcock was happy to see Anaheim stars
Ryan Getzlaf
and
Corey Perry
finally have a big night, the pair combining for three goals against Russia.
"I thought [Perry] and Getzy had to be a lot better, and I thought they were last night," the Canadian coach said. "They were real good for us and really effective. I just said to both of them, 'We've had some wars with Anaheim over the last three years, and every night we played them, those guys came to play and they were big-time warriors and I expect the same here.'"
Crazy Canada
Team Canada forward
Mike Richards
had quite the reaction from family and friends in the wake of the big win over Russia.
"It was a lot of text messages, calls," the Philadelphia Flyers captain said. "You could feel the atmosphere in the building and how much everybody wanted it, not only us but the fans and everyone around wanted us to beat them. It's nice to get the win, but it's over and now we have to move on to Slovakia."
Richards said his team needs to be wary of Slovak goalie Jaroslav Halak of the Montreal Canadiens.
"He's quick. He's a standard kind of butterfly goaltender, but he's got quick feet and when you think he has the open net, he kind of kicks it over, so you've got to be aware of that and bear down on your chances."
Nice job
Nashville Predators
defenseman Shea Weber helped shut down
Alex Ovechkin
on Wednesday night, and he said he relished the opportunity.
"I don't think I was nervous," Weber said Thursday. "He's one of the best players in the world. As a kid, you dream about playing in big games against the top players in the world. It was a challenge I was looking forward to, and as a team, I think we did a pretty good job."
Canada-USA?
Let's face it, a USA-Canada rematch is on a lot of people's minds.
"It would be huge," Canadian defenseman Drew Doughty said Thursday. "The game we played in the round-robin was a big game, 20 million viewers or something like that. But we can't look past this game tomorrow. I think we have a team that's definitely capable of winning the tournament, but all four teams are capable of winning. They wouldn't be at this point if they weren't really good."
February, 25, 2010
02/25/10
7:44
PM ET
VANCOUVER, British Columbia -- Like many Nordic skiers, Billy Demong cross-trains in the summer by riding a road bike, and he's good enough to have competed in some races on the domestic professional circuit. During July 2008, he was on the receiving end of an athletic act of generosity that may have gotten more attention in cyberspace than anything Demong had done in three previous Winter Olympics.
[+] Enlarge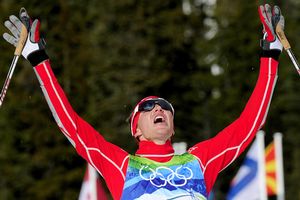 Frank Fife/Getty ImagesBilly Demong's gold medal was the culmination of decades of hard work.
Demong, who had crashed about 1.5 miles from the finish of the Cascade Cycling Classic in Oregon, crossed the finish line in a most unusual fashion. Veteran pro Chris Horner, now a support rider on Lance Armstrong's RadioShack team, came upon Demong and offered both him and his banged-up bike a piggyback ride. Fans were stunned when they saw Horner approaching with his cargo.
The first thing I thought of when Demong won the Nordic combined large hill individual event Thursday was the concept of unselfishness. He wouldn't be a gold medalist if he hadn't had longtime teammates Todd Lodwick and Johnny Spillane with him, not just for Thursday's 10-kilometer race, not just for the past two weeks in Whistler, but for most of the past 12 years. These guys have taken turns carrying each other through many mishaps and close calls and the slow build to success on the World Cup circuit, and they haven't done it for fame or financial reward. Most sports writers -- and I'm among them -- didn't start paying attention until it was clear the team was going to be a contender in Vancouver. Most of us are still not versed in the nuances, but it's not hard to grasp how long and hard these athletes toiled in obscurity to get there.
I'm certain Demong's victory is sweeter because the team had won a collective silver medal together two days before. "No matter what, our team approach has been to train together, compete together, win together," he told me in an interview last month. "We know that as a small sport in a big country, we need to be together to push each other. As long as somebody is doing well, it brings the level of the group up. It doesn't matter who is excelling at any given time as long as somebody pushes the limit.
"That's what makes us strong, not only on the playing field -- we're a band of brothers. We spend upwards of 250 days a year together. At 29 years of age, I was reflecting today on the van trip, as I always do when we drive across Europe, that I've probably spent more nights in a hotel room with Johnny Spillane and Todd Lodwick than I spent with my mother.
"It's the group that has made us good. It started with Todd being able to break the mold and say, 'You know what, Americans can be good at this sport. I'm not gonna take history as an example. I'm gonna make my own way.' And then Johnny and I learning from him and following his tracks. I think we all truly view and value this as a team effort all the way, even the individual results."
Demong was raised just outside Lake Placid, N.Y., so it's completely understandable that his Olympic ambitions were a tad outsized from the start. He came into the 2002 Games thinking he'd get a medal and get out of the sport; the team finished fourth, and Demong had to recalibrate his expectations.
His own tomfoolery -- he fractured his skull taking a playful dive into a shallow hotel swimming pool -- derailed him for a season but also made him so acutely aware of his gifts that he came back to the sport with new dedication. His dry sense of humor has helped him navigate the long, grinding course since. When I told him I wanted to interview him for a story on Olympic "lifers" -- three athletes who had found a way to compete in four straight Winter Games -- he asked, "Have we all had some sort of catastrophic accident or injury that caused us to maybe increase our longevity?"
As the years rolled on and the results accumulated, a true confidence replaced Demong's former cocksureness. And that confidence, again, was built on the knowledge that his teammates would force him to be at his competitive best yet always be there for him, even when he somehow lost his starting bib and cost the team a medal at the World Championships. Lodwick took two years off and returned, but he and Demong and Spillane are as tight a fraternity as you'll find in sports, still choosing to spend some of their precious off-time together riding their bikes, fishing and hunting.
The fact that all three stayed in the sport as long as they did was crucial to the U.S. success here. The team medal, Spillane's two individual silvers and Demong's gold didn't just end the lifetime U.S. drought in the sport, they flooded the plain. "There are definitely some young guys who have good results, but they're less frequent," Demong told me in January. "Year in, year out over my tenure, it's the older, more experienced athletes who tend to excel on a daily basis. There's a lot of pieces of this puzzle that have to come together. There's a lot of things that go into a day of Nordic combined that an experienced athlete can roll with, whereas a younger athlete may stress."
Leaning against the wall in Demong's basement in Park City, Utah, is a pair of weathered gray wood cross-country skis that look like they were chopped out of the side of a barn, with cracked leather bindings. The antiques are a reminder of the sport's roots, and by extension, how far Demong and his teammates have been able to take it. Endurance athletes often get better as they get older. What Demong never could have known until now is how much more meaningful it would be after all this time.
February, 25, 2010
02/25/10
3:02
AM ET
VANCOUVER, British Columbia -- The final four was set late Wednesday night with one of the most shocking upsets of the men's Olympic hockey tournament.
Slovakia dethroned defending champion Sweden with a 4-3 quarterfinal win and advanced to the semifinals for the first time its young hockey history. There, Zdeno Chara and the Cinderella Slovaks will have its toughest challenge yet, as Team Canada hopes to rock the host nation with a trip to the gold-medal game.
"It's huge, you know," said Slovak veteran Jozef Stumpel. "It's tough to describe. You'll have to ask the people back home how crazy it's going over there."
"This is huge back home," added former Montreal Canadiens winger Richard Zednik. "Hockey is really popular. They're really looking forward to this tournament. It's really exciting for the fans, for the people back home and for sure for us."
Meanwhile, Team USA's surprise Olympic tournament also continues Friday against a gritty Finland team in its semifinal game.
"USA played a good game against Canada," Finnish captain Saku Koivu of the Anaheim Ducks said Wednesday night after a 2-0 quarterfinal win over the Czech Republic. "They have a good roster and [Ryan] Miller is a good goalie. It's a huge challenge, but it's exciting."
The Finns are fourth in the official International Ice Hockey Federation world rankings, while the U.S. is fifth.
"We're probably not the biggest favorite, but if we play as a team, we have a chance," said Finnish goalie Miikka Kiprusoff of the Calgary Flames.
Slovakia won its first and only world title in 2002, but continues to develop top-end players. The Slovaks upset Russia in a shootout in the preliminary round, but sent out mixed signals with a nervy 4-3 win over hockey minnow Norway on Tuesday night in the qualifying round. Obviously a good night's sleep was all they needed. The Slovaks jumped out to 2-0 and 4-2 leads and held on to stun star-studded Sweden.
"Obviously, you have to believe," said Montreal Canadiens goalie Jaroslav Halak, who continued his dream-like tourney with 26 saves Wednesday. "Because when you go into a game with Sweden, we are underdogs. But you have to believe. Everyone believes in our locker room and that's why we came out with the victory."
Somewhow, when all the dust cleared Wednesday, powerhouse countries Russia and Sweden were both sent packing. And joining Alex Ovechkin with the early exit was Washington Capitals linemate Nicklas Backstrom of Sweden.
"I don't know, I don't have an explanation right now," a stunned Backstrom said. "I don't feel we were on top of our game. They're a good team, we knew that before the game, but we weren't ready maybe.
"We should be better than what we showed. I'm just really upset right now."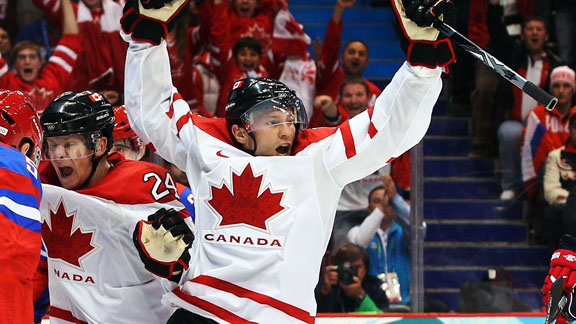 February, 25, 2010
02/25/10
12:47
AM ET
VANCOUVER, British Columbia -- Once every four years, Jeret "Speedy" Peterson spends a few seconds in the air that earn him something around 15 minutes of fame. There have been times he wished it didn't last that long.
[+] Enlarge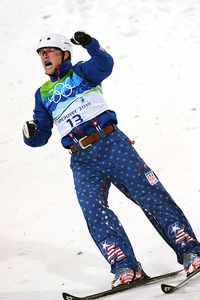 ADRIAN DENNIS/AFP/Getty ImagesJeret Peterson's mistakes in 2006 helped him prepare for the Vancouver Games.
The daring aerialist from Idaho is back for his third Olympics, armed once again with the triple-flip, quintuple-twist trick that has made his name and will make or break his medal chances. He left Torino on a sour note, but not because he brushed his hand in the snow as he righted himself after his signature jump and finished seventh. Peterson's involvement in a bar fight made headlines and the U.S. Olympic Committee asked him to leave.
That incident, rehashed around the world at the time, has been stirred up from the bottom of the soup pot again -- but this time, cited as the botched landing that helped set Peterson, 28, on a different path. He took time off the World Cup circuit, quit drinking and worked on blunting the hubris that made him think he could get away with anything, while still retaining the risk-loving edge that makes him a great competitor.
Peterson's ideal medal-winning performance will be as spectacular as possible, and he would also like to be known for something other than overcoming a résumé of tragedies: A sister's death at the hands of a drunk driver, childhood sexual abuse, witnessing the suicide of a close friend. In the last couple of years, he has talked openly about his struggle with depression. "My stance on it is, I didn't do anything to make it happen," Peterson told me during a World Cup weekend in Utah last month. "It's no different than having a broken arm. It's something you have, something you have to deal with, and if you don't, it's not going to heal."
It's irksome to have his past rifled through every so often like an open desk drawer, but he's made peace with it.
"It's been a very difficult process having everything that you do scrutinized," he said. "I made mistakes in my life and unfortunately they were magnified many, many times. Do I feel it's unfair to a certain extent? Yes. I didn't get into this sport thinking that people were going to look up to me.
"I've already been dragged through the wringer again this year. It's OK, mostly because I know and I'm comfortable with who I am now and comfortable admitting where I went wrong. If people don't want to be fans of mine, I'm OK with that."
It's hard not to look up when Peterson catapults himself off the kicker and whirls around like a stunt plane without wings, soaring as high as 54 feet in the air at his zenith. His "Hurricane" trick pushes the physical limits of what an aerialist can do under the current rules. Four flips are not allowed.
In 2002, when Peterson was named to the Olympic team at the last minute due to an injury to teammate Emily Cook, he watched Ales Valenta of the Czech Republic win the gold medal with a similarly difficult maneuver. He's worked on perfecting his own version of it ever since.
Valenta twisted twice on the first flip, twice on the second and once on the third. Peterson twists once on the first flip, an eye-popping three times on the second and once on the third. He said his sequencing improves his chances of landing cleanly. "I get to see [down] right before I do that triple twist and I get to see again at the end of it, whereas Ales didn't see until almost the end of the second flip," Peterson said. "He was blind for 66 percent of his jump."
Peterson and U.S. teammate Ryan St. Onge both qualified for Thursday's aerials finals. The 12-man field, shockingly, will not include Anton Kushnir of Belarus, who is leading the World Cup standings and had been money in the bank until he crashed in qualifying.
Another "Hurricane" attempt will be a game-day decision, depending on conditions at Cypress Mountain, Peterson said. He has used it sparingly, trying it only about eight times in competition and hitting it cleanly three times that he can recall. He has refined it in training to the point where he's microanalyzing small flaws in his landing, which he said is a good place.
"I want to progress our sport and I want everyone to try their hardest," he said. "I don't back down and I'm not going to give up, and I don't want any of my competitors to, either."
February, 24, 2010
02/24/10
10:28
PM ET
VANCOUVER, British Columbia -- Take a deep breath. Stretch. Hydrate. Don't forget your multivitamins. If you thought Tuesday night's short program was dramatic, wait until two minutes before 8 o'clock p.m. Pacific Standard Time, when the half-dozen finest figure skaters in the world will load into the gate.
Both teenagers representing the United States will compete in the final group, which is a tribute to their cool under the bright lights of their first Olympics. Colorado Springs-based Rachael Flatt, currently in fifth place, will be first on the ice among that last group. Mirai Nagasu, who's in sixth, drew the last slot. They are in fearsome company.
"This is Yu-Na Kim's to lose, that's for sure," said 1976 gold medalist Dorothy Hamill, who was on hand to see one of the more remarkable nights in figure skating history. Reigning world champion Kim, 19, of South Korea, lived up to every paean said or written about her in the months leading up to the Olympics. Her Bond girl program was as showy and thrilling as any 007 film and garnered a world-record point total.
Much had been made of whether Kim would be able to bear the expectations of her zealous home country, but she carried that burden lightly Tuesday. Her long program, set to a Gershwin concerto, is more traditional but still has that floating quality that sets Kim apart from the field.
On Thursday, Kim will skate before Mao Asada of Japan, giving newly inspired Asada a chance to make a last-minute decision about the benefits of trying not just one, but two triple axels in her program. That distinctive weapon could be her only chance of surpassing Kim -- but if Kim sets the bar too high, Asada might skate to conserve silver rather than aiming at gold.
Following Asada will be Canada's grieving Joannie Rochette, who will try to reprise the gutsy short program performance that came less than three days after her mother's sudden death. Hamill, who attended a practice session for the top women Wednesday, said she cried watching Rochette run through her free skate to Camille Saint-Saens' "Samson and Delilah."
"You could see the music taking her away," Hamill said. "At one point, she closed her eyes and you could almost see her channeling her mother. It was chilling."
Fellow gold medalist Peggy Fleming was still marveling at Rochette's steel on Wednesday morning. "I don't think it's sunk in yet," she said of Rochette's ability to compete. "She doesn't want to go there yet, and this helped her."
There's a considerable gap between Rochette's third-place score and those of Nagasu, Flatt and Miki Ando of Japan, who are bunched within a point of each other in fourth through sixth place. It would take a substantial collapse by one of the top three women to put one of those next three in medal contention.
Don't count the Americans out, however. Nagasu, brutally hard on herself, wants to erase the memory of the unfortunate nosebleed that afflicted her midway through her program and embarrassed her as she took her curtsies. Flatt's triple jumps are generally slam dunks, and she's skilled at tuning out the hype and drama around her and doing her own thing. "I wasn't surprised at how Rachael skated, but I was definitely impressed with her poise," said her coach, Tom Zakrajsek.
Hamill, who has informally mentored Flatt for the past year, said the 17-year-old is still "pinching herself" but has done a good job of not being intimidated. "She doesn't have the expectation that she's going to come in here and blow these women away," said Hamill, who added that Flatt's program is well-tailored to rack up points.
As for Kim, Fleming -- the 1968 Olympic champion -- agrees with Hamill that the young South Korean is the class of this field. "It looks effortless," she said of Kim, whose athleticism would have been unimaginable in Fleming's and Hamill's day. "When it looks easy, it's good."
February, 24, 2010
02/24/10
8:39
PM ET
VANCOUVER, British Columbia -- Not surprisingly, the locals were cheering for Switzerland in Wednesday's quarterfinal game against the United States.
"That's OK," said Team USA forward Bobby Ryan. "It gave us a little bit of energy, a little bit of life at times. If we get the Canadians down the road, I know they're going to be ruthless and we know what we're going to come into. So we might as well start practicing for it now."
Some of the cheering crossed the line.
"There were some expletives from behind the bench but not too much," said Ryan. "Most of the fans are cordial but they do give it to you a little bit. We heard a lot of 'Go Swiss' chants and it's kind of like -- eh -- you look around, and you're wondering what the heck we have to do to have somebody like us around here.
"It's fun. It's all part of the game. We accept it. We love it."
Hey buddy
Ryan repeatedly had words for
Anaheim Ducks
teammate and Swiss goalie
Jonas Hiller
in Wednesday's quarterfinal.
"It was after a rush there I told him, if I got another one, I was coming," said Ryan. "I had a couple chances throughout the night. Him and I go back and forth in practice and go at each other pretty good. I just wanted to try and get in his head a little bit. Clearly, it didn't do too much but it's something we'll talk about in Anaheim.
"He's a goalie that really when he zones in, zones in. I like to think I was a little bird in his ear that affected him in some way. But he just looked at me and I think there was a grin behind the cage there."
February, 24, 2010
02/24/10
6:47
PM ET
WHISTLER, British Columbia -- Lindsey Vonn's wipeout didn't just cost the Americans one chance at a medal in the women's giant slalom Wednesday, but quite possibly two.
During the first leg of a weather-torn giant slalom that led to the postponement of the second leg until Thursday, Vonn's wipeout 10 gates from the finish may have contributed to ending Julia Mancuso's medal chances.
Vonn and Mancuso were scheduled to ski 17th and 18th, respectively. After receiving a report from her husband, Thomas Vonn, that the course (already hampered by snow and limited visibility due to a thick fog) was choppy near the bottom, Vonn broke hard out of the gate hoping to take advantage of the faster snow to put time pressure on the day's leader, Elisabeth Goergl of Austria. Vonn did exactly that, slicing down the course in her patented low-crouching power style.
"I thought I had the right direction coming over that last roll, but I hit a bump, got tangled up and went into the net," Vonn said. "That's ski racing for you. I was hoping for something today, but it just wasn't my day."
She was beating Goergl's pace until she clipped the right gate, spun awkwardly into the left gate and turned backward into the side fence. Vonn was down momentarily before being able to ski slowly down the hill. Race officials halted the race with a yellow flag, but not before Mancuso had already begun her run.
As Mancuso raced down the mountain, Vonn was still on the course, forcing the stoppage. Mancuso then had to return to the top of the hill and wait to be rescheduled.
"It's more just emotionally draining. I just spoke to Jules and she's disappointed," said Chemmy Alcott of Great Britain. "She had to go up on the gondola on her own. You're in your zone, you're in your focus, and then it stops and you have to spend 15 minutes on your own contemplating what happened and what you'll do again and it's really tough. That's why she's a bit upset right now."
"I know she's disappointed and I feel terrible, but I crashed," Vonn said. "I don't want to crash myself, let alone hurt my teammate's chances of getting medal, so I feel terrible. I hope she understands. I didn't want that to happen for the both of us, so I hope she has a good second run."
Because of visibility issues, the second run was pushed to 9:30 a.m. PT on Thursday and will be 10 gates shorter. Following a continued delay that lasted nearly two hours, officials chose to postpone the remainder of the afternoon. Goergl leads after one run with a time of 1:15.12 seconds, Taina Barioz of France is second at 1:15.14 and Kathrin Zettel of Austria is third, .26 seconds behind the leader. Mancuso is 18th, 1.30 behind Goergl.