February, 25, 2010
02/25/10
7:44
PM ET
VANCOUVER, British Columbia -- Like many Nordic skiers, Billy Demong cross-trains in the summer by riding a road bike, and he's good enough to have competed in some races on the domestic professional circuit. During July 2008, he was on the receiving end of an athletic act of generosity that may have gotten more attention in cyberspace than anything Demong had done in three previous Winter Olympics.
[+] Enlarge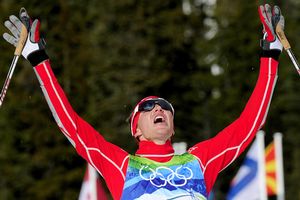 Frank Fife/Getty ImagesBilly Demong's gold medal was the culmination of decades of hard work.
Demong, who had crashed about 1.5 miles from the finish of the Cascade Cycling Classic in Oregon, crossed the finish line in a most unusual fashion. Veteran pro Chris Horner, now a support rider on Lance Armstrong's RadioShack team, came upon Demong and offered both him and his banged-up bike a piggyback ride. Fans were stunned when they saw Horner approaching with his cargo.
The first thing I thought of when Demong won the Nordic combined large hill individual event Thursday was the concept of unselfishness. He wouldn't be a gold medalist if he hadn't had longtime teammates Todd Lodwick and Johnny Spillane with him, not just for Thursday's 10-kilometer race, not just for the past two weeks in Whistler, but for most of the past 12 years. These guys have taken turns carrying each other through many mishaps and close calls and the slow build to success on the World Cup circuit, and they haven't done it for fame or financial reward. Most sports writers -- and I'm among them -- didn't start paying attention until it was clear the team was going to be a contender in Vancouver. Most of us are still not versed in the nuances, but it's not hard to grasp how long and hard these athletes toiled in obscurity to get there.
I'm certain Demong's victory is sweeter because the team had won a collective silver medal together two days before. "No matter what, our team approach has been to train together, compete together, win together," he told me in an interview last month. "We know that as a small sport in a big country, we need to be together to push each other. As long as somebody is doing well, it brings the level of the group up. It doesn't matter who is excelling at any given time as long as somebody pushes the limit.
"That's what makes us strong, not only on the playing field -- we're a band of brothers. We spend upwards of 250 days a year together. At 29 years of age, I was reflecting today on the van trip, as I always do when we drive across Europe, that I've probably spent more nights in a hotel room with Johnny Spillane and Todd Lodwick than I spent with my mother.
"It's the group that has made us good. It started with Todd being able to break the mold and say, 'You know what, Americans can be good at this sport. I'm not gonna take history as an example. I'm gonna make my own way.' And then Johnny and I learning from him and following his tracks. I think we all truly view and value this as a team effort all the way, even the individual results."
Demong was raised just outside Lake Placid, N.Y., so it's completely understandable that his Olympic ambitions were a tad outsized from the start. He came into the 2002 Games thinking he'd get a medal and get out of the sport; the team finished fourth, and Demong had to recalibrate his expectations.
His own tomfoolery -- he fractured his skull taking a playful dive into a shallow hotel swimming pool -- derailed him for a season but also made him so acutely aware of his gifts that he came back to the sport with new dedication. His dry sense of humor has helped him navigate the long, grinding course since. When I told him I wanted to interview him for a story on Olympic "lifers" -- three athletes who had found a way to compete in four straight Winter Games -- he asked, "Have we all had some sort of catastrophic accident or injury that caused us to maybe increase our longevity?"
As the years rolled on and the results accumulated, a true confidence replaced Demong's former cocksureness. And that confidence, again, was built on the knowledge that his teammates would force him to be at his competitive best yet always be there for him, even when he somehow lost his starting bib and cost the team a medal at the World Championships. Lodwick took two years off and returned, but he and Demong and Spillane are as tight a fraternity as you'll find in sports, still choosing to spend some of their precious off-time together riding their bikes, fishing and hunting.
The fact that all three stayed in the sport as long as they did was crucial to the U.S. success here. The team medal, Spillane's two individual silvers and Demong's gold didn't just end the lifetime U.S. drought in the sport, they flooded the plain. "There are definitely some young guys who have good results, but they're less frequent," Demong told me in January. "Year in, year out over my tenure, it's the older, more experienced athletes who tend to excel on a daily basis. There's a lot of pieces of this puzzle that have to come together. There's a lot of things that go into a day of Nordic combined that an experienced athlete can roll with, whereas a younger athlete may stress."
Leaning against the wall in Demong's basement in Park City, Utah, is a pair of weathered gray wood cross-country skis that look like they were chopped out of the side of a barn, with cracked leather bindings. The antiques are a reminder of the sport's roots, and by extension, how far Demong and his teammates have been able to take it. Endurance athletes often get better as they get older. What Demong never could have known until now is how much more meaningful it would be after all this time.