February, 17, 2010
02/17/10
9:46
PM ET
VANCOUVER, British Columbia -- The highlight of Thursday's Olympic action will be the men's figure skating free program -- but that isn't the only event you should check out. Here are our picks:
Biathlon: Men's 20km Individual
Things did not go as planned for American Tim Burke in Sunday's 10-kilometer sprint; he got caught in a midrace snowstorm, missed three shots and finished 47th. Because the finish in the 10km race decided the start order for Tuesday's pursuit, Burke didn't start until sprint gold medalist Vincent Jay of France had already been on the course for more than three minutes. It was an impossible amount of time to make up, and Burke finished 46th. On Thursday, Burke will look for redemption in the 20km race and try to become the first American to win an Olympic medal in biathlon. He'll have to watch out for Jay, and for Norwegian star Ole Einar Bjoerndalen, who is in search of his 10th Olympic medal.
[+] Enlarge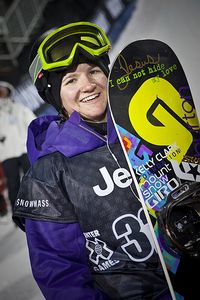 Christian Pondella/Getty ImagesKelly Clark enters the Olympics at the top of her game.
Snowboarding: Women's Halfpipe Finals
In 2006, the American women were a few points from sweeping the podium. This year should be no different. The U.S. team is composed of the same four riders who competed in the Torino Olympics, and this year, they're not content to share the spotlight. Kelly Clark, the 2002 Olympic gold medalist, won nearly every contest she entered in the past year and a half and is riding with unmatched amplitude -- something Olympic judges seem to value above all. At contests when Clark found herself in second place, she usually was taking a backseat to 2006 silver medalist Gretchen Bleiler, who changed her run this season and is peaking when it counts. Bleiler beat her teammates in one of the most progressive contests in women's halfpipe history at the X Games last month. Returning Olympic gold medalist Hannah Teter, Jiayu Liu of Japan and Torah Bright of Australia also all have solid chances of landing on the podium.
Figure Skating: Men's Free Program
The gloves will be dropped Thursday night at the Pacific Coliseum. Although reigning Olympic champion Evgeni Plushenko of Russia landed a perfect quadruple toe-loop and posted a new Olympic record with a score of 90.85 in the free skate Tuesday night, he is just .55 points ahead of American Evan Lysacek in second and .6 points ahead of Japan's Daisuke Takahashi in third. And neither of those men did a quad. Takahashi and Lysacek both scored significantly higher than Plushenko in the component score (the old artistic impression number), picking up the slack from the executed elements column. The free skate will pit athleticism against artistry. Plushenko has never been known for the latter, and Lysacek will not do a quad. In his long program, Takahashi will have both.
Men's Hockey: USA vs. Norway and Canada vs. Switzerland
Women's Hockey: USA vs. Finland
The American and Canadian men's teams will be in action again Thursday at Canada Hockey Place, this time against Norway and Switzerland. It's unlikely either team will be tested. And with the lopsided nature of the scores coming out of the women's tournament, you'd expect the same from the U.S. women against Finland. But don't forget: It was the scrappy Finns who upset the Americans in Torino in 2006, forcing them to settle for the worst finish in their brief Olympic history: a bronze.
Speedskating: Women's 1000m
Two-time Olympian Christine Nesbitt of London, Ontario, is favored for gold in Thursday night's race at the Richmond Olympic Oval. She's the reigning world champ at the distance and has won all four 1,000-meter World Cup races this season. Nesbitt's toughest challengers will be Annette Gerritsen of the Netherlands, Japan's Nao Kodaira and China's Beixing Wang. Ottawa's Kristina Groves is a sleeper in the race; there's no telling how much inspiration she'll draw from the home crowd. Americans Jennifer Rodriguez and Heather Richardson also will compete.
Skeleton: Men's and Women's, Day 1
American skeleton racers Noelle Pikus-Pace and Zach Lund have been waiting a long time for this. Lund was kicked out of Torino on the eve of the 2006 Games for testing positive for a banned substance in his hair-restoration medicine (he was later cleared of any wrongdoing). Pikus-Pace's right leg was literally shattered in the fall of 2005 when she was struck by an out-of-control bobsled in Calgary, Alberta. Both will look to fulfill their Olympic medal dreams Thursday night at the Whistler Sliding Centre. It won't be easy. Pikus-Pace and teammate Katie Uhlaender are ranked sixth and seventh in the world, but all three Torino medalists -- Maya Pedersen of Switzerland, Shelley Rudman of Great Britain and Mellisa Hollingsworth of Canada -- are returning. Lund will have his hands full, too. Martins Dukurs of Latvia won seven World Cup medals this season. Canada's Jon Montgomery has posted lightning-fast training times all week, and countryman Jeff Pain holds the official track record. And Germans Frank Rommel, Sandro Stielicke and Michi Halilovic are all contenders, as well.
February, 13, 2010
02/13/10
11:49
PM ET
Love is in the air. Too bad love isn't a synonym for cold temperatures and snow. Our take on the top events to watch this Valentine's Day:
Alpine Skiing: Women's Super Combined
What was scheduled to be the first woman's alpine event of the Games -- and the debut of Lindsey Vonn's shin -- has been postponed until Thursday due to weather.
Luge: Men's Singles
In the wake of the tragic death of 21-year-old Georgian luger Nodar Kumaritashvili in a training run Friday morning, Olympic officials announced changes to the track and contest format. Most notably, the men are starting from the lower women's start at a turn called The Wedge. That means slower speeds and changes in racing tactics. In the first day of competition Saturday, athletes were hitting top speeds about 9-15 mph lower than in previous sessions, where top speeds reached 95 mph. American Tony Benshoof crashed in a training run Friday and is competing with three herniated discs in his lower back, yet is the USA's best hope for a medal. Benshoof is a three-time Olympian and finished just off the podium in Torino, losing the bronze by 0.153 of a second to Latvia's Martins Rubenis. Two-time defending champion Armin Zoeggeler of Italy is one of the most decorated lugers in history and the gold-medal favorite once again.
Women's Ice Hockey: USA vs. China
[Due to the high volume of reader feedback concerned with the fact we are omitting men's hockey from our daily previews, an editor's note: The Olympic men's hockey tournament begins Tuesday. The NHL is currently in session until it begins a two-week break to accommodate the Games, Feb. 15-28.]
Two-time defending World Champion Team USA makes its Olympic debut against China on Sunday afternoon at UBC's Thunderbird Arena. Team China qualified for these Games with three straight victories over Norway, the Czech Republic and Japan, and returns to Olympic competition after an eight-year hiatus. With just 166 registered female hockey players in the country to choose from, China will be overmatched against the U.S. (There are 66,000 registered female hockey players in the United States.) But Sunday is Chinese New Year and begins The Year of The Tiger. In Chinese astrology, the tiger is good luck.
Figure Skating: Pairs Short Program
Two-time and reigning world champs Aliona Savchenko and Robin Szolkowy of Germay are the pair to beat. And there's a duo who could do just that. China's Shen Xue and Zhao Hongbo, two-time Olympic bronze medalists, returned after a two-year absence from the sport to dominate the international circuit this past fall. Known for their athleticism and emotion, the pair is skating heads and shoulders above the rest of the field and should head into the long program with a sizable lead. Even more impressive in the youthful sport of figure skating: Shen is 31; Zhao is 36.
Biathlon: Men's 10 km Sprint
The U.S. has never won an Olympic medal in biathlon. Heck, the best American finish thus far was 19th by Lyle Nelson in 1980. On Sunday, those stats should change. The U.S. brings its strongest Olympic team in history to Vancouver, led by Tim Burke of upstate New York. Burke became the first American in history to reach the podium at a World Cup event when he finished third in the sprint event at Ostersund two months ago. He then became the first American in history to race in the yellow bib as the overall leader in the World Cup standings. Teammate Jay Hakkinen of Alaska is competing in his fourth Olympics, Jeremy Teela in his third and Lowell Bailey in his second. With all that experience, the U.S. should be stiff competition for the Norwegians -- favorites here in Vancouver.