February, 25, 2010
02/25/10
12:47
AM ET
VANCOUVER, British Columbia -- Once every four years, Jeret "Speedy" Peterson spends a few seconds in the air that earn him something around 15 minutes of fame. There have been times he wished it didn't last that long.
[+] Enlarge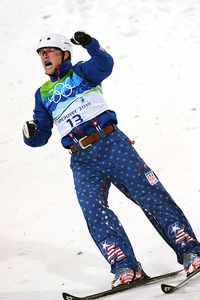 ADRIAN DENNIS/AFP/Getty ImagesJeret Peterson's mistakes in 2006 helped him prepare for the Vancouver Games.
The daring aerialist from Idaho is back for his third Olympics, armed once again with the triple-flip, quintuple-twist trick that has made his name and will make or break his medal chances. He left Torino on a sour note, but not because he brushed his hand in the snow as he righted himself after his signature jump and finished seventh. Peterson's involvement in a bar fight made headlines and the U.S. Olympic Committee asked him to leave.
That incident, rehashed around the world at the time, has been stirred up from the bottom of the soup pot again -- but this time, cited as the botched landing that helped set Peterson, 28, on a different path. He took time off the World Cup circuit, quit drinking and worked on blunting the hubris that made him think he could get away with anything, while still retaining the risk-loving edge that makes him a great competitor.
Peterson's ideal medal-winning performance will be as spectacular as possible, and he would also like to be known for something other than overcoming a résumé of tragedies: A sister's death at the hands of a drunk driver, childhood sexual abuse, witnessing the suicide of a close friend. In the last couple of years, he has talked openly about his struggle with depression. "My stance on it is, I didn't do anything to make it happen," Peterson told me during a World Cup weekend in Utah last month. "It's no different than having a broken arm. It's something you have, something you have to deal with, and if you don't, it's not going to heal."
It's irksome to have his past rifled through every so often like an open desk drawer, but he's made peace with it.
"It's been a very difficult process having everything that you do scrutinized," he said. "I made mistakes in my life and unfortunately they were magnified many, many times. Do I feel it's unfair to a certain extent? Yes. I didn't get into this sport thinking that people were going to look up to me.
"I've already been dragged through the wringer again this year. It's OK, mostly because I know and I'm comfortable with who I am now and comfortable admitting where I went wrong. If people don't want to be fans of mine, I'm OK with that."
It's hard not to look up when Peterson catapults himself off the kicker and whirls around like a stunt plane without wings, soaring as high as 54 feet in the air at his zenith. His "Hurricane" trick pushes the physical limits of what an aerialist can do under the current rules. Four flips are not allowed.
In 2002, when Peterson was named to the Olympic team at the last minute due to an injury to teammate Emily Cook, he watched Ales Valenta of the Czech Republic win the gold medal with a similarly difficult maneuver. He's worked on perfecting his own version of it ever since.
Valenta twisted twice on the first flip, twice on the second and once on the third. Peterson twists once on the first flip, an eye-popping three times on the second and once on the third. He said his sequencing improves his chances of landing cleanly. "I get to see [down] right before I do that triple twist and I get to see again at the end of it, whereas Ales didn't see until almost the end of the second flip," Peterson said. "He was blind for 66 percent of his jump."
Peterson and U.S. teammate Ryan St. Onge both qualified for Thursday's aerials finals. The 12-man field, shockingly, will not include Anton Kushnir of Belarus, who is leading the World Cup standings and had been money in the bank until he crashed in qualifying.
Another "Hurricane" attempt will be a game-day decision, depending on conditions at Cypress Mountain, Peterson said. He has used it sparingly, trying it only about eight times in competition and hitting it cleanly three times that he can recall. He has refined it in training to the point where he's microanalyzing small flaws in his landing, which he said is a good place.
"I want to progress our sport and I want everyone to try their hardest," he said. "I don't back down and I'm not going to give up, and I don't want any of my competitors to, either."