February, 16, 2010
02/16/10
10:45
PM ET
The world's most talked-about shin injury will finally be tested Wednesday. What else should you be watching? From Shaun White to Stephen Colbert, here are our picks:
[+] Enlarge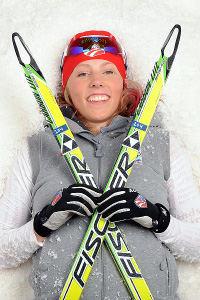 Harry How/Getty ImagesAlaska's Kikkan Randall is looking to end America's cross-country medal drought.
Alpine Skiing: Women's Downhill
Despite her much-discussed shin injury, American Lindsey Vonn is still the favorite in women's downhill on Franz's Run at Whistler Creekside in British Columbia. She was "very sore" after her training run Monday, but still posted the day's top time. "It was by far the bumpiest course I have ever skied," Vonn wrote on her Facebook page. Teammate Julia Mancuso was second, .39 seconds behind, followed by Austria's Elisabeth Goergl. The second women's downhill training run, scheduled for Tuesday morning, was canceled because of bad weather, but with one run in, the event can go off as scheduled. "I'm a fighter," Vonn says. "I just want to get out there and start competing." Vonn also will face stiff competition from Germany's Maria Riesch, who ended Vonn's perfect record in the World Cup this season by beating her in a downhill race in January. Anja Paerson of Sweden is third in the World Cup standings and won three medals at the Torino Olympics, including a bronze.
Cross-Country Skiing: Women's Individual Sprint Classic
No American has ever won gold in cross-country skiing, but in 2007, Alaska's Kikkan Randall became the first American woman in 29 years to win a Nordic World Cup race. In Torino in 2006, Randall finished ninth in the sprint. It was the best-ever Olympic finish by an American woman in the discipline. But in Italy, Randall was permitted to use the much faster freestyle stride with which she has achieved her best results; skiers use a stride similar to a speedskater's, pushing off on the diagonal. In Whistler, the classical technique, which uses a parallel stride, will be required. "It's a big challenge," Randall says. "But the Olympics are all about seeing what you can do." The current World Cup standings are topped by Poland's Justyna Kowalczyk with Slovenia's Petra Majdic; they should both fare well in Wednesday's race.
Short Track Speedskating: 1,000m
Apolo Ohno's silver medal Monday night in the 1,500 meters was his sixth Winter Olympic medal, tying him with Bonnie Blair's record. He gets his first chance to break the record Wednesday night at Pacific Coliseum in the 1,000. The race is shorter and faster, with more contact. Trying to derail Ohno's plans will be South Korean Lee Jung-Su and fellow American J.R. Celski, the gold and bronze medalists in the 1,500. Five months ago at the U.S. Short Track trials, Celski outskated Ohno in the 1,000m time trials before accidentally stabbing his left leg with his right skate, suffering a gruesome cut that required 60 stitches to close. Doctors told him he might never walk again, much less skate. It's tough not to root for a kid who defied those odds.
Snowboarding: Men's Halfpipe
Before arriving in Vancouver, American snowboarder Shaun White, the defending Olympic halfpipe gold medalist, was considered the heavy favorite to repeat. Now, with the weather conditions forcing many riders to bag their most progressive tricks, that could mean an advantage for European and Asian riders used to competing in less-than-pristine pipes. Only thing is, in the case of White vs. the rest of the world, it's not. At practice Monday evening, White landed his signature double McTwist 1260 and appeared the least affected by the conditions. "The best riders shine through in bad weather," White said in an interview with ESPN The Mag this fall; Wednesday will be White's chance. The remaining two spots on the podium are anyone's to grab. Swiss rider Iouri Podladtchikov and Kazuhiro Kokubo of Japan finished 2-3 at the Winter X Games last month, and Americans Scotty Lago, Louie Vito and Greg Bretz all have the talent, and the runs, to medal.
Women's Ice Hockey: Canada vs. Sweden
On a day when Men's Group 2 powerhouses Finland and Sweden will loosen their legs against Belarus and Germany, the Canadian women will face off against Sweden, having outscored their opponents 28-1 in these Olympics thus far. Sweden can't be taken quite as lightly as Slovakia and Switzerland; the Swedes upset the Americans in Torino in 2006, then fell to the Canadians and took silver. Still, it seems as if Team USA and Team Canada are on a crash course to the final, and there's not much any other country can do about it.
Speedskating: Men's 1,000m
American Shani Davis, the defending Olympic champion and world-record holder in the 1,000 meters, was the hands-down favorite for Wednesday night's race, but the surprise win in Monday's 500 by 21-year-old Korean Mo Tae-Bum, and the fact that Davis pulled out of that race after placing 18th in the first of two heats, has raised some questions. Davis, though, says he pulled out to focus on the two races he has a better chance of winning: the 1,000 and the 1,500. He will have extra motivation Wednesday night at the Richmond Olympic Oval; team sponsor and "Colbert Report" host Stephen Colbert will be in Vancouver, as a fully accredited member of the media, to cheer Davis to victory.
February, 14, 2010
02/14/10
11:07
PM ET
All eyes will be on Shani Davis on Monday, as the American speedskater goes for gold in the men's 500 meters event. What else should you be watching? Here are our picks:
Alpine Skiing: Men's Downhill
This event has already been rescheduled a few times due to weather conditions at Whistler Creekside, but looks set to finally begin Monday afternoon at 1:30 p.m. ET. It will be Bode Miller's first of a planned five races here at these Games.
Cross-Country Skiing: Men's 15K
All eyes will be on Norwegian Petter Northug, cross-country skiing's newest superstar. At 24 years old, he already owns eight individual World Cup titles, along with five additional podiums, and he's leading the current World Cup overall standings. It will be up to Czech Lukas Bauer, Swede Marcus Hellner and Italy's Pietro Piller Cottrer to keep Northug from his first Olympic medal. Also racing with a chance to medal is 30-year-old American Kris Freeman, a three-time Olympian who has overcome Type 1 diabetes to become one of the most successful American cross-country skiers in history. In Vancouver, the 15K will be the first of his five events.
Women's Luge
American Erin Hamlin has her work cut out for her at the Whistler Sliding Center on Monday evening. The Remsen, N.Y., native won gold at the 2009 World Championships in Lake Placid in February 2009, nearly two-tenths of a second ahead of Germany's Natalie Geisenberger. A miracle, her teammates called it. Why? Because the Germans had won 99 consecutive World Championship, World Cup and Olympic races dating back to 1997, and no non-German woman had taken World Championship gold since 1993. Now, Germans Geisenberger, Tatjana Huefner and Anke Wischnewski hold the top three spots in the World Cup standings. They'll be eager to start a new winning streak.
Men's Snowboardcross
The sport of snowboardcross was so popular in its Olympic debut in Torino that the IOC added its sister sport, skiercross, to this year's program. Hands down one of the most exciting events in the Olympic lineup, snowboardcross is also one of the most difficult to predict. Anyone who saw the women's final in Torino knows it's not just about being fastest down the hill. To win requires a mix of speed, technical prowess, luck, patience and crash-avoidance skills. This year's race should not disappoint. The Americans field the strongest team, led by 2006 gold medalist Seth Wescott and five-time defending Winter X Games champ Nate Holland. The thrilling Holland-Wescott final at Winter X in January provided a taste of what's to come on Monday. But if anyone is going to stop the U.S. from landing a one-two punch, chances are it will be Austrian Markus Schairer, the reigning World and World Cup champ.
Speedskating: Men's 500M
It seems long distances belong to Dutchman Sven Kramer, middle distances to American Shani Davis. But there is no clear favorite for Monday night's sprint at the Richmond Olympic Oval. The hometown crowd will try to will Jeremy Wotherspoon, of Humboldt, Saskatchewan, to gold in his last Olympic hoorah. Wotherspoon won a silver medal in Nagano, his first Olympics, but has crashed and burned -- sometimes literally -- in each Olympics since. The world-record holder will face tough competition from Koreans Lee Kang-Seok and Lee Kyou-Hyuk, Mika Poutala of Finland and Tucker Fredricks of the United States.
Figure skating: Pairs free skate
We've previously mentioned how China's Shen Xue and Zhao Hongbo had a chance to beat reigning world champs Aliona Savchekno and Robin Szolkowy of Germany in the pairs competition. On Sunday night, the Chinese duo (they are also married) set a new world record with a score of 76.66 in the short program, besting their own mark of 75.36 from January. But Savchenko and Szolkowy were almost as brilliant (75.96), while the Russian team of Yuko Kavaguti and Alexander Smirnov is in a close third (74.16). Heading into tonight's free skate, just 5.38 points separate first from fifth, leaving all three medals up for grabs.