Legends bring spark to nationals again
January, 22, 2010
01/22/10
10:21
PM ET
SPOKANE, Wash. -- Two lions of figure skating will be prowling the boards during the ladies' long program Saturday night, watching the way all coaches do -- helplessly -- as their students try to make the U.S. Olympic team.
John Nicks, 81, Sasha Cohen's longtime coach, and Frank Carroll, 71, who guides teenager Mirai Nagasu, teach at rinks 50 miles apart in Southern California. They've worked roughly 80 U.S. championships between them. Their careers have been doing figure eights since the early '60s, weaving around and across each other, and their former pupils constitute a formidable who's-who list in the sport.
[+] Enlarge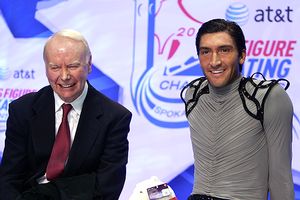 Jonathan Ferrey/Getty Images Along with guiding Mirai Nagasu, Frank Carroll, left, also coaches Evan Lysacek.
After 34 U.S. team skaters, coaches, staff and family members were killed in a plane crash on the way to the 1961 world championships, a club in Los Angeles approached Carroll to replace the late coach there. Carroll, who had turned professional after competing as a junior, turned down the job to stay in the Ice Follies. Nicks emigrated from England to take it.
Witty, urbane and demanding, Carroll and Nicks were too ambitious to be friends in the early part of their careers. Their relationship has evolved into mutual esteem for having succeeded and survived in a cutthroat business.
"He's a great, great human being. Very fair, very honest. And an excellent teacher," Carroll said of Nicks, a former world champion in pairs skating who competed with his sister.
You wouldn't know that to talk to the self-deprecating Nicks, whose students unanimously and unfailingly refer to him as "Mr. Nicks." When a reporter asked him Thursday why Cohen returned to him after starting her comeback with another coach, he diverted the question, as he often does, with humor.
"I think, mainly, it was what I would call geographical," Nicks said with characteristic deliberation. "She lives in Corona del Mar. That's only about 12 minutes from where I work. She drives down the Pacific Coast Highway with the sea, and after practice she drives down Laguna Canyon [Road] to Laguna Beach, has an espresso, watches the volleyball on the beach, drives home. I think it's a pleasant experience, better than driving up and down the mountain [to Lake Arrowhead, her former training venue]."
Even in the heat of competition, there's a vague comedy vibe around Nicks and Cohen. Last year, she told The Philadelphia Inquirer that Nicks irritated her early in her career by portraying her as a high-maintenance drama princess. "My dear," he explained, "No one wants to hear about little girls in pink dresses trying their best. It's boring."
"They're perfect for each other, both so laid-back," Carroll said. "If you watch them, they're both so mellow. Everything is calm, everything is cool. I think that's what she needs. John is her security blanket. He's the one who can stand there and calm her down and get her to believe in herself."
Successful as both men have been, Carroll is still waiting for the experience Nicks has had twice, with Kristi Yamaguchi (1992) and Peggy Fleming (1968): seeing one of his students win an Olympic gold medal. Carroll has come close twice, with Michelle Kwan and Linda Fratianne, who both won world titles. Current world champion Evan Lysacek could give him a shot on the men's side in Vancouver, and Nagasu, who holds a narrow lead after the short program, is in a prime position to make the women's team.
But Carroll insists he isn't fixated on that goal and doesn't want his skaters to be, either. "Evan gave an interview and said he wanted to win the gold for me," he told The New York Times this week. "I told him, 'Don't say that again. Your motivation should be that you want to do it for yourself. My career has been fulfilled.'"