Long, strange trip for Dawson
February, 13, 2010
02/13/10
4:52
PM ET
VANCOUVER, British Columbia -- Taking a swing at being a professional golfer at age 31 is a long shot indeed, but Toby Dawson isn't deterred by that. His whole life has been stranger than fiction.
[+] Enlarge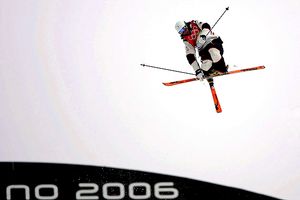 A Bibard/FEP/ Panoramic/US PRESSWIREAfter winning bronze in 2006, Toby Dawson traded in his skis for golf clubs.
Dawson, who was separated from his mother in a Korean market when he was 3 years old and placed in an orphanage, was adopted by an American couple who both worked as ski instructors in Vail, Colo. His brother -- also adopted but not biologically related to him -- was the only other Asian face he saw growing up. Yet Dawson adapted to his surroundings well -- so well, in fact, that he became an elite moguls skier and won the bronze medal at the 2006 Olympics.
"I never thought about looking for my birth parents," Dawson said. "I was grateful for the family I had." His brother felt differently and did track down his biological parents, but had a disappointing experience that raised more questions than it answered.
Dawson's image was splashed all over the Korean media, and within hours of winning his medal, men there began trying to contact him, claiming to be his biological father. One -- a then-53-year-old bus driver named Kim Jae-Su in the southern city of Busan -- bore an uncanny resemblance to him, right down to his heavy beard.
With the help of a Korean governmental agency, Dawson sifted through the inquiries and decided to undergo DNA testing. Kim proved to be a match, and Dawson traveled to Korea to meet him -- and a biological brother he never knew -- in 2007. Dawson, who is in Vancouver helping to coach U.S. moguls skier Michelle Roark, is writing a book about his improbable journey called "22 Years For 22 seconds."
Dawson said he has maintained a positive relationship with his birth father, and his adoptive parents have been steadfastly supportive. "I'm genuinely happy about it," he said. "It's not one of these horror stories you hear about." Yet the story is not entirely a fairy tale. "I haven't met my biological mother yet," Dawson said. "He puts the blame on her for losing me."
As for golf, Dawson got hooked the year before he won the Olympic medal. After the Torino Games, he took off his skis for good, moved to Palm Springs and began taking lessons and practicing, by his own admission, obsessively. He recently played in the Bob Hope Classic as an amateur.
"I'm still pretty green," he said. "Making it at this age is almost impossible, but I feel that with my stubbornness and attitude, I have a chance. My mental game is very high."
[+] Enlarge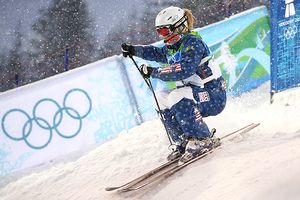 ADRIAN DENNIS/AFP/Getty ImagesMichelle Roark has relied on Toby Dawson's coaching to improve her performance.
The golf pro trying to get him there agrees. Davey Evans -- who had a brief career on the men's professional tour 50 years ago and served as the head pro at La Quinta Country Club for 27 years -- has worked with Dawson for the past seven or eight months and said he may be ready to play lower-level professional tournaments as early as this summer.
"I would not attempt to do this with most people this age," said Evans, 73, who gave lessons to such luminaries as the late President Gerald Ford and director Frank Capra. "Toby is unique. He's a very talented, wonderful athlete, and he understands what it takes to get something. He already knows there are no free lunches. He has the mentality to do it."
Dawson probably wouldn't have interrupted his golf education for anyone but Roark, the ebullient and savvy moguls skiing veteran and 2008 U.S. champion who is competing in her second Olympic Games. Faced with an extremely talented field of U.S. women, Roark decided she needed extra help with her turn technique and persuaded Dawson to spend time with her during the World Cup season. The boost earned her a third-place finish in the World Cup event at Deer Valley last month, and she clinched an Olympic spot the following week in Lake Placid.
It hasn't been an entirely smooth ride in Vancouver thus far, as Dawson was unable to get a credential to get on the moguls course during training runs (Roark's husband was banned from the course by security when he tried to attend a training session), but Roark will get her chance to put their work into practice tonight. She will compete wearing one of the fragrances she created through her company, Phinomenal. Dawson is also using cologne from her men's line. "It's called Real," he said.