Getzlaf still questionable for Olympics
February, 13, 2010
02/13/10
7:47
PM ET
VANCOUVER, British Columbia -- Anaheim Ducks star center Ryan Getzlaf is still part of Canada's Olympic hockey team, but only just.
[+] Enlarge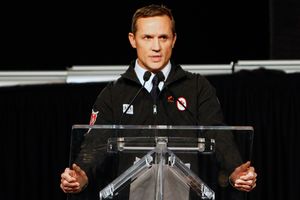 Richard Wolowicz/Getty Images Steve Yzerman has tough decisions to make before the official roster deadline on Monday.
Getzlaf skated lightly Saturday, his third day of light skating, but was listed as a game-time decision for the Ducks' game Saturday in Calgary as he continues to try to recover from a sprained ankle sustained Monday night. One of Canada's top centers, Getzlaf was scheduled to skate again Sunday morning and if he couldn't go Saturday, there was still a possibility he could play in the Ducks' final pre-Olympic game Sunday afternoon against Edmonton.
"We'd like to see him play," Steve Yzerman, the executive director of Canada's Olympic hockey team, said Saturday at his first media briefing of the Olympic Games.
"We don't put any pressure on him to come back before he's ready. Right now it's in the medical staff of the Ducks' hands when they clear him to play. If that's tomorrow obviously we'll be watching him closely to see how he does."
Yzerman and the rest of the Canadian management team have debated the pros and cons of keeping Getzlaf on the roster even if he doesn't play in the Ducks' final two games in the hopes that he might be close to 100 percent as the tournament goes along. But that would fly in the face of the team's plan not to have players who aren't fully healthy on the final roster, which has to be submitted Monday at noon.
One of the key factors in the Canadians' embarrassing seventh-place finish in Turin four years ago was the fact too many players were banged up when they arrived in Italy. Kevin Lowe, who was part of management team for the '06 squad as well as the Vancouver team, said they have asked players to be honest with them and inform Canadian officials if they aren't perfectly healthy or at least close.
Getzlaf is the only injury concern at the moment and it would seem almost certain that unless he can play in one of the Ducks' final two games -- and play effectively -- he will be dropped from the roster. It's anticipated that Philadelphia Flyers center Jeff Carter would take Getzlaf's spot.
"Mostly it goes to this injury. It's a tricky one and there's a lot of uncertainty and that's what makes it difficult and that's what makes it a risk for a guy to play early after that type of an injury," Yzerman said of the injury sustained when Getzlaf got tangled up with L.A. Kings captain Dustin Brown on Monday night.
"From our point of view, we will not make a decision today. In all likelihood we will wait and see how he does tomorrow. I will speak with Ryan hopefully later on today. We're taking this day to day. We decided after the injury that we would give him as much time as he needed to determine whether he's ready to go or not," Yzerman said.
Along with Carter, ESPN.com has confirmed netminder Chris Mason, defensemen Stephane Robidas and Jay Bouwmeester and forwards Mike Fisher, Martin St. Louis and Steven Stamkos are among the players who have been told to be at the ready if the Canadian roster sustains further injuries before the end of the NHL's pre-Olympic schedule Sunday afternoon.