Chu celebrates win, holiday
February, 14, 2010
02/14/10
6:42
PM ET
Team USA was spreading the love on Valentine's Day in Vancouver, defeating China 12-1 in their debut in a game that saw nine players score goals.
[+] Enlarge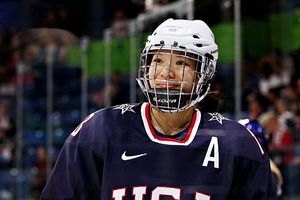 Bruce Bennett/Getty ImagesJulie Chu is taking part in her third Olympic Games.
The last of the American goals came with just 38 seconds remaining. Forward Julie Chu received a pass from Jinelle Zaugg in the neutral zone, then skated into the Chinese zone on a two-on-one rush with Natalie Darwitz. Chu passed the puck cross-ice to Darwitz on the right wing, then bolted to the left post, where she was waiting to pop the puck into China's goal when Darwitz slid it back. The goal put an exclamation point on a day that was already special for the 27-year-old Chu.
Yes, it's Valentine's Day, and yes, it was the first game in the 27-year-old Chu's third Olympic Games. But today is also the Chinese New Year, ushering in the lucky Year of the Tiger. Chu's father was born in Hong Kong, and her mother is half Chinese.
"Having Chinese heritage is something I'm very proud of," she says. "Getting the chance to play Team China on Chinese New Year's made this day extra special for me."
Though Chu was raised in Connecticut, her mother Miriam always made the Chinese New Year a special day.
"My mom always made a common vegetarian noodle dish to celebrate the New Year," says Chu, who was born in the Year of the Dog. "We'd wake up in the morning and have that. We typically eat with forks, but we'd break out the chopsticks. We often got the day off from school too, because we'd head to Queens, N.Y., where my family was from, and have another celebration with the extended family. We'd get red envelopes full of money, and we'd wish everyone good luck."
In Vancouver, with Team Canada looming, Chu and the Americans are hoping for just that.