Two's company: Belbin, Weir bunk up
February, 14, 2010
02/14/10
9:21
PM ET
VANCOUVER, British Columbia -- Ice dancer Tanith Belbin and her partner Benjamin Agosto, the 2006 Olympic silver medalists, had quite the ordeal getting out of Philadelphia last week after successive snowstorms buried their training base in more than 40 inches of snow.
[+] Enlarge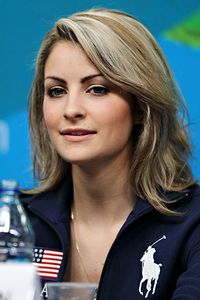 Matthew Stockman/Getty ImagesTanith Belbin is being well taken care of by friend and roommate Johnny Weir.
But when Belbin finally walked into her apartment in the Olympic Village on Friday morning, her roommate had seen to it that the surroundings were both peaceful and inspiring. Scented candles perfumed the air and the walls were decorated with Audrey Hepburn posters and motivational sayings. Her clothes had been unpacked and hung in the closet.
"I definitely feel well taken care of," Belbin said.
Her guardian angel and Feng Shui expert? Three-time U.S. champion and 2010 U.S. bronze medalist Johnny Weir, a close friend since they first began competing in the junior Grand Prix events as young teenagers.
The two are sharing a two-bedroom suite in an unusual arrangement they requested after a numbers game made them the odd skaters out.
Belbin, 25, was originally supposed to share lodging with teenagers Mirai Nagasu (ladies) and Caydee Denney (pairs) but balked, preferring single accommodations.
Weir at one time planned to stay in a hotel, but said he opted for the greater security of the Athletes' Village after receiving threats from anti-fur activists upset about the trim on one of his costumes, which he has since changed to faux fur. However, the other male skaters had all made their arrangements and at one point it appeared Weir's only option was to room with world champion and U.S. rival Evan Lysacek -- not exactly a pal.
"There was this one [suite] with two single rooms, and if you take Johnny and myself and Evan and do the math, the only logical answer was me and Johnny," said Belbin, who formerly dated Lysacek.
Meanwhile, Agosto wound up rooming with singles skater Jeremy Abbott on one side of a suite and fellow dancer Charlie White and Lysacek in the other. Agosto and Belbin, who are not romantically involved, have never roomed together at a major competition and say they need their own space.
Belbin said Weir frequently visited her at her former training base outside Detroit and became part of her family.
"The first time I brought Johnny down for breakfast, my dad was getting ready for work, and [Weir] came down with a pink glitter bandana on, with sunglasses the size of his face," Belbin said. "My dad was staring at him while he was eating his cereal and [Weir] said, 'Did you just see my face? I don't have my face on yet!'
"My parents love him and I love [Weir's parents] Patty and John. We're really tight and I'm just glad we can have this point in our careers come together again."
[+] Enlarge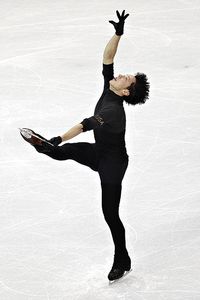 AP Photo/David J. PhillipWeir decided to stay in the Athletes' Village after receiving threats.
Weir calls Belbin "Nita," which is short for the Russian name "Tanita Belbinovchekskyia" (phonetic spelling) that he assigned her years ago, when he first became consumed with Russian culture.
Belbin said Weir consulted with her before the Olympics and asked what "icon" she wanted to adorn their common walls. "I asked for Cher, but he said because of the weather he had to leave early, he didn't have time to shop," Belbin said. Weir did manage to bring decorative pillows, however.
Their only possible conflict is over use of the lone bathtub in the suite, which is located in Weir's private bathroom.
"He's actually going to switch with me after he finishes competing," said Belbin. (The men's short program is Tuesday and the free skate follows on Thursday; ice dancing begins with the compulsory program on Friday.) We both like to soak in our bubble bath, I guess.
"A lot of the team is younger and I don't know them. To have someone like Johnny who knows me so well, it'll be really nice to come back and just feel like yourself and relax, and talk about whatever we want because we can be honest with each other."
On a serious note, Belbin said Weir's accomplishment in getting to Vancouver after up-and-down results since his fifth-place finish in Torino shouldn't be overlooked.
"Johnny is a fighter, and I feel like he's maybe misunderstood," Belbin said. When he asked her opinion of his recent Sundance Channel reality show, she said she told him, "'I feel like people are finally going to be able to see you and understand that you use your offbeat humor to go through some difficult times.'"
"I respect him for everything he's gone through and being able to come back. He's so talented. He's so maddeningly talented," Belbin added, rolling her eyes heavenward, "that we all want him to do well and step up when it counts."