Training run tests Vonn's shin
February, 15, 2010
02/15/10
6:15
PM ET
WHISTLER, British Columbia -- Keep the cheese handy.
[+] Enlarge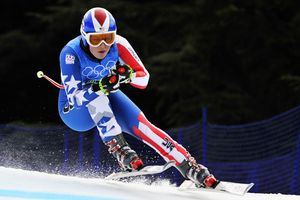 Fabrice Coffrini/AFP/Getty ImagesLindsey Vonn plans to tough it out Wednesday.
After skiing a reassuring slalom practice run Sunday, Lindsey Vonn said her bruised right shin felt much worse Monday during an official training run for the downhill.
"It's tough. I honestly was expecting it to be a little better," Vonn said. "I trained slalom yesterday, and it felt OK. But the course here is so bumpy. I honestly was pretty shocked. It's one thing when you inspect the course and say, 'OK, this will be a little rattly,' but it was like jarring. It was a fight just to make it down the whole way; I was barely in tuck in any part of the course. I think this is probably the worst course for my shin.
"It was fine until the jump, and that really hurt, it was really bad. The shin is throbbing really bad. I'm trying to help you guys out and get the heck out of here."
Vonn bruised the shin in training a week before the Olympics and has been treating it with rest, painkillers, numbing cream, ultrasound and even cheese wraps. The women's downhill is Wednesday, which is when it was originally scheduled. The super-combined, however, was postponed from Sunday to Thursday, giving her three extra days to heal.
Had it not been for the weather delays, Vonn said, "I wouldn't have been able to ski this course. I guess the conditions were different at the beginning. It wasn't as bumpy as it is now. The rain kind of messed that one up a bit. But I can't even tell you how much this break helped. Mother Nature really cooperated with me, and somebody is definitely looking out for me upstairs. And I hope they're looking out for me tomorrow and we don't have another training run, and then I'll hopefully be a little more prepared for Wednesday."
Monday's training run was an unusual split one. Because of the men's downhill event, the women skied the top of the course in the morning before the start of the men's race, then skied the bottom of the course afterward. Vonn had the best time -- 1 minute, 30.75 seconds -- in the upper run but the 20th-best in the second, shorter run, .73 of a second off the best time.
"I almost went out of the course a couple times," Vonn said. "It wasn't bad skiing; it was fighting-to-make-it-down skiing. It's not the same as in the World Cup. I've never run a course this bumpy before. It's not a feel-good course. It's not a fun course. It's a just stick-your-nose-in-it-and-make-it-down [course].
"I just have to grit my teeth and fight through it on Wednesday. And hopefully still come up on top."