Day 5: What to watch
February, 15, 2010
02/15/10
10:46
PM ET
Tuesday's theme is return and redemption -- and the start of the men's hockey tournament. Our picks for what to watch Tuesday:
[+] Enlarge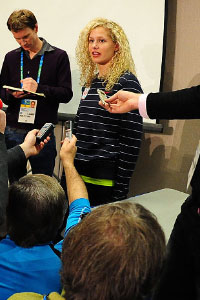 Kyle Terada/US PresswireLindsey Jacobellis is hoping to erase memories of 2006.
Snowboardcross: Women's Final
American Lindsey Jacobellis enters Tuesday's race in the same position she was in four years ago: as the hands-down favorite. But this year, Jacobellis is hoping that by reclaiming the gold medal she left lying on the final jump of the snowboardcross course in Torino, Italy, she can put to rest the story of 2006. "It has been with me for four years. There hasn't been a break," says Jacobellis, the most dominant athlete -- male or female -- in the history of her sport. "But if this is what makes people tune in -- Will she come back and win it all? -- then that is better for our sport down the road." Jacobellis comes to Vancouver, British Columbia, hot off a win -- her third straight -- at the Winter X Games in Aspen, Colo., but she is no sure thing. Maelle Ricker of host team Canada is a medal contender, as are Norwegian teen Helene Olafsen and Sandra Frei of Switzerland. And although she is not expected to contend for a medal, Jacobellis' U.S. teammate Callan Chythlook-Sifsof is a great story herself. A native of Girdwood, Alaska, (pop. 224) Chythlook-Sifsof is the first Inuit Eskimo in U.S. Ski and Snowboard team history.
Men's Hockey: USA vs. Switzerland / Canada vs. Norway
OK, sports fans, the day you've been waiting for has finally arrived. Let the 2010 Winter Olympic hockey games begin! Team Canada plays its first game on home soil, against Norway, at 4:30 p.m. PT. Team USA makes its debut earlier, against Switzerland at noon PT. Norway hasn't qualified for an Olympic tournament since it hosted the Games in Lillehammer in 1994, and defenseman Ole-Kristian Tollefsen is the only NHLer (OK, AHLer now) on the roster. Switzerland's team features D's Mark Streit, Luca Sbisa and Yannick Weber of the Islanders, Ducks and Habs, respectively, as well as Anaheim goalie Jonas Hiller. We won't bore you savvy fans with the details of Team Canada and Team USA's stacked rosters, but we will say this: In such a short tournament, anything can happen.
Figure Skating: Men's Short Program
Call it the return of the king. After winning gold in Torino, Russia's Evgeni Plushenko announced his retirement from the sport. In his absence, the Russians, lords of the Olympic rings in men's figure skating, suffered in international competition. This year, Plushenko returned to the team, looking strong and consistent. Known for having the best quad in the sport, Plushenko, 27, is also the only skater with a quad combo. Only Jeremy Abbott on the U.S. team has the quad, a trick viewed by new-school skaters as unnecessary under a new scoring system that favors transitions and spins over pure athleticism. Americans Johnny Weir, who announced his switch from fox to faux fur for these Olympic Games, and Evan Lysacek also have a spinning chance at landing a medal.
Alpine Skiing: Men's Super Combined
With a bronze in the downhill Monday, American Bode Miller became the first U.S. medal winner in Alpine skiing at these Games. Tuesday, he looks to upgrade the finish on that prize. A virtual fitness test, the super-combi is one of the toughest events on the Alpine program. Unlike the one-downhill, two-slalom format used in Torino, this year's format features one downhill and one slalom run. The times from both runs are added together, and the skier with the fastest combined total is the winner. In 2006, American Ted Ligety won the U.S. ski team's only gold medal in this event, and he is a medal contender here in Vancouver, once again. Still, all eyes will be on Miller, who returns for his third Olympic Games in search of his first gold medal. Benjamin Raich of Austria and Carlo Janka of Switzerland hope to derail that plan.
Luge: Women's Singles
On the same day a memorial was held in downtown Vancouver honoring Georgian luger Nodar Kumaritashvili, the women began their first day of competition on the Whistler track that claimed his life. In response to Kumaritashvili's accident, a 12-foot-tall wooden wall was constructed at Turn 16, padding was added to the exposed steel beams and the women's start was moved down 800 feet to the junior start. Day 1 of competition was led by the German team, which swept the podium in 2002 and 2006. The U.S.'s team's strongest slider is Erin Hamlin, who snapped the German team's 99-race international win streak to win the 2009 world championship and beat four-time Olympian Natalia Yakushenko of Ukraine at a World Cup this season. Hamlin sits in 20th place after one day of competition. Germany's Tatjana Huefner is in first.