The stalwarts of speedskating
February, 16, 2010
02/16/10
10:14
PM ET
RICHMOND, British Columbia -- Dozens of amazing speedskaters have come and gone in the last 35 years. The world record in the longest men's race, the 10,000 meters, has come down more than two minutes; nearly three seconds have been carved from the fastest time in the 500-meter event. Hinged clapskates have revolutionized the sport.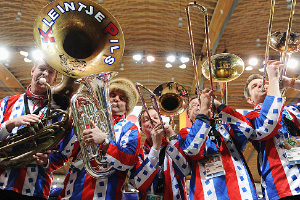 Jasper Juinen/Getty ImagesKleintje Pils has been entertaining sports fans for decades.
Only one thing has remained a constant: The rollicking oom-pah band playing for fans at major world events, which goes by the name Kleintje Pils, or "little beer." As their Web site says, they are "a pastime that has got out of hand."
The 11-piece group, which features a tuba, a euphonium, three slide trombones, four trumpets, one snare drum and a bass drum with cymbals, began making part-time music together in the Netherlands in 1975. All five original members are still in the band.
"We know each other longer than our wives at home," said bandleader Rudolf Bakker, a real estate agent who moonlights as the bass drum basher.
The boys in the band, clad in their unmistakable harlequin-esque jerseys and wooden shoes, were waiting out Monday's ice resurfacing crisis at the Richmond Oval with equanimity, posing for pictures with fans and watching television monitors in the lobby as International Skating Union officials -- all of whom band members easily identified by name -- debated their options.
These part-time musicians have played for speedskating crowds at multiple Winter Olympics and World Championships and World Cup events throughout the world, but their range isn't limited to one sport. Kleintje Pils has gigged on the Champs-Elysees in Paris during the final stage of the Tour de France; at the 1994 soccer World Cup in the United States and at the European championships. The band performed for the late Pope John Paul II and at the royal wedding of Dutch crown prince Willem-Alexander and his bride, Princess Maxima.
Yet for a time, it looked as if they wouldn't make the trip to Vancouver. Olympic organizers here at first thought they might use local talent, but feedback from fans at a test event told them otherwise. Finally, Vancouver Olympic Committee officials told the band that if they could cover their own travel expenses, organizers would provide lodging. Bakker said the band was able to get corporate support to defray costs and chipped in their own money as well. All 11 are bunking in together at a house near the Oval.
Their job may look easy, but Bakker said there's more than meets the eye in making their "hobby" look professional. The band has 350 songs in its repertoire and has mastered the art of "When to start, when to stop, what the audience likes," Bakker said.
If you think that follows cultural norms, you're partly right. "Hey Jude" is a favorite of fans everywhere, but especially the Americans; the Italians favor the traditional "Funiculý, FuniculÓ;" and the Japanese go wild over "La Cucaracha" because it's got a fast beat and they can dance to it. Go figure.
Bakker said he never puts together a set list, but decides what the next number will be as he's playing the previous one. "It's all improvisation," he said. "It makes it difficult for us, but it also means [we] stay sharp. It's all real, from hearts, pure."