Canada takes first step in win
February, 17, 2010
02/17/10
12:49
AM ET
VANCOUVER -- No one gets redeemed from an 8-0 pounding of undermanned Norway.
[+] Enlarge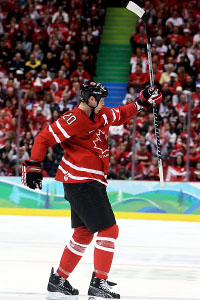 Bruce Bennett/Getty ImagesDany Heatley is looking to put the 2006 Olympics behind him.
Not a full order of redemption anyway. Sorry, it doesn't work that way, not in Canada and not when it comes to erasing the ugly memory of a seventh-place finish at the last Olympics.
But for many of the returning Canadian Olympians, Tuesday's 8-0 shellacking of Norway in their long-awaited Olympic opener was a good way to begin both the forgetting and the redeeming.
Just ask Dany Heatley, who scored twice Tuesday night and now after 60 minutes of play has equaled his six-game goal output in Turin.
"I think we were all disappointed after '06 and anxious to get here. It's been a long wait. It's nice to finally get out there in front of our home fans, and they were great tonight and we're excited about getting going Thursday again," said Heatley, who played on a line with San Jose Sharks linemates Patrick Marleau and Joe Thornton.
Jarome Iginla was another Canadian who did not enjoy a banner time in Italy with just two goals and one assist in six games. Tuesday, he scored a hat trick.
"We've been looking forward to this for a long time and it's finally here. The crowd was awesome. I actually [thought] there was more red and white than I even had imagined it," Iginla said.
Four years ago, the Canadians began the tournament in similar fashion, beating host Italy 7-2 and then Germany 5-1. In their next four games, they scored just three more goals and were shut out three times.
Ken Hitchcock was an assistant coach with that squad and is reprising that role here in Vancouver.
He told ESPN.com on Tuesday night that he didn't think you could draw a line between the difficult time many Canadian scorers had in '06 and players' success Tuesday night.
What Hitchcock considers important, however, is the impact that scoring goals has on a team, specifically when goal-scorers score.
"Because that's what they do," Hitchcock said.
Canada and Norway were locked in a scoreless draw after the first period, although Canada had outshot the Norwegians 14-4. But the Canadians scored three times in the second period and then five in the third.
"It really boosts their confidence," said Hitchcock. That confidence permeates through the entire lineup.
"We got lighter on our feet," Hitchcock said. "We were more crisp."
Eric Staal is one player who was happy to get this game under his belt. He was part of the so-called taxi squad four years ago and watched the games from the stands as a reserve. On Tuesday, he skated with Ryan Getzlaf and Corey Perry and had an assist in his first Olympic game.
"For sure, it's night and day. Obviously, I wanted to be the guy out on the ice last time but it wasn't my time, and this is an opportunity for me. Last time I got to see the [athletes'] village and experience and kind of get all those nerves out of it. I already knew what to expect coming here, now it's just about doing the on-ice part and I've been doing that my whole life, so that's a good thing," Staal said.
Whether this game has any meaning beyond taking advantage of an inferior opponent remains to be seen.
On Thursday, the Canadians will play Switzerland, another team that doesn't match up very well, before their final preliminary game against the U.S. on Sunday -- although it bears remembering that the Swiss were among the teams that blanked Canada four years ago.
Still, at least for a night, a bunch of guys who'd been waiting a long time to put the past behind them got a chance to do just that.
"Talk's cheap. Talk is cheap. You can only talk so long until you've got to go out and play the game and exhibit your skill and your hockey prowess," said defenseman Chris Pronger, one of five skaters on the current Canadian roster who was in Italy.
"Today was no different. We've been talking about the tournament, the Olympics, for probably two years at least -- at least the last year, and now it's finally upon us. We kind of got our feet wet with this game and continue to build."