Olympics in Stastny's blood
February, 17, 2010
02/17/10
10:46
PM ET
VANCOUVER, British Columbia -- When we think of the 1980 Olympics, we instantly think of the U.S. team and the "Miracle on Ice." Yet among the players at that tournament was a young man named Peter Stastny, who, along with brothers Anton and Marian, played for Czechoslovakia in Lake Placid.
[+] Enlarge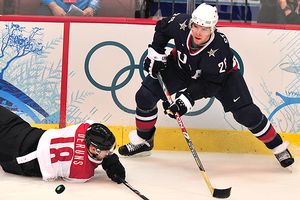 CRIS BOURONCLE/AFP/Getty ImagesPaul Stastny is a second generation Olympian.
Thirty years later, Stastny's son, Paul, is hoping to reprise the old "Miracle" theme for the U.S.
Despite his father's rich international history -- he also played in the 1994 Olympics for Slovakia and has an impressive 23 points in 14 Olympic games, and was a member of a Canadian squad at the 1984 Canada Cup -- father and son didn't have a pre-Olympic chat about his experiences.
"He doesn't talk about it unless asked upon," Paul Stastny said Wednesday as the U.S. prepared for their second preliminary round game Thursday against Norway.
As for a pretournament pep talk, his father knows better, Paul said.
"He doesn't really give those pep talks. He knows I'm a better player than that and I don't need to get motivated to play in these games. He's here for two weeks so he's hoping we're doing well."
"Like any other game, I think he just wants me to have fun and compete and that's the most important thing and good things will happen," Paul said.
In theory, Paul Stastny had a number of international choices before settling on the red, white and blue as he was born in Quebec City where his father was a star with the Quebec Nordiques, has of course Slovakian heritage but grew up, for the most part, in the U.S.
In the end, though, there wasn't much debate.
"It wasn't too tough. I was raised in the U.S. and all my hockey background and all my friends are from there," said Paul.
"Blood-wise and nationality-wise I'm mud, but I knew when it came down it I always wanted to represent the USA."
The decision is a boon to the U.S. as Stastny started the tournament playing on the Americans' top line with Patrick Kane and Zach Parise and will be counted on offensively if the Americans are to medal in Vancouver.
Is it nerve-wracking having his dad in the stands at the Olympics?
"Added pressure maybe," Paul said with a laugh. "I think another critic to watch out for. He's done so much and to be able to represent the USA here at the Olympics and play in the Olympics and him to be able to watch and almost a whole new generation for him to root for I think is something special and something I really won't get a grasp of till I'm older," Stastny, 24, said.