Records fall at women's 500 meters
February, 18, 2010
02/18/10
1:03
AM ET
VANCOUVER, British Columbia -- Everything about short-track speedskating goes by in a blur, so it's no surprise that the Olympic record time in the women's 500-meter event would fall three times in a single night.
[+] Enlarge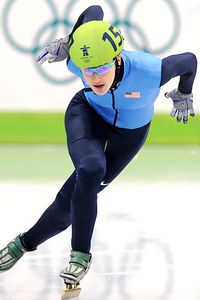 YURI KADOBNOV/AFP/Getty ImagesTeam USA's Katherine Reutter was the first record breaker in the women's 500 meters.
The first skater to break the previous mark Wednesday night was Katherine Reutter of Champaign, Ill., who has focused on the 1,000- and 1,500-meter events but has come on strong in the 500 recently.
Reutter blazed through her quarterfinal heat in 43.834 seconds. Approximately three minutes later, eventual gold medalist Meng Wang of China went .55 faster. And then Wang bested herself in the semifinals, setting the record that will stand for another four years: 42.985 seconds.
"I knew that if I set it, it wouldn't stand for long, but I am forever an Olympic record holder!" the ebullient Reutter said, raising her arms over her head triumphantly. She qualified for the B final and finished seventh overall.
Reutter, 21, said she had a feeling she might be able to do something special in Vancouver last week when she notched a personal best lap time of 8.39 seconds in training. "I thought for the first time, like, 'Holy cow, I may be one of the fastest girls in the world,'" she said.
"I didn't realize until just maybe last Thursday that it's possible for me to go to the A final and get a medal. Maybe if I'd had more time to realize that and prepare, maybe I would have done better -- but since I didn't, I did what I could, and I really think the way I skated is dead-even with the results I got. I don't feel like I got cheated."
In contrast to the Richmond Olympic Oval, where the ice was expected to be slow even before organizers encountered resurfacing problems, conditions at the Pacific Coliseum have been ideal, several short-trackers said. The rink is the venue for both figure skating and short-track speedskating.
"They're doing an amazing job of getting it good for both figure skating and speed skating," Reutter said. "Every U.S. figure skater has told me it's great. They're doing a really great job of changing the conditions."
You may ask, what's the difference? American short-tracker Travis Jayner said figure skaters like to compete on ice that is "a little softer and thicker than we do."
"As a team, we were maybe, not concerned, but wondered what it was going to be like to go from two days of figure skating to two days of long track," he said. "But part of our job at the same time is to be ready for anything. I think our team adapts pretty quickly anyway."
U.S. short-trackers Apolo Ohno and J.R. Celski advanced to the men's 1,000-meter quarterfinal race on Saturday, when semis and the final also will be held. Neither spoke to reporters afterwards. The U.S. men's team also advanced to the final in the 5,000-meter relay event to be held Feb. 26.