Burke: 'We're the enemy Sunday'
February, 20, 2010
02/20/10
6:49
PM ET
VANCOUVER, British Columbia -- Team USA GM Brian Burke was gracious enough to speak to a few of us in an impromptu scrum on the eve of his country's titanic tilt with rival Canada.
"We're the enemy tomorrow," said Burke. "We know that. It's going to be a hostile, crazy crowd on behalf of Canada, and that's the way it ought to be. The games are in Canada, that's the way it ought to be. It was like that in Salt Lake for the U.S. team, a good U.S. crowd. It ought to be, that's what hockey is about, passion. It'll be a zoo in here. Again, that's an important part of being successful in a tournament like this, is for our team to manage that."
The Americans are the young team, but the host team is under the gun, Burke said.
[+] Enlarge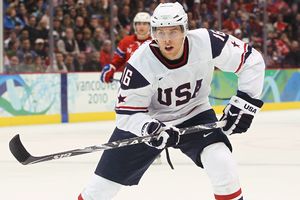 Bruce Bennett/Getty ImagesJoe Pavelski and the Americans will try to keep Team Canada in check.
"From our perspective, as tough as that might be for the young players, the pressure is not on our team tomorrow," said Burke. "The pressure is on Canada. We're playing the tournament favorite in front of a rabid crowd. It's going to be a good test for our group."
Burke also dismissed the critics of Canada's performance in a 3-2 shootout win over Switzerland.
"I don't think that's fair for the Swiss," said Burke. "I don't know how many games they played before they got here, but it's 30-something. They have an excellent coach, Canadian coach from Winnipeg [Ralph Krueger]. They've got an NHL goalie [Jonas Hiller] on the cusp of stardom. That's a recipe for disaster. We squeaked by them 3-1, Canada squeaked by them 3-2. I think we both feel lucky that we got through it."
Burke's only beef so far has been his team's schedule. Team USA has played both its games at noon local time. Sunday's game goes at 4:30 p.m. local.
"I think playing at noon sucks," he said. "I think it is very hard for NHL players to play at noon. But we've played two games at noon and you haven't heard a word about our team. Not one player has complained about it and we won't because our theory is no complaints, no excuses. That's our team motto in Toronto. A complaint is a prelude to an excuse, and an excuse is a prelude to losing, and so it's no complaints and no excuses. Now that we played the two games, now I will say that I don't like playing at noon. We didn't complain about it. That's what I'm saying -- if people complain about the ice being bad, play at noon, the ice is fine."
Burke's Team USA report card so far: "The goaltender [Ryan Miller] has lived up to his billing so far," said Burke. "I think you've seen how [coach Ron Wilson] has juggled the lines a bit. We've tried to have a versatile group of players. I think we've demonstrated that, guys who can move up and down the lineup. Because we have some small skill guys, we deliberately brought some sides of beef. That's going to be important tomorrow."
Leave Vancouver alone
Burke didn't hold back when asked about the criticism the Vancouver Olympics has received so far.
"I think that's bull----," said Burke. "I've been to four Winter Olympics; this is the best one I've been to in terms of organization. You're going to have glitches in an event this size, this many people, logistical things, with multiple venues. You're going to have glitches. I don't know why people are whining about it. I think it's been extraordinarily well run. This is my fourth one, it's not like I'm a novice. I think they've done a marvelous job here. I wish people would quit [complaining] about it."
How Team USA lines shape up
How the lines looked at Saturday's practice for Team USA:
Stastny-Parise-Langenbrunner
Ryan-Kesler-Kane
Malone-Pavelski-Kessel
Brown-Backes-Callahan/Drury
Canada's lines
Team Canada coach Mike Babcock, at least according to Saturday's practice, will start Sunday's game with
Mike Richards
on the top line with
Sidney Crosby
and
Rick Nash
. So far,
Patrice Bergeron
,
Jarome Iginla
and
Jonathan Toews
have also had cameos.
"We wanted to get Nash back on right wing where he seems to me the most comfortable and have Jarome play with Morrow and Toews in a more physical situation," Babcock said after practice Saturday evening. "That's kind of our plan for tomorrow. Richie's a bit of a give-and-go player. He's had a lot of success with that so he could be a good player with Crosby and the big guy going to the net."
Richards and Crosby on the same line. Hmm. Who would have ever thought that would happen after their one-on-one battles during back-to-back playoff series between Philadelphia and Pittsburgh the past two seasons.
"I'm not worried about that, I'm worried about the present right now," Richards said. "We're both competitive people, we play hard against each other, but we're pulling in the same direction now that we're playing for Team Canada."
The lines Saturday at practice:
Richards-Crosby-Nash
Marleau-Thornton-Heatley
Staal-Getzlaf-Perry
Morrow/Iginla-Toews-Bergeron
Ice issues?
The puck has been bouncy at times in this Olympic tournament, especially in the late games. There are whispers that maybe organizers are not freezing the pucks properly, and obviously there are concerns for the ice itself. Team Canada has inquired.
"I don't know much about the ice making process," Team Canada executive director Steve Yzerman told ESPN.com via e-mail Saturday. "I've been told that things are being done differently than would be normal procedure in the building? All I know is I watched Russia versus the Slovaks the other night and the puck was bouncing around in the third period. The players could not even get it to lay flat."
That was indeed true. But with three games a day, with three crowds entering and leaving Canada Hockey House every day, it is difficult to replicate the kind of ice NHL players are used to.
The other issue is clearing the snow during breaks. In the NHL, television timeouts run two minutes, but at the Olympics, they run one minute, which means there's half the time to clear the excess snow.
"The engineering crew here is phenomenal, phenomenal," the NHL's ice maestro, Dan Craig, told ESPN.com on Saturday.
During the snow-clearing breaks, for instance, readings are taken on the ice and the results are fed back to the engineering control room in case alterations to the temperature are needed within the games.
Craig said no one complained to him about the ice conditions, and Burke didn't share Yzerman's opinion.
"The ice has been fine," Burke said Saturday. "Maybe they should play at noon like we've been forced to. Maybe they'll find the ice is fine at noon."
Yes, folks, Canada and the U.S. do play Sunday.
Daddy's hat trick
Tore Vikingstad scored three goals in Norway's 5-4 overtime loss to Switzerland on Saturday. The Norwegian had a special cheering section in the stands where his 10-year-old son and wife held up a sign that read, "Go DAD."
"My son's playing hockey, he loves hockey," said the 34-year-old Vikingstad. "It can't be better than that scoring for him."
Vikingstad was a sixth-round draft pick of the St. Louis Blues in 1999 and currently plays for the Hannover Scorpions of the German league.
NHLPA helps out
The NHL Players' Association's Goals & Dreams program donated 150 tickets for Saturday's men's hockey games to three Vancouver-based charitable organizations: HEROS, Boys & Girls Club and KidSport BC.
"All NHL players participating in the Olympics feel it is important to give back to the community during the Olympics," Slovak captain Zdeno Chara of the Boston Bruins said in a statement. "The members of the NHLPA are thrilled to be participating in the Olympics and want to share our Olympic experience with these deserving children."