Roenick talks name, hockey
February, 20, 2010
02/20/10
10:53
PM ET
VANCOUVER, British Columbia -- When I was 11 years old, an 18-year-old center from Boston was drafted No. 8 overall by the Chicago Blackhawks. Jeremy Roenick went on to become one of the most successful and most famous NHL players of all time. And since that day in 1988, I have spent a lot of time explaining the spelling of my last name.
[+] Enlarge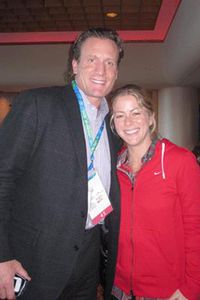 Courtesy Alyssa Roenigk "You know, we look like we are related," Jeremy said to me during our Winter Olympic family reunion.
Like Jeremy, I chose a career in sports. And like him, my success is based largely on name recognition. But because his name is so much more recognized, I have been destined to years of misspelled bylines and arguments at credentialing counters. By the time I was in high school in Cape Coral, Fla., I couldn't introduce myself to someone without them replying, "Oh! Like the hockey player? Are you related?" Perhaps distantly, I would say. It's spelled differently. But pronounced the same. The G is silent. "G?" they would ask, "Where on Earth would you put a G?"
To this day, I still light up with excitement and pride when I arrive to cover a sporting event and my name is spelled correctly on the credential. It happens more frequently each year, but when it does, the credential always comes with a sincere apology for the "mistake."
For years, I have wanted to meet Jeremy and ask him whether I have been as big a part of his life as he has been of mine. But I don't cover hockey, and he doesn't spend a whole lot of time at the events and games I cover. Each time I heard we would be in the same city, I would ask Lindsay Berra, our NHL writer at The Mag and one of my best friends, to set up a meeting. The first feature story Lindsay wrote for the magazine was on J.R., so she was destined to introduce us. But it never worked out.
Until today.
Like me, Jeremy is here in Vancouver covering the Olympics. Since retiring from the NHL last season, he has been working as an analyst for TSN and Fox and is covering the Games for NBC. Between this afternoon's Norway-Switzerland and Latvia-Slovakia games, we met and talked about our family history, life after professional sports and Sunday's Canada-USA hockey game. And I finally had the chance to ask him why he spells his name so funny.
Most of our conversation I will save for a phone call home to my folks, who will be excited to know I am the first Row-Nick of any spelling Jeremy's met, aside from his family. He didn't know the story I grew up hearing about the seven brothers who moved to America from a small town on the German-Czech border and slowly evolved their German name -- Roenig -- into its two Americanized forms. We're both going to search our family trees to see where our branches cross, which most likely happened a great-great-grandparent ago.
And that's sort of too bad. If he had a single cousin for me to marry, I could do away with this spelling problem once and for all.
And now, the hockey portion of our conversation is all yours …
You have an interesting take on the Canada-U.S. rivalry. Can you explain it?
I've always found it funny how Canada has marketed hockey as their game when the Russians dominated for so long. Canada has always had a rivalry with Russia. Until the '80s, the U.S. didn't have a team that could compete. That 1980 team changed the mentality of our generation. We made USA hockey a world power because we started winning in international events. Now Canada has shifted their attention to us, their neighbors. It's a lot easier to have a rivalry with a team that's right next door and plays the same style of game. Now we are at a crossover. Our generation is gone and now we'll see how this new, young group of U.S. players comes along. They dominated the junior ranks and it will be interesting to see if they can continue what we built for them. This will never be America's game, but we will fight trying to get it there.
How important is it for Team Canada to win this game?
Canada has all the pressure on them. From coast to coast, the only sport Canadians want to see a gold medal in is hockey. The patriotism here is incredible. If Canada wins, the fans might be so loud, they'll cause a crack right down the middle of the U.S.-Canada border. But if they lose -- and in the same year they lost the world junior championships, their pride and joy, to the U.S. -- they might switch to baseball as their national pastime.
So how can the Americans beat them? And can they?
They should take a page out of the Swiss team's book, because the Swiss almost beat Canada. They used a lot of energy and good skating. They took away time and space and didn't allow Sidney Crosby or Canada's other big guys to dictate what they wanted to do. They played physical hockey. They frustrated them and had a great goaltending effort. They have to lock it down defensively and Miller has to be the best player in the game. If they win, they are going to do it with their defense and hopefully a lucky goal.
Do you have a prediction?
I think it will be intense, but Canada will win 4-2.