Ovi delivers hit heard 'round the Games
February, 21, 2010
02/21/10
7:22
PM ET
VANCOUVER, British Columbia -- On a day that was being billed as a day for the ages in international hockey, this was undeniably a hit for the ages.
Alex Ovechkin's devastating open-ice hit on Jaromir Jagr tilted their preliminary-round game in favor of the Russians by a 4-2 count Sunday, and the postgame joke in the mixed zone was that Jagr would come in and thank Ron Francis and his old Pittsburgh Penguins teammates because his bell was rung so hard.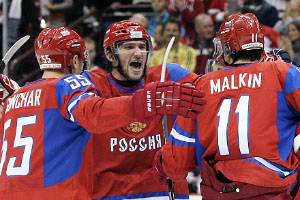 AP Photo/Chris O'MearaAlex Ovechkin's hit on Jaromir Jagr led to Russia's third goal of the game.
Jagr showed up to talk to the media with a broken visor, apparently courtesy of the Ovechkin hit, but didn't appear to have been teleported back to 1992, and quickly took responsibility for what was the game-changing play.
Jagr was crossing through center ice about 1:40 into the third period, when Ovechkin leveled him with a shoulder that separated Jagr from the puck and sent him sprawling. The Russians scooped up the loose puck and Alexander Semin fed a nice cross-ice pass to Evgeni Malkin, who scored to give the Russians a 3-1 lead.
"Before you ask me the question, I know I made a mistake," Jagr said. "The hit doesn't [really bother me]. The mistake, the turnover, they scored the goal, that hurts, that hurt me the most."
Asked when he was last hit that hard, Jagr laughingly joked, "I don't remember. I don't remember anything."
The loss was the first of the tournament for the Czechs, while the Russians won after dropping an emotional shootout game against the Slovaks in their previous outing, taking over the top spot in the so-called "pool of death" and passing through to the quarterfinal games Wednesday.
Ovechkin, for his part, stopped to talk to media in the mixed zone for about 20 seconds before taking off. As a self-styled champion of the NHL's continued involvement in the Olympics, he's hardly winning friends and influencing people.
"It is just a moment. If I have a chance to hit somebody, it does not matter who it is," said Ovechkin.
The Washington Capitals' star had two assists in this game, but his real presence thus far in the Olympic tournament has been marked more by his physical play. He and Slovak defenseman Zdeno Chara battled throughout an earlier game, and the Russians were the more physical of the two teams Sunday.
"I think overall we're playing a really physical game," said Ilya Kovalchuk. "It shows a lot of emotions. It's a really important game for both teams. It's for first place, but definitely that hit turned the game around a little bit. We all know [Ovechkin] can hit. It's part of the game and he finished his check."
Actually, that's pretty funny. Ovechkin finished his Czech, all right.
"It's a lift, it's a great hit, a clean hit, right at the time when Jags tried to pick up the pace a bit and we scored right away, so momentum was great," Russian defenseman Sergei Gonchar said. "We have a lot of guys who can score the goals. From now on, every game of the tournament is so important, so it's not about who scores the goals, it's about doing the right things, and Alex has obviously done the right things for us."
Russia's top line
On the heels of Canada and the United States juggling their top forward lines, Russia also followed suit with Malkin replacing
Pavel Datsyuk
on the No. 1 unit between Ovechkin and Semin.
The line produced one five-on-five goal and the game-winner by Malkin 1:49 into the third period, and overall looked more dangerous than the Datsyuk-led unit in the previous two games. "I think we played well, all four lines played well," said Ovechkin.
Datsyuk dropped back to center Kovalchuk and Maxim Afinogenov.
So if NHL rivals Ovechkin and Malkin can play on the same line like Mike Richards and Sidney Crosby for Canada, guess anything is possible, eh?
Nabby in net
There was intrigue heading into Sunday's big game against the Czechs as to whom would be in net for powerhouse Russia:
Evgeni Nabokov
or
Ilya Bryzgalov
.
Both are having outstanding NHL seasons. But Bryzgalov was between the pipes last spring when Russia won its second consecutive World Championship title, which led many to believe the Phoenix Coyotes netminder might have the edge over his San Jose Sharks counterpart to be the No. 1 man in this tournament.
Apparently, that was just a thought shared by North American media.
"Absolutely no one in Russia believed it should be anyone other than Nabokov," a Russian hockey writer told ESPN.com following Sunday's win, a huge victory that gave Russia its pool and a bye into the quarterfinals.
With Nabokov 2-0 in this tournament with a 2.00 goals-against average and .911 save percentage, and Bryzgalov a hard-luck loser to Slovakia in a shootout, it would appear the Sharks' goalie is the man from here on out. Not that he wanted to start thinking ahead Sunday.
"It's too early to make any decisions, have any conclusions," Nabokov said after stopping 23 of 25 shots Sunday. "We still have to work on a lot of things, we still have to put together another good game and get going. But I thought it was a good start for us today."
He was then yanked from the interview area by a Russian team official, so we didn't get to ask him more than one question. But this much is clear: Of all the Sharks in this Olympic tournament, who all have a lot to prove in these pressure-packed games given their collective NHL playoff performances over the past few seasons, no one has more to show than Nabokov.
For our money, he was the No. 1 reason the top-seeded Sharks were upset by the eighth-seeded Anaheim Ducks in last season's playoffs and enters this season needing to prove he's a money goalie.
He just happens to be an unrestricted free agent July 1. Nothing like a gold medal and a deep NHL playoff run to help ring the cash register.