U.S. hockey win silences Canada
February, 21, 2010
02/21/10
11:47
PM ET
VANCOUVER, British Columbia -- I'm not going to say it's quiet in downtown Vancouver tonight, but thanks to Canada's loss to the U.S. in hockey, I may be able to sleep without earplugs. Better yet, I may be able to sleep, period.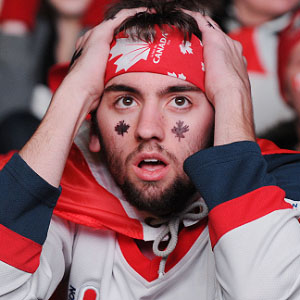 Mark Ralston/AFP/Getty ImagesCanadian fans were in disbelief over the 5-3 loss to the Americans.
I've covered nine Olympics and I've never seen anything like Vancouver this past week. Not Sydney, not Athens, not Nagano (and definitely not Beijing). Things started off relatively restrained but every night the outdoor party has swelled, with thousands upon thousands of more fans filling the street. The city blocked off several major streets (including Granville, where our hotel is located) for pedestrians only, and every night the perimeter of this pedestrian (i.e. drunk) only zone has expanded like the old British empire. It was several blocks to the north of our hotel when the Olympics started but now extends several blocks to the south.
It's been like Canadian Mardi Gras; just replace women flashing their breasts with fans displaying their hockey jerseys and Canada Olympic jackets. I would describe it as near-riot conditions, but the fans are mostly just loud, not violent, and judging by the smell, the haze wafting down the block is definitely not tear gas.
(Note: Remember when Canadian snowboarder Ross Rebagliati tested positive for marijuana in 1998 and he claimed he must have inhaled the drug accidentally simply by virtue of living in Whistler? I laughed at the excuse then, but not anymore. I can only hope Disney and ESPN don't have a random drug test in the next month.)
The city went silent, however, with the hockey loss to the U.S. At least for a few minutes. And as I walked back to the hotel from the main press center, I noticed that the overall volume was down significant decibels. There also were several American fans shouting "USA! USA!" Two were parading down Granville and holding the stars and stripes high. "Put that away," a Canadian fan pleaded. "We don't want a riot tonight."
Meanwhile, a friend of mine just came up with this new version of the Canadian national anthem.
No, Canada
You lost to Uncle Sam
We'll take the gold
You laid down like a lamb
With frying pans you tended goal
We scored on you at will
From far and wide, Oh Canada
We're scoring on you still.
God keep your nets
Wide open and emp-ty
O Canada
We scored five goals on thee
O Canada
U.S. with gold you'll see!
He says he's going to go sing it at the corner of Granville and Robson. I'll let you know if he makes it back.