Canadian pair dances into first place
February, 22, 2010
02/22/10
12:28
AM ET
VANCOUVER, British Columbia -- By any measure, Canadian ice dancers Tessa Virtue and Scott Moir had a lot on their plates Sunday.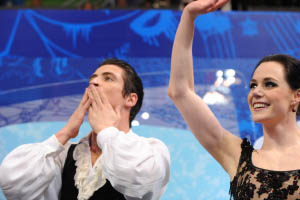 Yuri Kadobnov/AFP/Getty ImagesScott Moir and Tessa Virtue came up with a big performance in front of their home crowd.
The anticipatory pressure of skating before the home crowd shaped up to be considerable. But that was dwarfed by the terrible news received the previous night by their teammate, ladies' medal contender Joannie Rochette, whose mother had died suddenly of a heart attack.
Perhaps it was fortuitous that Virtue and Moir were performing that most passionate of dances, the flamenco, in the original dance component of the competition. They channeled what could have been a surfeit of emotion into an electrifying program that brought the crowd at Pacific Coliseum to its feet and vaulted the home team into first place with a cumulative score of 111.15 points, 2.6 points ahead of the engaging U.S. tandem of Meryl Davis and Charlie White. Both teams train at the same suburban Detroit club and are coached by Igor Shpilband and Marina Zoueva.
Reigning world champions Oksana Domnina and Maxim Shabalin of Russia are in third (106.60 points) and 2006 Olympic silver medalists Tanith Belbin and Ben Agosto of the U.S. are fourth (103.33 points).
"That moment, we'll never forget for the rest of our lives," Moir said. "I don't think a piece of metal around my neck is going to make it any better. We're just going to go out there tomorrow and try to create another moment."
Along with flawless step sequences and spectacular lifts, Virtue and Moir provided a much-needed dose of pleasing aesthetics after weeks of sniping about the Russians' Aboriginal music and costuming. Shabalin said they made slight changes to their bodysuits -- wearing a lighter shade that didn't look quite as much like blackface, altering the faux body paint markings and, somewhat puzzlingly, adding more fabric leaves.
The crowd response when the couple skated onto the ice was tepid, and whether for cosmetic or technical reasons, so was the judges'.
National champs Davis and White are skating in their first Olympics, while Belbin and Agosto say this will be their last. In the old days of predictably glacial movement in the standings, their podium chances would be as good as dead, but that isn't the case now, according to Belbin.
"I think if today's results were any indication of the possibility of movement depending on the skates, it's certainly possible for tomorrow's standings to change as well," Belbin said. "We really feel like we have the material in our free program [set to "Ave Maria"] to make a huge statement that's moving enough to move us in the standings. That's what we're focusing on now and we have complete faith in our potential."
Unless the Russians can recoup in the free dance Monday night, this will all but seal the first time the country has been shut out of figure skating gold medals in 50 years. However, all three North American couples are coached by Russians, so the influence is still there one way or the other.