Americans in contention in bobsled
February, 23, 2010
02/23/10
11:46
PM ET
WHISTLER, British Columbia -- With two heats remaining, the United States women's bobsled team was expected to be in medal contention. The USA I team of Shauna Rohbock and Michelle Rzepka were heavy medal favorites to compete with the Canada I team of Kaillie Humphries and Heather Moyse and the Germany I team of Sandra Kiriasis and Christin Senkel.
[+] Enlarge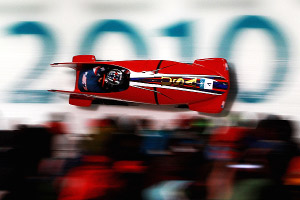 Alexander Hassenstein/Bongarts/Getty ImagesThe USA I team of Shauna Rohbock and Michelle Rzepka was expected to medal, but got off to a rough start Tuesday.
The U.S. is in contention entering Wednesday's medal round, but the surprise is that all three USA sleds are within the top eight, and the top USA sled isn't the Rohbock-Rzepka team, but the USA II tandem of Erin Pac and Elana Meyers, which finished second after two heats with a combined time of 1:46.33 seconds.
"The track itself is pretty smooth. Erin's a great driver and the track was beautiful, one of the best tops she ever had, I knew in order to contend she had to have a good top, and she did it," Meyers said. "The bottom was a little harrowing, but we're used to that. We've been doing it all week."
The final two heats will be run Wednesday, with the team with the fastest combined time of the four runs declared the gold-medal winner.
That Pac and Meyers were the surprises was one thing, but how they reached second place after a wild first run was even more interesting. They pushed sixth, and throughout a bumpy trip in which at one point -- in the 13th turn, the vaunted "50-50 curve" -- the sled hung to the track on only two runners, Pac maintained her speed. The second run was 53.01 seconds, the second-fastest time ever on the track.
"It happened so fast that you have no time to think, and I've done so many mind runs on this track, I've watched so much video, that it just happened to be second nature. Mind over matter and you keep going," Pac said. "When you're in race mode, you don't think. You just let the sled fly as fast as it can. My sled is running really fast right now. I didn't really notice how fast we were going. We were going 53 in practice, but it can still go faster."
Humphries and Moyse led both heats, setting track records on both runs. Team Canada was expected to be a strong medal contender on its home track, and it has delivered.
Another major surprise was the USA III sled of Bree Schaaf and Emily Azevedo, which finished the two heats tied with Rohbock and Rzepka for sixth place. Schaaf, who hails from Bremerton, Wash., and played volleyball at Portland State, boasted the largest cheering section and represents the biggest underdog in the standings, for the third sled a country enters into the Olympics rarely -- if ever -- contends for a medal.
"Everyone comes in to win. We came in to win, so that's still alive. We've got two more runs," Schaaf said. "The name of the game is consistency, so that what's I'm going to figure out. If I can have a clean run, and these runs were not so good, but if we can clean it up tomorrow, it's game on."
If a pattern has emerged thus far for the Americans in sliding sports, it's that they seem to like to do things the hard way. The downside is that once they've dug a hole for themselves, they haven't been able to get out.
In skeleton, both Zach Lund and Noelle Pikus-Pace lost out on medals after being done in by a poor first run. After its first bobsled run Tuesday, the top USA team of Rohbock-Rzepka was in a disappointing seventh place. Rohbock and Rzepka's first run may well have cost them a medal opportunity.
Rohbock said she'd been vexed by negotiating Turns 4 and 5, which have given her trouble, both in practice and on the first run Tuesday. She passed up a chance to continue working on that portion of the track by passing up a practice run in favor of resting to avoid fatigue.
After gaining one spot in her second run, Rohbock -- who won a silver medal in 2006 -- virtually conceded the ability to win the race on her own.
"A really bad 4-5. Then you get into the flat section and it's really hard to make up time," Rohbock said. "It's been a struggle all week. Nobody really has a clue there. And we'll keep trying. I'd have to have two very good runs tomorrow to be able to [medal], and hope that somebody messes up, but with 12 and 13, you never know."