February, 19, 2015
2/19/15
8:26
AM ET
By
The Associated Press
| ESPN.com


FALUN, Sweden -- The U.S. cross-country skiers are showing off some funky dance moves to get fans back home excited about the world championships.

The American team spent three weeks producing a four-minute video with the men's and women's cross-country skiers dancing in the snow, moon-walking in ski boots and lip-syncing to "Uptown Funk" by Mark Ronson. It was choreographed by reigning team sprint world champion Jessie Diggins, who said the team wanted to "share our passion with the rest of our fans back in the U.S."

It seems to be working. Less than a day after being uploaded on Wednesday evening, the video had been viewed more than 250,000 times on the team's Facebook page.

The Nordic skiing world championships began Thursday with individual classical-style sprint races. Diggins said the U.S. team started filming its video in Davos, Switzerland, three weeks ago, then continued shooting scenes during a World Cup meet in Ostersund, Sweden, this past weekend before wrapping it up in Falun.

Diggins took dance classes as a child and choreographed the moves, while men's skiers Simi Hamilton and Andy Newell did the video editing. It also features some of the team staff and a cameo by Swedish sprinter Emil Jonsson, who had the Americans over for dinner in Ostersund one night.

"It's great team bonding, especially when people are getting nervous about worlds," Diggins told The Associated Press. "We'd have dance practice in the hallways and meeting rooms for weeks. I'd wake up and come outside in the morning and the boys would be out in the hallway on their own practicing. It was so cool."
January, 22, 2014
1/22/14
1:03
PM ET
Before the 2010 Olympics in Vancouver, Kris Freeman appeared on the cover of Outside magazine wearing a very stylish and expensive-looking red-and-deep blue sweater with an American flag stitched to the shoulder. This season, he didn't even have U.S. funding.
As a 16-time national champion and four-time Olympian, Freeman is among America's most successful cross-country skiers. But he also is 33 years old and coming off some disappointing seasons. Last spring, he received a call from the U.S. ski team informing him he was being dropped from the national team. The team, evidently, was going in a younger direction.
"I was really surprised," Freeman said. "I thought that after over a dozen years on the team and going into an Olympic year, that my spot was totally secure. But I didn't make the objective criteria. I was solidly the No. 1 or 2 distance skier in the country and I thought that would be enough but they decided otherwise.
[+] Enlarge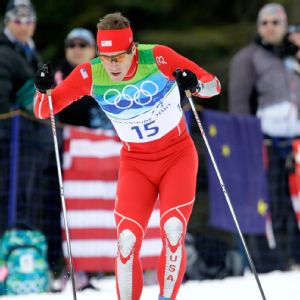 AP Photo/Dmitry LovetskyKris Freeman is set to compete in his fourth Olympic Games next month in Sochi.
"They said that my trajectory wasn't what they were looking for, that it looked like I had plateaued and they didn't think I had medal potential."
Freeman didn't give up because that's not his nature. He skied on his own, without U.S. funding, and was named to the Olympic team Wednesday anyway. It hasn't been easy. It never is for Freeman, who has Type 1 diabetes. That cost him dearly at the 2010 Olympics 30K pursuit race when his blood sugar level crashed and he collapsed in the snow. He was able to get back up but finished 45th.
He had another miserable episode at this month's U.S. nationals, where he desperately needed to ski well to qualify for the Olympic team. After finishing third in the 15K classic, he was eating dinner with his coach when his glucose level sank from 85 to 38. He had to push a waiter aside to get to a Coke to help get it back up.
"The poor control continued that night," he wrote on his blog at krisfreeman.net. "After the low, I over-compensated on glucose. My sugar rose through the night." His glucose monitor woke him four times with rising sugar levels, including a peak of 280 at 4 a.m. "At this point, I took yet another (insulin dose) and forced myself to get out of bed and do 200 jumping jacks in order to make my muscles more receptive to the insulin I was giving myself."
He recovered and was able to finish third in his next race at nationals. That left him second among U.S. skiers in the FIS distance points standings, solidifying his spot for the Olympic team, which was chosen this week.
Freeman was one of the most inspiring stories heading into the Vancouver Games, but reaching the Olympics again without team funding tops even that.
"Kris has been an incredible role model for me," says Kikkan Randall, America's best hope for a medal in cross-country. "Watching him deal with the diabetes has been exciting because I have a brother who has Type 1 diabetes. And to see what Kris has done to find ways to be successful and go out around the country talking to kids with diabetes and inspire them that diabetes doesn't have to hold you back, that you can still be successful and live a normal life and be a great athlete, and watch him get Top 5 in World Cup – it has certainly encouraged me."