Editor's note: In Part I of ESPN.com's series on the Slipstream-Chipotle cycling team, now known as Garmin-Chipotle after acquiring a new title sponsor, Bonnie D. Ford explored the Colorado-based team's first training camp, which brought together young and veteran riders with the common goal of excelling as a clean team in a sport long plagued by doping scandals. Part II followed the team on its first major stage race, the Tour of California.
In this latest installment, Ford profiles two of the team's American riders who will make their Tour de France debuts: 29-year-old Danny Pate and 27-year-old Will Frischkorn.
Their presence is a significant milestone for U.S. cycling. Since Lance Armstrong won the first of his seven consecutive Tours in 1999, his generation has dominated the American contingent in the peloton. Nearly all of those riders are well older than 30 now. Garmin's gifted time-trial specialist Dave Zabriskie, the only exception, is injured and will be absent from the Tour.
Frischkorn and Pate represent the first new U.S. faces on the start line in three years. They showed early promise and rode for several different professional teams, but neither found an ideal situation until they signed on with Slipstream before the 2005 and 2006 seasons, respectively.
Pate spent one season in Europe, but came back to race in the United States seven years ago, deeply disillusioned by the doping scene and unwilling to leave his comfort zone. Frischkorn felt he was stagnating. He sometimes questioned his desire to stay in the sport in the face of injuries and lack of progress on the anti-doping front, and turned down a chance to race for one prominent team because of his doubts about its ethics.
Slipstream's dual mission to ride clean and develop American talent appealed to both men. This is the story of their very different paths to the start line of the biggest event in cycling.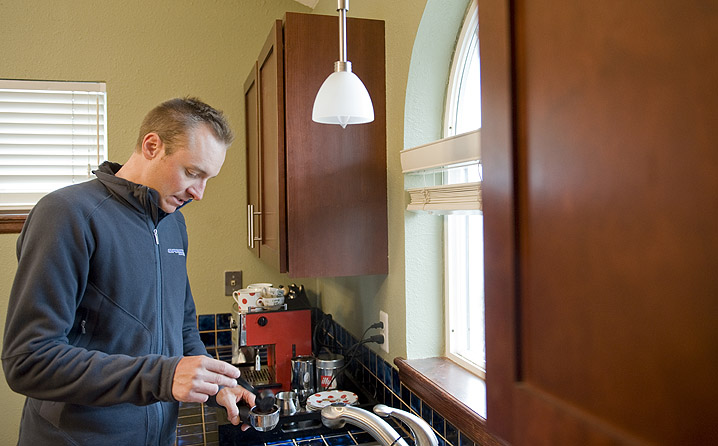 Lucas Gilman for ESPN.com
Coffee, DVDs, Internet surfing ... all in a rare day's rest for Garmin-Chipotle rider Danny Pate.
COLORADO SPRINGS, COLO.
"This is Timmy's coffee," Danny Pate says, loading up his espresso machine. His teammate and good buddy Timmy Duggan is selling beans roasted in their home state for charity, and Pate has dutifully stocked up. The following week at the Tour de Georgia, Duggan will go down in a frightening crash, and a shaken Pate and the rest of his teammates will dedicate their team-trial win to him.
But this day is peaceful, a rare one away from the bike. Pate uses maple syrup to sweeten his coffee. A bright morning has turned chilly and overcast, and snow is on the way. Inside, Jack Johnson croons from a set of speakers. Pate's russet-colored husky, Kojak, sleepily blinks his eyes -- one blue, one hazel -- from the dog bed in the living room. A stack of DVDs, mostly comedies, sits on the coffee table for future viewing.
Pate was born and raised in Colorado Springs. He never really contemplated living anywhere else, a rare homebody in this itinerant sport. He's all about loyalty, about finding people and situations he can trust and digging in for the long haul. He's worn the uniforms of a half dozen different cycling teams, yet he still walks into strange rooms with a wary look, like the new kid in class, checking things out, seeing where he might fit in. He doesn't have to think about that here.
In Pate's backyard, another teammate and close pal, Mike Friedman, is storing two vintage blue Mustangs crammed with his life possessions, which are visible through the rear windows. Friedman is in Europe at the moment, racing the spring classics, but when he lived at the nearby U.S. Olympic Training Center, he and Pate often took off on camping trips, carrying knapsacks on mountain bikes as they wheeled uphill into the woods with Kojak following behind.
"We're complete opposites in terms of personality, so we feed on each other a little bit," says the chronically outgoing Friedman. "Once he trusts you, he's always willing to put himself out there for you, no matter what."
When Friedman developed a life-threatening blood clot in his lungs, caused by a congenital disorder, he was accused of doping on anonymous message boards. Pate angrily wrote to defend him. He's contacted trade publications, telling them they should have given Friedman more ink as he was trying to earn a spot on the Olympic track cycling team.
Mountain biking is where Pate started, and he has the maverick soul of a dirt biker trapped in the lanky, tough body of a road racer. "It's more fun," he says. "If I could make a living doing it, I'd still be doing it. Mountain-bike riders ride because they love riding. Road bikers do it because they love what they accomplish." His favorite training bike, which hangs in the basement, is a 32-pound Frankenstein's monster he assembled with a cyclocross frame and fat tires, road-bike handlebars and a seat adjusted so his position mimics the one he takes in races.
Pate's own muscle car, a red '68 Chevelle, is parked in the driveway, but he seldom tinkers with it. "The paint job is totally not me any more," Pate says. "Of course, when you're 16, you pick red. I don't like how flashy it is. I really like the more functional look."
Things are shifting for Pate, outwardly and inwardly. He lives and races much of the season in Europe now, something neither he nor those close to him would have predicted a few years ago. After one uncomfortable, almost entirely forgettable season in Italy in 2000, Pate came home and swore off European racing, partly because he suspected the peloton was rife with dopers and partly because he felt isolated and homesick.
It was a little like a promising Japanese outfielder swearing off Major League Baseball. Pate was quickly dubbed the Most Talented American Not In Europe, a title that irritated him, but he shrugged it off and kept doing his own thing.
There was only one problem -- not enough competition. "He was basically bored over here," said former pro Clark Sheehan, who knew Pate when he was an amateur and was one of his early mentors in the sport. "You'd see him making these frivolous attacks in races just to cure his boredom."
How amazing it was, then, for those who have alternately lauded and lamented Pate's career to see him on the podium at this year's Tour of Italy, the first jewel of cycling's Triple Crown. Slipstream had just won the opening team time trial. Pate, riding in his first three-week Grand Tour, helped make it happen.
"He spent the whole race after that tirelessly helping the rest of the team, going back and forth to the car getting water bottles and jackets for other guys," Slipstream team director Jonathan Vaughters said. "Then, on the last day when it was the individual time trial and everyone else is tired and there's no one to work for, he goes out and gets sixth place.
"I've seen a real change in him since then. It's like he said, 'OK, maybe I can compete with the best in the world.' It was a real eye-opener. I've felt that way about Danny for four years, but I think it's the first time he's felt that way."
Pate, savvy and hellaciously strong, may finally be at a point where he can meld flash with function. He's matured and has a team and a director who believe in him. With this guy, though, the key is that he believes in them.
"Our team is one of the first teams taking responsibility to police ourselves," he said at this year's Tour of California. "If you have someone putting together people who have a lot of the same ideals, you're going to get along. The whole environment is just so much easier."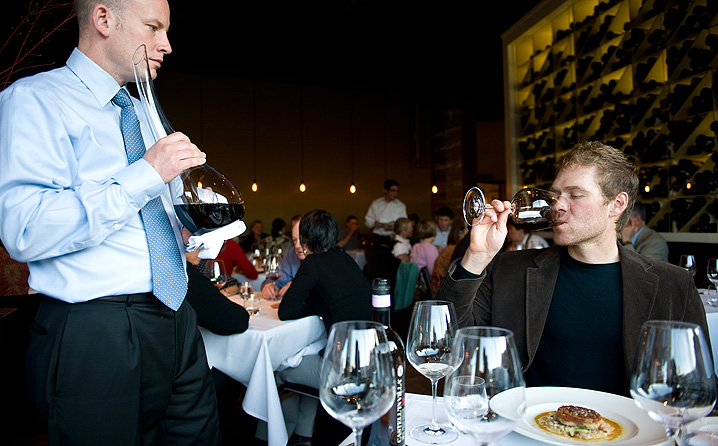 Lucas Gilman for ESPN.com
Will Frischkorn, a gourmand and avid wine enthusiast, tries a sip of a boutique French red wine at Frasca, one of his favorite restaurants in Boulder. Frischkorn has his own cellar in the basement of his Boulder home.
BOULDER, COLO.
It's hard to keep up with Will Frischkorn.
His day starts with the peculiar morning ritual of the modern cyclist: a blood test at a local lab, part of his team's anti-doping program. Then he picks up a few bags of mulch. Unusual plantings, artistically arranged, dot the border around his lawn on a quiet side street in this cycling mecca. He reels off the names and explains that his mother, a landscape designer, taught him a few things.
Frischkorn offers coffee to the visitors in his kitchen -- drip, espresso or French press? -- and expounds on the virtues of a particular brand he orders from a specialty roaster in Chicago. Then it's down to his basement wine cellar, where he unpacks a case of small-production rosť from northern California. Frischkorn loves wine, delights in the detail and romance of it, and has an incredible recall for bouquet, taste and production methods. Many of the bottles in his cave are Finds with a capital F, vineyards he's visited, vintners he's chatted up, a travelogue of perishables.
He admits, slightly sheepishly, that some of the paintings on the walls are his own works, although the huge abstract canvas that dominates the living room was done by another artist. Frischkorn raves about her. Something else occurs to him suddenly, and he's standing at the kitchen counter tapping on his laptop, surfing to find a photo of the hybrid liger, the animal produced when a lion breeds with a tiger.
Frischkorn collects a leash and his energetic dog, Charlotte. He muses that he'll miss her -- he and his wife of a year and a half are splitting up, and Charlotte will be moving away. A cyclist's lifestyle isn't always conducive to relationship maintenance, and several Garmin riders are currently in the midst of separation or divorce. "There's definitely a sense of failure," Frischkorn says quietly. Then he's off for a quick hike on the trails above Boulder, walking with the easy stride and breath of someone accustomed to exerting himself at 5,400 feet of altitude.
Later, relaxing in early spring sunshine on his patio, Frischkorn talks about the five weeks he spent in culinary school a few years ago, training to be a pastry chef. He was disillusioned with cycling at the time. He learned to make various confections and gained 15 pounds.
"I was in a really cracked place," Frischkorn says in a voice that's strikingly deep for his lean frame. "I think people would be surprised at how much we debate internally about what we do." The conversation wanders on to diet, and Frischkorn recommends a book by author Michael Pollan, "The Omnivore's Dilemma."
It's about food, but frankly, it could also be the title of Frischkorn's autobiography. The dictionary defines an omnivore as "one that takes in everything available, as with the mind." Frischkorn is voraciously curious, and he has ample gigabytes of mental storage capacity and a super-fast processor. The combination is counterintuitive in many ways for an elite athlete. Frischkorn is a bit of a liger himself, a brainy sensualist with guts and stamina.
"His mind's always running," teammate and good friend Christian Vande Velde, 32, said earlier this spring. They met 10 years ago when Frischkorn was an ambitious junior, later moved to Boulder at about the same time and have logged a lot of hours together riding and socializing. "Will would baffle me talking about the stocks he was trading, which he still does to this day," Vande Velde said.
"The way he is, it's a blessing and a curse as far as being a cyclist is concerned. You're taught that the best thing for you is to ride your bike, eat, train, rest and do as little else as possible. Whenever I talk to him, he's always resodding his lawn or rebuilding a deck or something. He loves to be hands-on. At the same time, he's stubborn, and he realizes how talented he is and the wherewithal he has to be a great rider."
Frischkorn's wide focus sometimes led to ambivalence about what he was doing, particularly given the inherent physical stress of the sport and its troubled, drug-riddled image. That changed when Vaughters came to him with an offer Frischkorn couldn't refuse. He liked the idea that the team wanted to take a leading role in trying to change the doping paradigm. He liked the business plan, the notion that Slipstream's commitment to independent blood and urine profiling could serve as a guarantee for sponsors, making the issue an economic asset instead of a potential liability.
"Jonathan sold me on this program in the summer of 2004 by telling me the program would be what it's like now," Frischkorn said at the team's training camp last fall. "His dream and his goal fell perfectly in line with what I thought and hoped might happen.
"He felt adamantly about the anti-doping stance, and that was one of the key founding principles of this team from the gun. He saw a need for something the public can grasp, and it's been exciting being part of this program, because it's a big part of who we are."
Frischkorn spent most of this season sacrificing his body for a team leader's sake, but also showed he was capable of impressive individual moments. In March, he jumped into a four-man breakaway early in one of cycling's most venerated one-day events, the Milan-San Remo, and stayed away with the group for almost 140 miles before it was caught.
Some beautiful countryside scrolled through his peripheral vision that day, but he was exploring a different world, the world of hurt.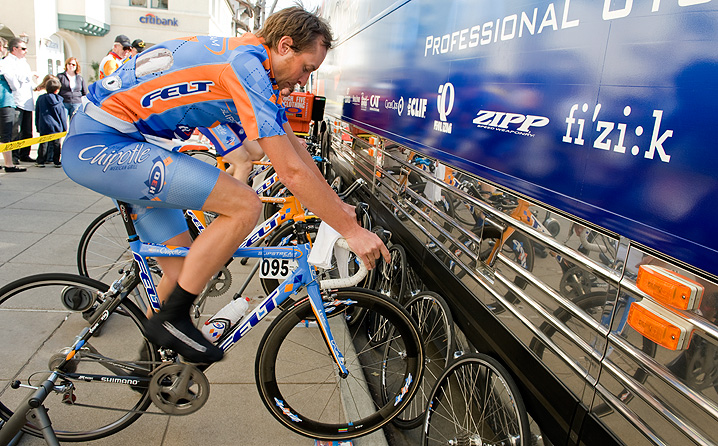 Lucas Gilman for ESPN.com
Danny Pate has been a pro cyclist since 2000 and his role in the Tour will be to work for team leaders like David Millar.
PRIDE AND PRINCIPLE
Pate's selection for the Tour roster was never really in doubt, chiefly because of his durability. Any team competing in a three-week race wants to finish with as many riders as possible, and Pate tends to finish races. "He won't crack," team physiologist Allen Lim, who rarely speaks in absolutes, said earlier this season.
At this year's Tour of California, Pate rode through a debilitating stomach flu that would have flattened most other riders. His bike handling and body control help keep him out of trouble on the road. When he was racing exclusively in the United States, Pate was known for the unconventional approach of lurking at the back of the peloton to conserve energy and flipping a switch when he wanted to make a move. In the same way, he can go from laconic to goofy on a dime, bursting into a contagious laugh that hits notes a few octaves apart.
That's what he does when he broaches the subject of riding two Grand Tours this season. "Obviously, it makes sense, since I've never done one, to do two in a row," he says dryly, and then cracks up.
Pate's ability to withstand punishment evinced itself at age 14 when his father, also named Dan, first persuaded him to go on a ride. Pate Senior, a construction worker who began riding recreationally at age 30, had moved to Pueblo, Colo., after he and Danny's mother were divorced and wanted to find an activity he and his son could share. By the time Danny was 16, the two were both classified as Cat 3 racers and entered some of the same amateur events.
The teenager put his own stamp on things, refusing at first to wear shorts or spandex and thus earning the nickname "Jeans." Danny never complained about the length or difficulty of weekend rides, his father said, even on one memorable seven-hour odyssey. "You could not hurt him," Pate Senior recalled. His mother, Linda Ausmus, says he peeled back his fingernails in one crash and neglected to tell her for about a month.
Pate's first amateur team experience was with Colorado Cyclists, an eclectic, go-with-the-flow group sponsored by a bike shop, with riders ranging from kids like himself to ex-pros like Clark Sheehan. "I had a lot of help there, more so than on other teams later on where I needed it more," Pate says.
Sheehan, for his part, remembers an exuberant kid. "Sometimes he'd ride on the dirt shoulder, playing like a puppy would," Sheehan said. "But he took cycling very seriously. He was one of the ones who actually listened and applied what I told him."
Pate cleaned up at the national under-23 level, and at age 21, signed a contract with the elite Saeco team in Italy, which was seeking out young American talent because of its bike sponsor, American-made Cannondale. One of his best friends in cycling was taking the same leap of faith. Pate went along without thinking too much about what he was getting into, then endured disastrous results.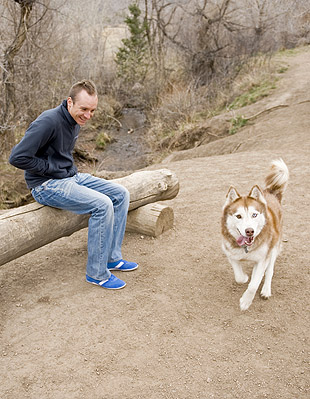 Lucas Gilman for ESPN.com
Danny Pate, at home with his trusty husky Kojak, will be riding in his first Tour de France. He's known for his fearless attacks on the bike.
As most U.S. fans were just getting turned on to the European racing scene, thanks to the exploits of Lance Armstrong, Pate lived out a very different and far more typical scenario for an American rider. He was stuck in a small town in an apartment with an eccentric Russian rider who spoke no English. Pate's Italian was nonexistent, and the team barely gave him a schedule, much less any personal support. He sat through tactical meetings without understanding much. He was over his head culturally and athletically and "totally lost at the start line at all those races," he says.
Pate says he never was directly pressured to dope, but felt disgusted by the perception that the playing field was completely skewed by drugs and left Europe embittered. For a long time, the abortive stint in Italy appeared to be the defining event of his career, but with the perspective of intervening years, he says his own immaturity was partly to blame.
"I think when I was closer to the experience, I was more resentful," he says. "It just didn't work out."
Pate's international future appeared bright when he won the world under-23 time-trial championship in 2001, but he turned his back on the big teams and stuck with the domestic scene. The more people implied that he was underachieving, the more obstinately he set his own course and seemed to enjoy being an iconoclast. He got married. (His wife, Laura, is a former soigneur for Slipstream.) He got a good result in a race here or there. He was comfortable.
Then, along came Vaughters, who in the last year of his pro career was briefly a teammate of Pate's on the Prime Alliance team. He looked at Pate and saw old bruises of betrayal -- "someone who didn't want to be hurt again," he says. It was a situation that could only be dealt with slowly and patiently, like coaxing a cat out of a tree. Vaughters thought the only way to help Pate maximize his potential was to make him feel safe -- sure that people weren't cheating all around him, sure that he'd have a chance if he did his best.
"Danny is not what you'd call a moral relativist," Vaughters says. "Had our team gotten any bigger any faster, he would have been too insecure that the other guys were doping."
He took Pate out to dinner and said he'd make him the best clean rider he could be, and once he got to that point, he'd be competitive anywhere. "I don't even know if he heard me, but he signed the contract a week later," the director said.
That was three seasons ago. In 2006 and 2007, Pate went from being an unpredictable wild card in races to a leader on a team of developmental riders who looked up to him. He began channeling his energy into logical rather than gratuitous tactics. His younger teammates began asking him questions, and to his surprise, he felt at ease answering them. This season, he has not only accepted but come to trust David Millar, whose doping confession four years ago and subsequent rehabilitation were milestones in a sport long handcuffed by a code of silence.
"It says a lot to do what Dave's done, to take accountability for it and basically change his whole life in the right direction, to stop being part of the problem and start being part of the solution," Pate said in February.
Pate's win last year in a road stage at the Tour of Missouri was a personal watershed. Pate wound up in a dynamic breakaway group and gritted his way through successive rounds of sprints, trying to hang on for a final effort. "I didn't want to be there," he says. "But right when you want to give up and you're at your breaking point, everyone else is, too. A lot of other things play into it, like talent and strategy. But I didn't quit that day, and that's a huge part of why I won.
"If this team had been around before, I would have been on it. I believe in the team's message, and I like doing the races."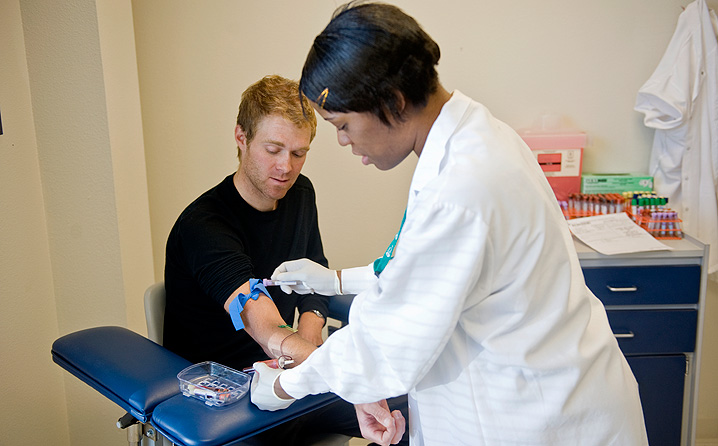 Lucas Gilman for ESPN.com
Will Frischkorn takes part in one of Garmin-Chipolte's protocols, a blood test at a local clinic in Boulder.
PRIDE AND PRIVILEGE
Here's a clue or two about the kind of kid Will Frischkorn was. His father, Carl, had no problem letting him drive a motorboat -- 65 miles per hour on the open ocean off the coast of Maine -- when he was 10 years old. When Will took up sailing, he memorized the rulebook and used tactics that left much older men rubbing their eyes and complaining -- until they rifled through the book and saw what he was doing was legal.
"He's pretty remarkable in terms of his independence and resolve and his sense of responsibility," Carl Frischkorn says. The father describes himself as a "serial entrepreneur" who's made a living off venture capital investments and real estate development. He has just come in from a long bike ride. In his gravelly voice are hints of the drive the former Princeton rower shares with his son.
The family summered in Maine but lived in Charleston, W.Va., when Will was growing up. He kayaked, hiked and rode on the hundred miles of trails in nearby Kanawha State Forest. On one outing, Carl challenged Will to jump a ditch, but his bike skidded out from under him on wet grass and he crashed, breaking his collarbone and dislocating his shoulder. "F--- you, Dad," Will screamed, but he wasn't deterred.
Road biking held no allure. "My thought was, 'What wimps. They don't get dirty. They shave their legs,'" Frischkorn recalls. He was more interested in skiing when he went off to prep school at the prestigious Milton Academy in Massachusetts, but began riding for cross-training in the New England schoolboy league and soon attracted the attention of Toby Stanton, longtime coach of the Hot Tubes national-level junior team.
"He was very polished, articulate, not afraid to engage in conversation with adults," Stanton recalls. "And he was so good so young. Everyone was looking at him."
Stanton put the 16-year-old Frischkorn on the roster for an important international junior stage race in a remote part of Canada well north of Montreal, the Tour d'Abitibi. Frischkorn finished third in a time trial, then won the overall on the last day with a smart, measured ride and an aggressive attack on the last day. "No one told him he wasn't supposed to win, so he did," Stanton says. "It was a fairy-tale finish. We were dumbfounded."
Frischkorn was a good student, but riding rapidly overtook academics as a priority. He left Milton in the middle of his junior year to live at the U.S. Olympic Training Center for nine months, then decided that atmosphere wasn't stimulating enough and finished his senior year at another prep school in Virginia, where his parents had just moved.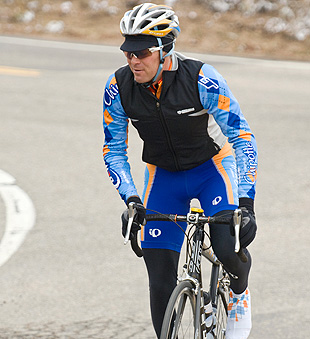 Lucas Gilman for ESPN.com
Will Frischkorn wasn't initially drawn to road racing because he thought, "They don't get dirty." Now, he is now preparing to ride in the sport's biggest race, the Tour de France.
They'd let him make his own choices all along. But when Frischkorn began contemplating a contract offer from Mercury -- then a strong domestic team hoping to break the U.S. Postal Service team's hegemony and earn an invitation to the Tour de France -- there were some "sleepless nights and heartfelt conversations" about the pros and cons of passing on college, Carl Frischkorn says.
It was a version of the same discussion Frischkorn would have with himself many times throughout the years -- he could do almost anything, so why this? Why torture his immune system? Why deny himself rich food and fine wine? The answer is, Frischkorn was and is still most fascinated with testing his own physical limits, disciplining his body to do what his mind knows at some level is fairly irrational.
"Cycling is not a balanced thing," he says. "It's a hard life, but it's an interesting life."
In his first few years as a professional, Frischkorn built a reputation as a rider who could absorb a tremendous workload, a coachable athlete, a good teammate. "He was heads and tails above other riders his age in his maturity level and attitude," Mercury teammate Scott Moninger said. "Very meticulous and methodical about training. And he was adamant about being a clean athlete, which five or 10 years ago wasn't so easy to do."
But amid the accomplishments, including an under-23 national championship, Frischkorn paid a big price for his vocation. He lost a year to a back injury that resulted in a pinched nerve; his left leg atrophied and is still weaker than the right. He had the usual assortment of broken bones and a bad knee injury. The inner voice questioning his sanity got a little louder.
There's no telling whether Frischkorn would have stayed in the sport if he hadn't found a kindred spirit in Vaughters. The two men share a birthday -- June 10, eight years apart -- a passion for travel and wine, a creative streak, a head for business and the conviction a team can succeed without doping. Vaughters is Frischkorn's personal coach, a distinction that led Vaughters to recuse himself from the directors' vote that put Frischkorn on the Tour roster.
"I'm just the guy who convinced him to start trying again," Vaughters says modestly.
Frischkorn was a perfect candidate for the kind of team Vaughters wanted to build -- a young American rider who was outspoken about being clean and had undeveloped potential, but hadn't been snapped up by a European organization and could handle living overseas. Vaughters set about convincing Frischkorn he could be a cyclist and still have a life. Frischkorn responded by setting higher standards than ever.
"He's one of the most disciplined trainers on the team," Vaughters said. "If I leave him alone for a month or six weeks, I have zero concern that he won't come back at a high level. He has a lot of other interests, but he doesn't get sidetracked."
"Suffering does not equal pain threshold," he says. "It's how hard you want to push yourself that day. What's driving you? What's driving the head to allow you to do that? Is it that you're hurting somebody else more? Or is it that there's some amazing financial reward if you win the race? When you hang on longer than the next guy, there's a great feeling of satisfaction. I think about that often."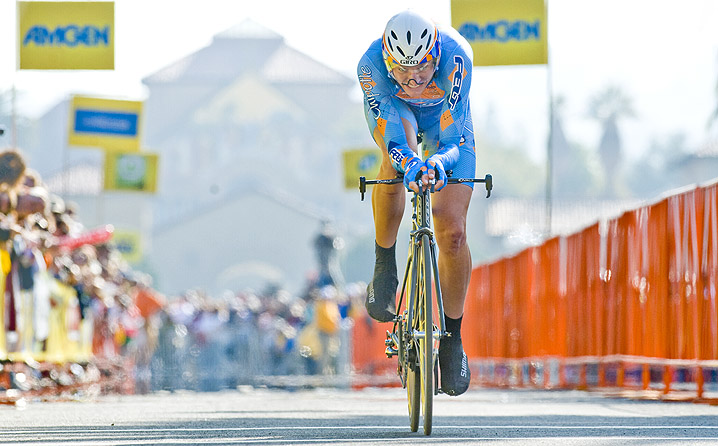 Lucas Gilman for ESPN.com
Danny Pate on the appeal of Garmin-Chipotle: "If this team had been around before, I would have been on it. I believe in the team's message, and I like doing the races."
PRIDE IN PERFORMANCE
Frischkorn was hanging out with a teammate having lunch at a café on the Spanish coast near the team's training base in Girona last week when his cell phone rang. It was Vaughters.
"I thought, 'Must be good news, it's a call, not a text,'" Frischkorn says. He shifts into an excellent impersonation of Vaughters' distinctive, singsong voice. "'Hey, whaddya doing? Hope the paella's good. You're on the Tour team.'"
Frischkorn's spring wasn't perfect; he banged one knee pretty badly in the Four Days of Dunkirk race in early May and fretted about whether it would affect his chances. He continued to race, striving to do exactly what was asked of him. He made peace with his impending divorce. "I always pushed so fast to grow up and be an adult, and now I can have fun being young again," he says.
As many times as Frischkorn told himself he could have a successful season, Tour or no Tour, it was hard to shut out his vision of competing on the biggest platform in cycling.
"It was stressful," he says. "I knew I'd done what I needed to do, but there were three or four of us fighting for that last spot. Knowing that it was unanimous, that [the assistant directors] all picked me, meant a lot to me. Now I've got to live up to it.
"This is the first time in my entire career I've felt this way about a race. When you talk to people in the States, it's always 'Oh, you're a bike rider, are you doing the Tour?' To know I'll be a part of that is just amazing."
Characteristically, while Frischkorn had to work not to fixate on the dream, Pate really didn't allow himself to dream at all. He downplayed the Tour for years, saying it was overhyped, preferring to concentrate on what was in front of him. "I don't falsely idolize anyone or anything, so I never idolized the Tour," he says. Then came the Giro d'Italia, the plunge into the unknown of his first three-week race.
"It was pretty hard just to get through the race," Pate says. "From days 10 to 21, you just don't even want to race any more. It felt like it could end any second, and it also felt like it could last forever. Then it ended on a high note, which I didn't expect. That gives me some spirit to think I can compete on some days."
The Giro put the needed miles into Pate's legs, making him feel physically ready, and further toughened up his already-steadfast mentality. In an interesting, poignant crossroads for this talented rider who is so daring in some ways and so cautious in others, he's permitting himself to savor the moment.
"I couldn't imagine setting goals for the Tour, because it kind of felt like it was on a higher level than I was," Pate says. "I've always focused more on where I was. When people questioned why I was racing in the States, it was because I enjoyed it. To be on a team where I'm enjoying myself and doing the Tour is an awesome situation for me.
"I actually care about the Tour for the first time ever, which is good timing." It's a classic Pate line, delivered deadpan and followed by laughter.
The Tour de France roster that includes Frischkorn and Pate is a flexible one, with cards to play in any stage of what promises to be a wide-open race. Millar will bid for the podium in time trials. Veterans Julian Dean and Magnus Backstedt will try to get in the mix for sprint finishes. In the mountains, the team will try to position Vande Velde, the senior U.S. rider on the team, and agile young Aussie Trent Lowe.
It might be a stretch to say Garmin could contend for the overall classification. But with powerful Astana out of the Tour for political reasons, there may not be a team capable of controlling the race for days on end. Vaughters' team will look for stage-win opportunities in flat and rolling stages during the initial 10 days and also will look protecting Millar for the first time trial. That stretch of the race is traditionally a nervous one, and will require a lot of worker-bee drudgery.
That's where Pate and Frischkorn will come in for the most part, although it's not impossible some individual opportunity will present itself. Vaughters selected them because of their willingness to sublimate their own egos for the cause.
They're approaching the race with heads lowered into the wind, confident they are winners no matter where they might finish in the standings because of what their team represents to cycling.
Bonnie D. Ford is a writer for ESPN.com. She has been following Garmin-Chipotle's progress during the 2008 season, which will culminate with the team's first appearance in the Tour de France. She can be reached at bonniedford@aol.com.
Join the conversation about "Two for the Road."