Saturday, September 26 2020
Toast Of The Tour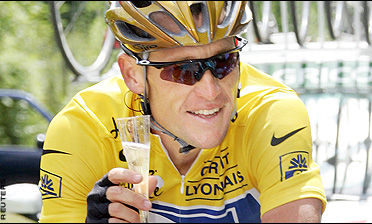 With Sunday's finish a formality, Lance celebrates his win.


Draft Features
OTL: LeMond levels more criticism at Lance
Three-time Tour de France winner Greg LeMond speaks out about his previous comments about Lance Armstrong.

Rovell: Peddling uphill
Lance Armstrong makes millions in endorsements, but his effect on the cycling industry isn't as significant.

Lipsyte: Lance legend
Too small for football and too poor for the in-group in Plano, Texas, Lance Armstrong discovered that he could smother psychic pain with the physical pain of cycling.