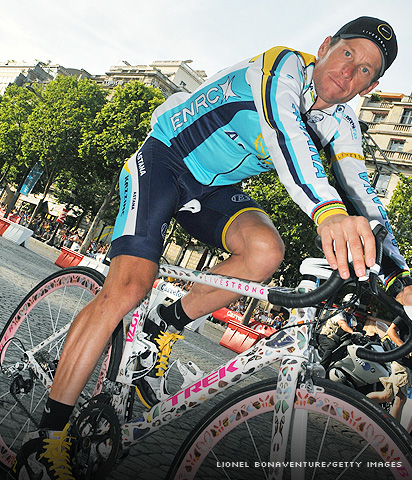 Must Read
ZOOM Gallery: From Lance's start in triathlons at age 17 to his cancer comeback to his record-setting Tour de France victories, here's a look at his historic career. Launch


Bonnie D. Ford: What are his reasons for racing again? Will he be able to balance racing and lobbying for his foundation? Lance talks about the road ahead in an exclusive interview with ESPN.com. Story

Lance Armstrong -- Tentative 2009 Race Schedule
Jan. 20-25: Tour Down Under

Tour Down Under: A six-day race through Adelaide in southern Australia, the Tour Down Under is Armstrong's first official race since he retired from professional cycling after the 2005 Tour de France.
Feb. 14-22: Tour of California

Tour of California: The 2009 Tour of California will cover more than 750 miles in nine days and will be Armstrong's first stateside race, which begins in Sacramento and ends in Escondido.
March 21: Milan-San Remo

Milan-San Remo: Known in Italy as "the spring classic," it's the longest one-day race on the pro circuit (294 km), stretching from Milan to Sanremo. The first race was held in 1907.
March 23-27: Vuelta a Castilla y Leon

Vuelta a Castilla y Leon: This race in northwestern Spain includes a time trial and two mountaintop finishes and marked the first time Armstrong raced with teammate Alberto Contador, but Lance got caught in a pileup near the end of Stage 1 and broke his collarbone.
May 9-31: Giro d'Italia
Giro d'Italia: This will be the first time Armstrong rides in the famed Italian race second only to the Tour de France. He said: "I never did the Giro ... it's one of the biggest regrets that I ever had."
July 4-26: Tour de France
Tour de France: The seven-time Tour winner is set to return to France, but his role with Astana may be different. During his first run, he never raced back-to-back in the Giro and Tour de France.
Headlines
Lance's Comeback
The world thought Lance had nothing left to prove, but the athlete and activist has something to say about that.
Bonnie D. Ford
Look Back: Win No. 7
Lance Armstrong had a big year in 2005 -- he won his seventh straight Tour de France before retiring from professional cycling. Relive the history here.
2005 Tour