December, 8, 2011
12/08/11
3:05
AM ET
Two-time defending Olympic sabre champion Mariel Zagunis, 26, of Beaverton, Ore., was in Philadelphia last Sunday along with an elite international group of fencers from all three disciplines (sabre, epee and foil) to display their skills in an exhibition during the annual congress of the FIE, the sport's world governing body.
The daughter of two Olympic rowers, Zagunis is currently the world's top-ranked woman in the aggressive, dexterous, lightning-quick art of sabre, which became an Olympic event for women at the Athens Games in 2004. Zagunis initially failed to qualify for that Olympics but got a spot at the last minute when the fencer ranked above her withdrew. She went on to win her first gold medal there.
[+] Enlarge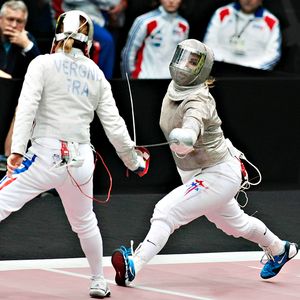 Loic Venance/Getty ImagesThe daughter of two Olympic rowers, Mariel Zagunis is currently the world's top-ranked woman in the art of sabre.
Since then, she's toppled every important milestone in the sport -- yet she's not satiated. Zagunis, who won consecutive world championships, suffered a rare setback in October when Russia's Sophia Velikaia came from behind to defeat her in the gold medal bout.
Undeterred, Zagunis sat down with ESPN.com to discuss her mindset going into the lead-up to London 2012.
Ford: The bio on your website says you've won everything there is to win in your sport more than once -- so why keep going?
Zagunis:
It's not really about how many times you've won something. It's just about my love for the sport, that's why I keep going. I love waking up every single day and going to fencing practice in the morning and just working hard and setting those big goals one after another, and achieving them, and wanting to do it again and again and again. There's no reason for me to stop -- I mean, I love it, I'm doing well, and yeah, I've won everything at least once, so why not win it two, three, four, five times?
Q: So there's no yearning for a more normal life?
A:
For a long time, my life has not been quote-unquote normal. And I'm OK with that, because what I'm trying to do is something that's above and beyond, that not very many people in America or the world have achieved at all. So, I don't mind that my life is so hectic and crazy. I mean, sometimes I do mind, when I'm on my vacation, I'm like, "I could really get used to that." But then once I start training again, I really remember what I'm doing it for. There are certain sacrifices you have to make and I'm going to continue to make them and not have a normal life because I don't want a normal life. I want to do what I'm doing.
Q: How much of a factor is the U.S. team's evolution and success in your decision to keep going?
A:
I have been very fortunate to be part of the ongoing success of women's sabre, and then also at the last Olympics in Beijing, the U.S. team had historic results.
[Editor's note: The U.S. women swept the podium in sabre, and the team as a whole won six medals, second to Italy's seven.]
And to be a part of that is something very special. It's something that may or may not ever happen again. To say I was part of that is great. ... We push each other to work harder and harder all the time and it's really a great dynamic.
Q: I would think it's more fun to be part of a tradition of success than being the only standout from your country.
A:
Or trying to live up to something that's been done before you. Luckily, I'm setting records without even thinking about it, without having the pressure of having to do as well as the person who came before me. It's more like, "Yeah, I'm doing my thing and what happens, happens," and fortunately those have been some pretty amazing results.
Q: I watched your gold medal match from worlds, and there was a still photo from the podium where you were being professional, but it was pretty obvious you were very disappointed. Your career arc has been pretty much all uphill -- was it hard to handle? What did you take away and how do you plan to use it?
A:
I need to always step back from a tournament like that and realize that it still is an amazing result. It's hard for me because I put so much pressure on myself, and have such high expectations for myself, that anything less than winning is, not as, [pause] ... I don't want to sound ungrateful, because anybody would take second place in the world championships. It's a huge result, but for me, I won it twice in a row, so to win it one more time, like, I really wanted it. Of course I was disappointed, and I was very close to winning. It's a hard loss when you lose by one point. But you always take something away from every tournament whether you win or lose, and especially through losing because you analyze your mistakes. That's what I was able to do, go home and review the bout many times and know what to do next time and make sure that doesn't happen.
Q: How much deeper do you expect the field to be at the upcoming Olympics than it was, say, when you debuted in '04?
A:
Oh, man. The sport has changed so much since 2004, it's incredible. If you look even at me, the way I'm fencing now compared to 2004, it's a completely different sport. They've changed so many things just with what [the referees] are calling, they've changed the timing of the [scoring] lights. You always have to be evolving as a fencer. The Olympics is interesting because it's such a small field compared to what we're used to. This world championships, I think we had a hundred and something [athletes]. The Olympics is going to be less than 32.
In 2004, I only fenced four bouts. At any given World Cup [now], I'll fence six bouts if I go to the gold medal round. London's going to be a little different because we don't have a team event, so it's a maximum of two fencers from each country who qualify. It changes things a lot.
[Editor's note: The International Olympic Committee has limited the number of medals in fencing, so the FIE is rotating which disciplines will have team events. Women's sabre and men's epee will be the odd ones out in London.]
I think the qualification should be different. There's three Russian girls -- if they took the team right now, the No. 4 or 5 girl in the world wouldn't go. So I just think it's kind of unfortunate. I think Beijing was by far the deepest level of talent that we've seen.
Q: Is your preparation going to be very different this time around?
A:
If anything, just working harder than I've ever worked before. That's the plan. Stay healthy, stay on track and make sure that I peak at the right times.
Q: What do you do with your precious downtime?
A:
I just had three weeks off, it was amazing. One of those weeks I was in California doing some media stuff, but the two weeks before that, I stayed home. I slept in every day, I went to spin class at the gym every night, I made dinner, went shopping, did some arts and crafts, it was so great. But I'm ready to get back into it. This week was my first full hard week back and I'm ready for the grind. Because it's gonna be a long one.
Q: Did rowing ever appeal to you?
A:
My parents never pushed it on us
[Editor's note: Zagunis has two brothers who also fence]
. We had an ergometer in the house because my dad worked out on it all the time. We were taken to regattas and stuff because my dad still stayed involved with it on the competitive side of things for a while. I don't remember how many times this happened, it may have been just once, I did the ergometer maybe 20, 25 minutes, and got off it and thought I was going to collapse, and I was like, "I don't like this at all." It wasn't for me. All three of us were able to find fencing eventually and that was our niche.
Q: Elite sports have obviously changed a lot since the '70s when your parents competed, but I'm sure it helps that they've been there and know what it takes.
A:
For sure. My parents are my No. 1 supporters and they always have been. Just like you said, them having gotten to that Olympic level, and knowing the type of sacrifices it's going to take, the dedication, the time, the money, the effort, the travel, the competition, the ups, the downs -- they've been there for it all and that has been so significant throughout my career, because if I'm going through anything, they know how to identify with it. They know how to talk to me about it and get me through it.