November, 17, 2011
11/17/11
12:44
AM ET
When I first read the words "women's boxing" and "skirt" in the same sentence, my reaction went something like this: How about adding a frilly apron, and accessorizing with a bucket and scrub brush? Loser cleans the ring!
Then I came across a comment from Ching-Kuo Wu, president of the AIBA (which governs amateur boxing internationally), in which he said some television viewers were having trouble distinguishing female boxers from men.
I wanted to fire off a two-word answer: Hi. Def.
Then I asked myself what is often the most important question in journalism: What do I know?
I swam for a little neighborhood club team as a kid and played basketball in high school and college. I never competed in a sport where skirts were required or even optional, so I decided to seek out some athletes who wear them on the job and ask about the pros and cons.
[+] Enlarge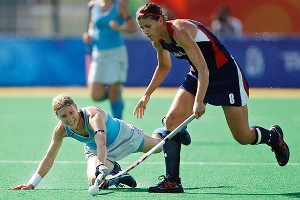 AP Photo/Rick RycroftSkirts are a part of performance attire for female field hockey players.
But before I go there, a few notes on the apparel controversy. It flared into public consciousness again a couple of weeks ago, but it's actually been percolating for more than a year, as the women boxers move closer to their Olympic debut in the 2012 London Games. After a little research, I learned the widely repeated AIBA president's comment was elicited by Albany Times-Union boxing blogger Michael Rivest in this September 2010 interview.
At last year's world championships, the AIBA leaned on boxers to give skirts a try, and most national federations complied. Lightweight world bronze medalist Queen Underwood said she was shocked when she opened her box of official gear before the medal rounds and found not only a skirt but what she described as a padded, non-sports bra. Underwood, who is not shy about expressing herself, said she hasn't worn a skirt or a dress on any occasion "for at least a decade," but thought she had no choice but to wear the outfit.
Once she got into the ring, Underwood said she forgot what she had on.
"I was in the zone, and afterwards I was thinking more about the loss than I was about the skirt," she said. "It didn't hamper me, but if they want to pay me to wear Maybelline and doll me all up, fine. I'm not getting paid to box in a skirt."
Reaction among boxers from other countries has tilted strongly against, as has that of commentators ranging from USA Today columnist Christine Brennan to blogger and amateur boxer Malissa Smith, whose Girlboxing site is a good resource for fans of the sport. India's five-time flyweight world champion Mary Kom has been quoted in her nation's media as saying that skirts would help set the women apart.
Officials in another Olympic sport, badminton, tried to play fashion police with female athletes, but the rebellion was so swift and furious they had to back down earlier this year.
Now, back to my very unscientific sample. The women I spoke with who play field hockey, lacrosse and tennis -- sports where skirts are traditional garb -- told me they prefer to practice in shorts but compete in skirts, even when given the choice.
"I never even think about it," said Rachel Dawson, a defender on the U.S. field hockey team that recently qualified for the Olympics by winning gold at the Pan American Games. "I love the idea of 'Look at me, I'm a woman in a skirt, but I can play just as tough as the boys, fighting, diving, hitting.' I love that contradiction."
Former Widener University assistant lacrosse coach Julie Dugan said her college coach at East Stroudsburg University raised the idea of switching to shorts one season. As the players mulled the concept, they faced a team that wore shorts and found the sight jarring. "They looked like they were playing volleyball," she said.
The team decided to stick with skirts -- although they, like many lacrosse and field hockey players, did wear Spandex compression shorts underneath, making sure they were short enough not to peek out below the hem.
"[Skirts] make you look a little more feminine, and I like the idea of being feminine and being good at sports," Dugan said.
Six-time Grand Slam doubles winner Lisa Raymond has seen a million fashion trends come and go in tennis since she turned pro in 1993. She considers shorts more comfortable and said she's seen flattering shorts-and-top outfits out there, but would feel underdressed wearing one.
"I'm kind of a traditionalist," Raymond said. "When you play a match, you're stepping out. It's a performance, as opposed to practice, when you're just grinding away."
The point is that skirts, in and of themselves, are not the problem. The problem is there's no history of or affection for them in boxing, and they're being introduced from the top down (pardon the pun) as if these women were boarding school students instead of sporting pioneers and symbols of strength.
It's hard not to wonder if there's a desire to sand a little roughness away from the sport for a worldwide audience that is used to stick-and-ball competition but not at all accustomed to the simpler visual equation of women slugging away at each other.
"I don't think they should be mandatory," Dawson said of boxing skirts. I completely agree -- and now that the AIBA has put forth the option, I also wouldn't stand in the way of a female boxer wearing one if she wanted.
This isn't the first time what female athletes wear, and the commotion it causes at the intersection of Politics Street and Marketing Avenue, threatens to overshadow the sporting contest itself. And it won't be the last. Such a ruckus wouldn't be fair to women who are stepping onto the Olympic stage for the first time.
As for the notion that viewers might not be able to tell women boxers from men at first or even second glance, I'd flip that on its head and say it might represent a kind of progress.
The AIBA is soliciting opinions on the issue from its athletes and the "wider public." Consider this a contribution to the latter. Taking away a woman's right to wear trunks would be the worst kind of wardrobe malfunction.
November, 9, 2011
11/09/11
8:27
AM ET
Coming off a gold-medal performance at the Pan Am Games, the United States now eyes the 2012 Olympic Games. Head coach Lee Bodimead discussed the team's hopes and aspirations with
usafieldhockey.com
.
Q: What was the key to beating Argentina?
A: The key was being able to perform with what we identified in the game plan. Obviously, the Argentinians are very quick and like to attack and we needed to be able to capitalize on the possession that we had. Fortunately, we were able to do that.
Q: What did it mean to not only beat the world's No. 1 ranked team but also claim gold at the Pan American Games for the first time in US history?
To play the best in the world and have the opportunity to win the tournament is something we wanted to take full advantage of. Being on the podium with the gold medal is a victory not only for the team but for everyone that has been involved in the development of the sport in the USA.
Q: What was the difference in the team this year than past years? USA has five silver medals and one bronze in the Pan American Games, but never a gold. How did it happen in 2011?
A: The previous results are not relevant to this team. They are simply outcomes of those previous games. We only had four returning Pan American players, which really means there is not much relevance to our previous outcomes. We knew we needed to play well and the final was the game that we focused on.
Q: Over the last three years, what changes have you seen in field hockey in the USA?
A: There is definitely an elevated level of skill on the team and we have further depth in the squad than ever before. We are all about having the ability to perform in big games and under significant pressure and we are getting a lot closer to achieving that.
Q: How comforting is it to know that you have great depth on your team? Losing veteran key players like Kayla Bashore Smedley and Amy Tran Swensen before the start of the tournament and still pulling off five victories and a huge upset in the finals certainly displays the strength within the team.
A: It would be very easy to look at the reasons for not being able to perform at the tournament with Smedley and Swensen left off of the roster at the last minute. However, it was never mentioned and it was never an issue for the team. We adjusted to what we had. Given the greater amount of depth currently on the team, we had the players that were able to pull off the victory.
Q: How did you celebrate the victory?
A: We went to one of the nicest hotels in Guadalajara to join families and friends that were at the Games to support us. It was great to have Executive Director, Steve Locke, on hand to join in on the excitement. It was great to celebrate with those that have supported our athletes throughout their careers. Carrie Lingo and Kayla Bashore Smedley, who were ruled out with injuries, made the trip to Guadalajara and were also on hand to celebrate which added a special moment for the players. I then got the first available flight out of Guadalajara back to San Diego to surprise my wife Samantha and two boys Mitchell and Oscar. As much as I would have loved to celebrate with the team, I had been away from my family for five weeks and Oscar and Mitch were upset I wasn't going to make it to their school Halloween Carnival. To surprise my wife Samantha and my two boys was an incredibly enjoyable moment.
Q: When did it really hit you that you are going to the London Olympic Games?
A: I am not sure if it really hits you. We wanted to win the tournament and we knew the consequences if we did so. Knowing we had to beat the world's No. 1 ranked team to do that presented a challenge we were ready for. I give tremendous credit to the athletes. They got the results we needed.
Q: What is the plan as we head into an Olympic year?
A: We had two game plans. One if we won the Pan American Games and another if we had to go to an Olympic qualifier. We are very confident in how we were able to build up to the Pan American Games and now we are confident in what we will implement building up to the London Olympic Games.
Q: What is the goal at the Olympics?
A: If you can beat the world's No. 1 ranked team, you can certainly have your sights on a podium finish and that is where we stand. We didn't attack the Beijing Olympic Games with the right attention that we needed to and that experience has set us up for a better preparation and performance in the London Games.
Q: You have been to the Olympics in Beijing as a coach and in past Olympic Games as a player. What is the experience like?
A: It is surreal experience. It is something you can talk about as much as you want but until you actually experience it in real life, you never fully understand enormity of the event.
Q: How much pressure is taken off of you and the team in not having to attend an Olympic qualifier in early 2012?
A: I'm not sure it has taken any pressure off really. It has enabled us to be very clear in our thinking and planning as we prepare for the Olympics. When you beat the world's No. 1 ranked team, it brings on more pressure.
Q: What does the rest of 2011 look like for the team?
A: The Team will have some time off to be with their friends and family around the Thanksgiving holiday. Most of the Pan American Team will meet at the NCAA Final Four for a friendly game against the NFHCA senior all-stars. Some players will play in front of National Hockey Festival participants in Phoenix, Arizona the day after Thanksgiving. Following that, the team will reconvene in Chula Vista, CA for a short preparation period before a five game test series against Great Britain in early December. Great Britain is doing pretty well, they are currently ranked No. 4 in the world and we are very excited to play a series of games against them on our home turf.
Q: Will any cuts to the team be made before 2012?
A: Yes, we will cut the squad of 27 down to 24 after the Great Britain series as we look to ultimately focus in our 16-squad team that will travel to the London Olympics.
Q: When will the Olympic Team be selected?
A: The team will be announced following the completion of the Women's National Championships next June.
Q: How bright is the future for the USA Women's National Team with the majority of the players under the age of 22 and the average age of the team a young 24 years?
A: We are pretty excited with the direction the team is headed. We know that there are very good players coming through the pipeline and we have very good players that did not participate at the Pan American Games due to injury like Swensen and Bashore. Keli Smith Puzo is just coming off the birth of her second child and Carrie Lingo is coming back from knee surgery. There are a lot of strong players that are going to push hard for selection and that is going to drive an elevated performance for others on the team.
September, 13, 2011
9/13/11
5:34
AM ET
After countless hours of training and unwavering persistence, the 27 women on the U.S. field hockey national squad was narrowed down to the 16 athletes that will represent the United States at the Pan American Games.

The Pan American Games, held Oct. 19-28 in Guadalajara, Mexico, are the first opportunity to qualify for the 2012 London Olympics in field hockey and only the gold medalist qualifies for the Games.

"The goal of this team is clear ... to win the Pan American Games," head coach Lee Bodimeade said, according to USA Field Hockey.

"It will take the intensity and support of the entire squad to lift us to this level, both on and off the training field. It will be tough and difficult, but those are the exact reasons why we choose to attack this challenge. I look forward to the beginning of the final stage of preparation."

Olympians Kayla Bashore-Smedley, Lauren Crandall, Rachel Dawson, Katelyn Falgowski, Caroline Nichols and Amy Tran-Swensen will be joined by rookie Michelle Cesan and 2010 sportswoman of the year Katie O'Donnell.

The biggest challenge to the United States will come from Canada, Chile and, especially the world's No. 1 ranked team, Argentina. The United States has finished second to Argentina in five of the past six Pan American tournaments.

Should the Americans not win gold in Mexico, they can attend one of three events held in Belgium, India or Japan in 2012 in a final attempt to clinch one of the 12 Olympic spots.


May, 27, 2011
5/27/11
2:51
PM ET
The USA women's national field hockey team selected 28 players for the 2011 national squad Friday.

Over the past week, 102 elite field hockey players competed at the women's national championship tournament to make the team. Those selected have the potential to represent the United States next year at the Pan American and Olympic games.

"It was a fantastic tournament that was successfully organized and run," coach Lee Bodimeade said. "The level of performance was far more accelerated than expected."

The roster features 23 returning national team members, including 10 members of the Beijing Olympic team. Five members from the 2010 national development team complete the roster.
January, 11, 2011
1/11/11
6:49
AM ET
Three-time U.S. figure skating national champion and world bronze medalist Johnny Weir posed for the cover of his new autobiography "Welcome to My World" with one stiletto-clad foot appearing to hold up a huge disco ball. Yet despite that unconventional image, the book follows the familiar arc of many an athlete's life: a driven child with a loving, supportive family; a conflicted adolescent who grows into an accomplished performer; an imperfect adult who stumbles at inopportune times and tries to savor his experience no matter where he finishes. By turns thoughtful, snarky, giddy and caustic, the book also serves as the vehicle for Weir to confirm that he is gay -- a subject he had long refused to address because he considered it private and unrelated to his athletic career.
Weir, who is not skating competitively this season, sat down with ESPN.com's Bonnie D. Ford on Monday to talk about his book and his future in the sport. The following are excerpts from that conversation.