July, 1, 2012
7/01/12
5:11
PM ET
SAN JOSE -- Nastia Liukin wrote a bittersweet ending to her decorated career Sunday night, walking off the floor with tears in her eyes after receiving a pair of standing ovations from the crowd at HP Pavilion.
It was far from a storybook ending for the 2008 Olympic all-around champion, but one of extraordinary grace and meaning. Liukin, competing only in bars and beam, struggled badly in her uneven bars routine; her legs folded on a handstand and then, in the evening's most startling moment, missed the bar on a release and fell face-down flat on the mat.
[+] Enlarge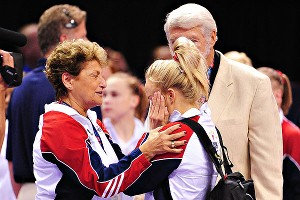 Kyle Terada/US PresswireNastia Liukin announced her comeback last October, hoping to become the first reigning Olympic champion to return to the Games since Nadia Comaneci in 1980.
The crowd cheered her on as she gathered herself and finished the routine, standing to applaud in appreciation when she finished.
"It's not really something where I thought I should stop or not finish my routine," Liukin said. "I was ready to finish and that's how I've been taught [from] such a young age. I've learned from my dad and my mom to be a fighter."
Liukin closed her competitive career with a clean beam routine and strong dismount, and then her eyes welled as the sold-out crowd rose to its feet once again to acknowledge the end of her competitive career. She waved and wiped her eyes.
This experience wasn't quite the throwback that sponsors, fans and U.S. Olympic officials had likely hoped for, but Liukin said she has no regrets.
"I don't consider this a failure for me," Liukin said, wiping away tears. "There can be different highs in your career and I feel like I've lived through amazing highs now. Winning the all-around gold four years ago and having two standing ovations for my performances tonight was something I'll remember for the rest of my life."
Liukin's mistakes from Friday night, including a fall on the bars, took her out of contention for the 2012 team. The 22-year-old champion mounted a comeback less than nine months ago, but battled a shoulder injury and admitted Friday that a lack of stamina contributed to her mistakes.
Liukin will go to London as the athlete representative for the Federation of International Gymnasts (FIG) and plans to attend NYU in January. "This was another stepping stone toward the rest of my life and I'm ready to take it," Liukin said.
June, 28, 2012
6/28/12
6:06
PM ET
SAN JOSE, Calif. -- Danell Leyva's coach and stepfather Yin Alvarez said a quick prayer, crossed himself, kissed the cross around his neck and lifted his son up to the high bar.
Then, Leyva electrified the crowd at the U.S. Olympic gymnastics trials with the best high bar routine of the night. Minutes later, national champion John Orozco nailed his own set with the same highly difficult, full-twisting reverse Hecht release move as Leyva and stuck his dismount.
It was a fitting finale for the duo, ranked first and second overall after one night of Olympic trials competition combined with two days' worth of scores from U.S. nationals earlier this month. Orozco, 19, and Leyva, 20, have been pushing each other all year and will be expected to lead the team in London. The top two overall gymnasts will receive guaranteed berths on the five-man team, as long as they place within the top three on at least three events, as well. As long as there aren't any major injuries or meltdowns, those two athletes will be Orozco and Leyva.
[+] Enlarge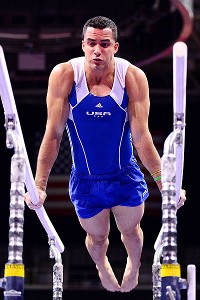 Kyle Terada/US PresswireDanell Leyva leads overall after Day 1 of the U.S. Olympic gymnastics trials.
Leyva looked especially on fire, earning the top scores on parallel bars and high bar, and the second highest on pommel horse, not usually his strong suit. Finishing second to Orozco at nationals hadn't sat well with him, and he used it as fuel the past few weeks in training.
"I'd go up to take a turn, and remember I was second and say, 'Do this routine cleaner.'"
Afterward, he gave his first round of trials a high mark. "As far as what I was expecting from today, it's a 10. I don't want it to be perfect, which is exactly what I did. I want to be perfect in London."
Orozco had hoped to do a bit better on Day 1. After a solid showing on floor, he struggled on his pommel horse dismount and then sat down his vault. He rallied with strong routines on parallel bars and high bar, but even then, he barely cracked a smile.
"I'm not satisfied with my performance at all. I can improve a lot on those two events," he said at the end of the day. Orozco is .95 behind Leyva going into the final day of competition Sunday -- a difference worth noting since Orozco was penalized 1.00 for his vault fall. Erase the error, and the two are almost in a dead heat.
The surprise of the competition was Sam Mikulak, a University of Michigan gymnast who finished third behind Orozco and Leyva at nationals, but topped them both in Thursday's scores. Mikulak is strong on pommel horse, an event where the U.S. team is weak, and throws a much harder vault -- a Kasamatsu double that includes three twists off the table -- than either Orozco or Leyva.
As the men left the arena after the meet, a teammate turned to Mikulak and asked him, "You know you won today, right?"
Mikulak's confused look in response said it all. Though he might not have expected to do so well, he'll be a no-brainer pick for the selection committee if he has another consistent day Sunday.
Jonathan Horton, the only 2008 veteran at trials, is fourth. He's one of the country's best on rings, and excelled Thursday with the second-highest score of the day behind ring specialist Brandon Wynn. Though he's an Olympic silver medalist on high bar, Horton missed his first and biggest release move (a full-twisting double layout over the bar), before re-mounting and successfully throwing two other nearly as difficult release moves. Still recovering from foot surgery late last year, he's likely to clinch the fourth spot on the team.
The fifth member could well be a specialist like Jake Dalton or Steven Legendre. The training partners have the same strengths -- vault and floor -- and may be competing for the same place on the Olympic team. Dalton is first overall on both events, with Legendre second on floor and third on vault.
Legendre had a terrible competition at U.S. nationals, though, and is still climbing his way up the standings after severe cramping in his forearms hindered his performance there. He has been downing Gatorades and eating bananas on the sidelines in San Jose, and had the highest score of anyone on his vault, a handspring double front with a half twist, named after Romanian world vault champion Marian Dragulescu.
"I just wanted to go out there and do what I know I'm capable of, and I didn't feel like I did that [at nationals] in St. Louis, so I guess it was a little bit of redemption today," he said.
While the stars of the team are clearly Orozco and Leyva, the team's depth of talent is such that even Leyva insists he doesn't feel his spot is secure.
"To be completely honest, I don't think anyone is a lock at this time," he insisted. "Especially this team, this year. All the guys are so close together in performance, it's amazing. Whoever they pick for this team is going to be out of this world."