May, 13, 2012
5/13/12
11:02
AM ET
DALLAS -- For the better part of 90 minutes here Sunday, Kayla Harrison sat on a podium in front of a group of strangers and tried to keep her composure and control her emotions. But it wasn't easy.
"I have a little bit of adrenaline in me right now," she said. "It's nerve-racking."
[+] Enlarge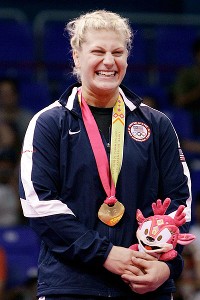 AP Photo/Javier GaleanoKayla Harrison is vying to become the first American to win the Olympic gold medal in judo.
In a perfect world, coming to the U.S. Olympic Media Summit would have been no big deal for the promising 21-year-old judo practitioner. She would have talked about becoming the first U.S. woman to win a judo world championship in 26 years and what that means for her chances in London this summer.
But that wasn't what most people wanted to talk about Sunday. Instead, the questions surrounded her decision last November go public with her story of sexual abuse by her former coach. Daniel Doyle is currently serving a 10-year federal prison sentence after pleading guilty in 2007 to engaging in illicit sexual conduct in a foreign place.
"It's something I have to deal with," Harrison said. "This happened to me. It's part of my story, but there's also this big thing called the Olympics that I really want to win."
Harrison decided to come forward and share her story out of a desire to help others who have dealt with sexual abuse. Her story appeared the same week that the Jerry Sandusky scandal broke at Penn State University, which prompted a wide range of emotions. "It lit a fire in me," she said. She admitted Sunday she argued with friends who defended Joe Paterno and found herself sickened by Penn State students who protested Paterno's dismissal.
"Who cares if he loses his job? That's not what this is about," she said. "This is about multiple people losing their lives forever. Seeing kids my age riot and think that's OK ... I just felt like they didn't deserve a college education. What is wrong with you?"
Harrison then took a deep breath. "I'm sorry," she said.
If Harrison has her way, her performance in London will overshadow her emotional personal story. No American has ever won Olympic gold in judo. Harrison is optimistic her work with coaches Jimmy and Big Jim Pedro can help her become the first. She knows accomplishing such a feat would give her an even greater platform to help victims of sexual abuse.
"I want to be able to change someone else's life," she said. "I want to do what the Pedros did for me. I want to be that person. Even if it's only one person."
May, 12, 2015
5/12/15
4:14
AM ET
By
Associated Press
| ESPN.com
AP Photo/Dmitry Lovetsky

Wrestling and taekwondo on Monday became the latest sports to cut ties with the umbrella body for international federations after its president launched a scathing attack on the IOC.
United World Wrestling and the World Taekwondo Federation announced their split from SportAccord, which represents Olympic and non-Olympic sports.
The move came a few weeks after SportAccord head Marius Vizer delivered a sharply-worded speech criticizing the International Olympic Committee and its president, Thomas Bach.
In his opening address at the SportAccord convention in Sochi, Vizer blasted Bach's leadership and called the IOC system "expired, outdated, wrong, unfair and not at all transparent."
That prompted several sports to quit SportAccord, including athletics, boxing and shooting. The Association of Summer Olympic International Federations suspended ties with Vizer.
Wrestling federation chief Nenad Lalovic said in a statement Monday that his sport "shall refrain to participate in the activities and games organized by SportAccord, until the relations with ASOIF has improved to the latter's satisfaction."
"This was a difficult decision, in particular as we have worked closely with SportAccord in the past to secure additional opportunities for wrestling and traditional wrestling," Lalovic said. "I sincerely hope that the crisis within SportAccord can be resolved soon, in the best interest of sport."
The taekwondo federation said it was suspending its membership in SportAccord with immediate effect and pulling out of the 2017 World Combat Games, a multi-sport event which Vizer oversees. The decision came at the WTF general assembly in Chelyabinsk, Russia, ahead of the world taekwondo championships.
WTF President Chungwon Choue said taekwondo is based on "self-discipline, integrity and respect and at the WTF we believe we have an obligation to stay true to these values."
Boxing also recently pulled out of the World Combat Games.
Archery and canoeing suspended their membership in SportAccord last month.
May, 13, 2012
5/13/12
11:17
AM ET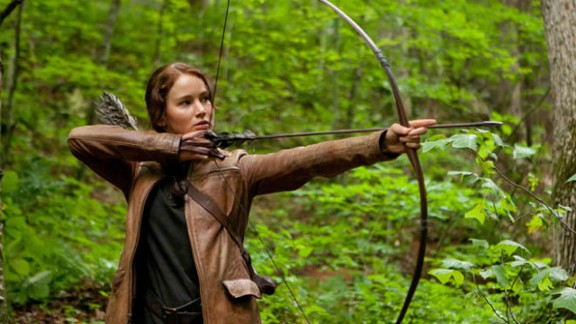 LionsgateU.S. archers are hoping movies like 'The Hunger Games' draw more interest to their sport.
DALLAS -- Archery has never been exactly what you would call a big spectator sport in America, but it might get a little more attention at the Olympics thanks to two recent Hollywood blockbusters. First, there was "The Hunger Games," in which young heroine Katniss Everdeen relies on her skills with the bow and arrow. Then, there was "The Avengers," with the archer Hawkeye on the team of superheroes.
"It's been huge for archery," Olympic gold-medal hopeful Brady Ellison said. "I know archery shops across the U.S. are sold out in everything. A lot of my friends who run archery shops say they have to turn people away. It has been huge for us in just the exposure of people wanting to try it. I just hope and pray those people won't just try it and leave. Hopefully we'll get a little percentage of those people shooting competitions with us."
"It's having a dramatic effect on our sport," U.S. archer Jennifer Nichols said. "We've had such an increase in interest as well as spectator base. We're really excited going into the Olympic Games having such an explosion not only in focus on our sport but in effect."
Ellison said he hasn't seen either movie but has viewed clips and Internet postings. "I really want to see 'The Avengers,'" he said. "There's been this post on my Facebook and on different websites comparing my form to Hawkeye's form and the differences. And one of the quotes is, 'Does Hawkeye have the worst archery form in history?'
"Any movie that portrays archery is a good thing, and your average person who doesn't watch archery won't notice the difference, but to every archer who shoots? Movies drive us nuts. 'Robin Hood' with Russell Crowe, he shoots OK. 'The Hunger Games' girl, she looks like a target archer, so that's good. Hawkeye? He's portraying archery, and that's good, but as far as you want to go technically and critique his form? Maybe not the best."
There is a reason Jennifer Lawrence shows good form as Everdeen in "The Hunger Games." She was trained by Olympic medalist Khatuna Lorig. "The form is incredibly similar to the way I shoot," Nichols said.
So could Nichols shoot an apple out of the mouth of a roasted pig amid a crowded dining room? "It would depend on the distance, but I think I could handle that," she said. -- Jim Caple
Steven Lopez and his "Choice"
For all that Steven Lopez has accomplished in taekwondo, winning two Olympic gold medals and five world championships, his younger sister Diana describes his approach to women with one word: "shy." So perhaps that's why it was such a surprise he agreed to participate in the upcoming Fox reality dating show, "The Choice."
The show, which will air this summer, features Lopez, Patriots tight end Rob Gronkowski, Rob Kardashian and actor/comedian Finesse Mitchell listening to a group of women who hope to persuade the bachelors to choose them for a date.
"They tell you what you want to hear, and if you like what you hear, you turn the chair around and pick the girl," said Lopez, whom People Magazine dubbed one of America's 50 hottest bachelors in 2004.
Lopez said he was pleased with his choice when he turned around and went on a date with the woman, but nothing materialized. "She lives in New York," the Houston resident said.
All in all, Lopez said it was an entertaining experience that again reminded him how unusual it is to be recognized for his looks as much as his talent.
"It's strange," he said. "I've put my blood, sweat and tears and sacrificed so much to get on top the podium and it's like, 'You're on People's 50 most beautiful bachelors, how does that feel?'"
Added Diana: "He gets mothers who come up to him and they're like, 'Oh, you'd be perfect for my daughter. Can you sign this for me?' It's hilarious." -- Wayne Drehs