January, 14, 2014
1/14/14
3:52
AM ET
By
ESPN.com news services
| ESPN.com
While Sochi organizers have promised snow will be on the ground despite warm temps in the coastal town, one thing we can say for sure: The venues for the 2014 Winter Olympics will be there.
Here's a look at some of the locales you'll see next month:
Shayba Arena
The Shayba Arena will host ice hockey games and is in close proximity to other ice skating venues. Capacity: 7,000.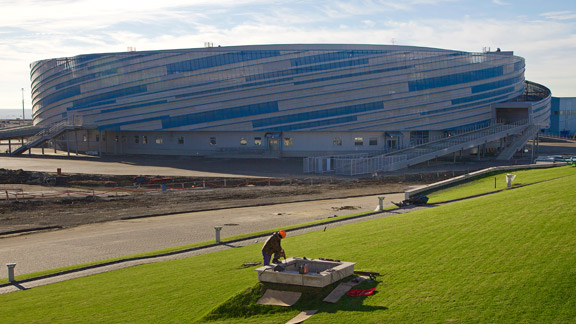 AP Photo/Ivan Sekretarev
Fisht Olympic Stadium
The Olympic Stadium will host the opening and closing ceremonies, and most medal ceremonies. Capacity: 40,000.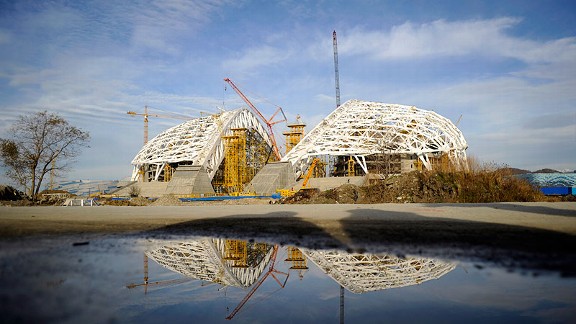 Mikhail Mordasov/AFP/Getty Images
'Ice Cube' Curling Center
You guessed it -- curling competitions will be held here. The venue is in the center of the "Coastal Cluster," where all of the ice-based venues are located. Capacity: 3,000.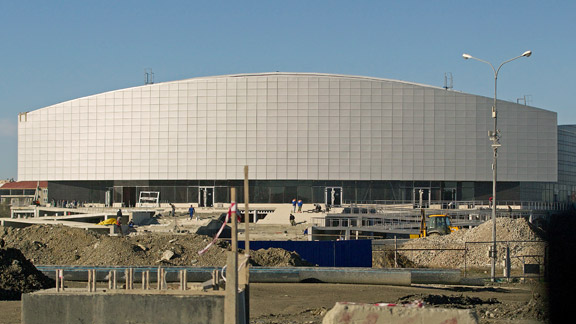 AP Photo/Ivan Sekretarev
Bolshoy Ice Dome
The ice hockey venue is said to be modeled after a "frozen water drop," but spectators may think it resembles a disco dance floor when they see the roof light up in multiple colors at night. Capacity: 12,000.
August, 9, 2011
8/09/11
8:38
AM ET
Are you a kid who watched the Olympic luge races and thought, "You know, what I really want to do is lie on a sled and slide down a chute of pure ice at up to 90 miles an hour with no brakes and no steering wheel? And I really, really want to do it while wearing a thin, Lycra skin suit in public?" If so, here's your chance (well, maybe not the skin suit part).
The U.S. luge team is holding a slider search in Utica, N.Y., on Aug. 20, looking for boys and girls between the ages of 11 and 14. Participants will receive instructions from U.S. coaches and athletes, then try the sport out on wheeled sleds down Utica's streets. Athletes who show promise will be invited to train at Lake Placid with the possibility of making the U.S. development team.
Past slider searches found reigning women's world champ Erin Hamlin plus eight others on the U.S. team. Unfortunately, I did not make the cut at age 44 when I attended a luge fantasy camp before the 2006 Olympics, even though I had the bulk to aid my descent.
As I wrote then, the luge is either like Disneyland's Matterhorn ride without the safety bar and protective toboggan (and the hourlong line of crying children) or riding under a truck chassis like Indiana Jones without a whip to hold on to. Either way, it's a thrill ride that will leave you uncertain whether to scream in delight or soil yourself. Just be careful not to smash your body against a wall. (Easier said than done, as I can attest.)
For complete information and to register for the USA Luge Slider Search, call 1-800-USA-LUGE or visit usaluge.org. Walk-up registrations are welcome on a first-come, first-served basis.