July, 28, 2011
7/28/11
4:51
AM ET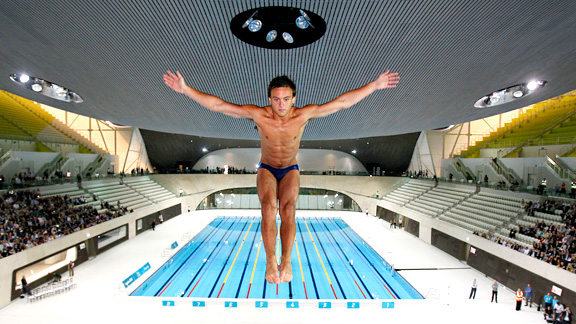 Kirsty Wigglesworth/Getty ImagesTom Daley performs the first dive into the pool, knifing cleanly into the water off the 10-meter board with an inward 1.5 somersault pike.
London organizers marked the completion of the Aquatic Center by having 17-year-old Tom Daley take the first dive in the venue, days after he qualified for his second Olympics.
"It's a pretty big moment for us," organizing committee chairman Sebastian Coe said. "Though a mountain of work is still needed to prepare [the venues], we have an extraordinary platform to build on ... I don't think we are sitting here fearful of anything; we have everything under control."
The 17,500-seat venue, which will be used for swimming, synchronized swimming and water polo events, was expected to be among the first major projects to be finished and one of the boldest architectural statements on the 560-acre east London site.
July, 27, 2011
7/27/11
6:07
AM ET
With exactly one year until the start of the London Olympics, construction has been completed on the six main venues in the Olympic Park: the Olympic Stadium, Velodrome, Handball Arena, Basketball Arena, Aquatics Centre and the International Broadcast Centre.
"To have all six permanent venues complete with a year still to go to the Games is a great achievement, and a firm sign that we are well on track to deliver a truly spectacular show in 2012," London Mayor Boris Johnson said in a statement released by the Olympic Delivery Authority.
Equivalent to the size of Hyde Park, the Olympic Park will have five new permanent venues, 30 new bridges and 4,000 new trees and will be served by 10 rail lines.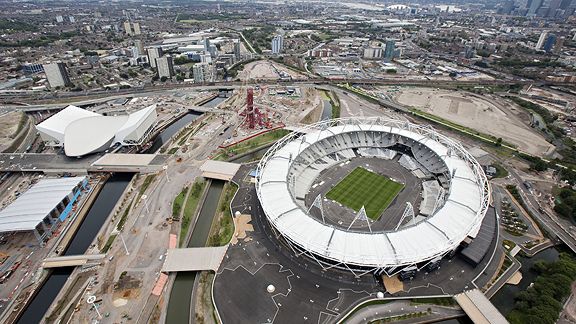 Anthony Charlton/Getty ImagesMore than 40,000 people have worked on the Olympic Park since April 2008.