February, 26, 2015
2/26/15
5:31
AM ET
By
The Associated Press
| ESPN.com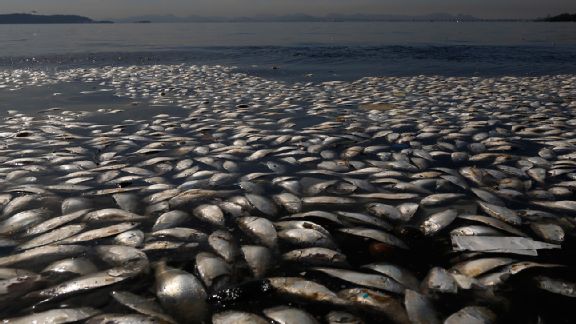 AP Photo/Leo CorreaA large fish die-off was found in Guanabara Bay in Rio de Janeiro near the Olympic sailing venue. The discovery came amid a visit by International Olympic Committee inspectors, in Rio to check up on the city's preparations.
RIO DE JANEIRO -- Rio de Janeiro's state environmental agency says it is investigating a fish die-off that has left thousands of carcasses floating in waters where sailing events are to be held when Brazil hosts next year's Olympics.
The dead twaite shad, small whitish gray fish, were discovered Tuesday by inspectors conducting routine water testing in Rio's sewage- and trash-filled Guanabara Bay. The agency was conducting tests to determine the cause of the die-off, with results expected in a week, it said in a statement Tuesday.
The discovery of the fish, which were washing up on the coastline outside Rio's international airport and about 12 kilometers (7.5 miles) from the starting point for the 2016 Olympic sailing events, comes amid a visit by International Olympic Committee inspectors, in Rio to check up on the city's progress in preparing for the games.
It also follows upbeat comments by Rio Governor Luiz Fernando Pezao, who said the city was working to meet its pledge to treat 80 percent of the sewage in the sprawling urban area that rings the bay. While the lion's share of area sewage long has long flowed, raw, into the bay, Pezao said 49 percent of the area's sewage was now being treated. Still, he acknowledged that Rio is unlikely to meet its goal of 80 percent treatment.
"It's not easy," he told reporters at an event in Rio's subway system on Wednesday. "Every time we have a negotiation, the bidding process (for the project) slows and postpones things."
The IOC executive director of the Olympic Games, Christophe Dubi, said at a news conference in Rio on Wednesday that it's his understanding the goal of depolluting Guanabara Bay by 80 percent remains.
"We are still aiming for this goal. We cannot judge until the finish line," he said. "We are like athletes in that we are pushing toward the finish line and we should respect that every effort is being made."
July, 7, 2011
7/07/11
2:14
AM ET
By
Elaine K. Howley
| ESPN.com
Doris Colgate had a challenge for fellow sailing aficionados.
She issued it while delivering the keynote address at the National Women's Sailing Association (NWSA) annual sailing conference. Colgate, 69, CEO and president of Offshore Sailing School and the NWSA's founder, asked the women assembled to not just embrace sailing for themselves, but to share that passion with those around them.
"To me, sailing is freedom. It's empowerment. It's challenging and it's relaxing and exhilarating," Colgate said.
"If sailing is a passion that you feel deeply, I wonder what you're doing to share that passion with your family or any woman or man who gets in your way?" she asked.
Colgate has earned the right to ask pointed questions. Not only did she write the book on sailing for women -- literally -- as the author of "Sailing: A Woman's Guide" (International Marine/Ragged Mountain Press, 1999), but in founding the NWSA, Colgate wanted to give other women a chance to experience some of the opportunities the sport and "sailing lifestyle" have afforded her over the past 45 years.
The year after creating the NWSA, Colgate founded AdventureSail, an educational program for underprivileged girls that offers the opportunity to experience the freedom and self-esteem sailing provides.
In partnering with other non-profit organizations like Big Sisters and Girls, Inc., AdventureSail has introduced at-risk girls to a sport that could give them confidence, a broader perspective on life and new ideas about what they might achieve one day.
Read more from espnW »