January, 21, 2014
1/21/14
7:04
AM ET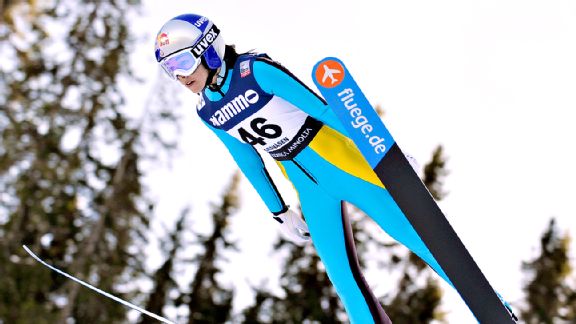 AP Photo/Ned AlleySarah Hendrickson is expected to be named to the U.S. Olympic team on Wednesday.
Those who know Sarah Hendrickson best -- her teammates, her family and her coaches -- had little doubt she would be able to push the envelope of recovery from major knee surgery. And she did.
The U.S. Ski Team and Women's Ski Jumping USA issued a joint press release Tuesday saying that the reigning world champion Hendrickson returned to full training mode last week, jumping on the 90-meter hill at her hometown and team's home base of Park City, Utah.
That news sets up Wednesday's announcement of the Olympic team that will compete in Sochi. Bank on the fact that Hendrickson will be on the roster, as head coach Alan Alborn has previously said she should be based on her past results, even though she has not been able to compete this season.
Hendrickson's schedule and progress last week were kept under wraps by team officials who wanted to minimize the pressure the 19-year-old would have put on herself -- and fend off outside speculation.
Hendrickson didn't give media interviews in the first few days after she tested her right knee, which was reconstructed in late August by Salt Lake City-based surgeon Dr. Andrew Cooper, the longtime physician for the ski team.
It went well, she said, as quoted in Tuesday's release: "I think I was born to be a ski jumper. The feeling of that first jump back was one of the best sensations in the entire world. I just let go of the bar and felt completely comfortable. All my nerves simply disappeared. My knee feels very good considering the situation."
On Aug. 29, days after a violent crash during training in Germany, Hendrickson underwent a hamstring graft on her torn anterior cruciate ligament, along with repairs to the medial collateral ligament and meniscus. She pursued an aggressive course of physical therapy. Three weeks ago, Cooper told espnW.com that Hendrickson was about two months ahead of where most athletes would be in rehab.
"Sarah has done an outstanding job of taking baby steps every day. She has exceeded everyone's expectations and continues to do so," Alborn said.
Three athletes will be named to the women's team Wednesday afternoon. There is a possibility a fourth will be added in the subsequent 24 hours, based on World Cup results and a complex formula of allocations by country that will remain in flux until each nation confirms its entries.
Jessica Jerome clinched one of the three guaranteed U.S. spots by winning the Olympic trials in late December.